The Chrome has taken over the Fortnite map in Chapter 3 Season 4, and players will get to see various new POIs, weapons, utility items, and characters. Chrome has also affected some of the basic items players find while exploring them map, and one of them is the Chrome Chest. These chests have a chance of dropping the ExoChrome Shotgun and ExoChrome Burst Rifle. Damaging opponents with these weapons will automatically increase their rarity. This feature makes the ExoChrome guns most sought after as they are some of the best weapons to use this season. Here's how players can find Chrome Chests in Fortnite.
How to find Chrome Chests in Fortnite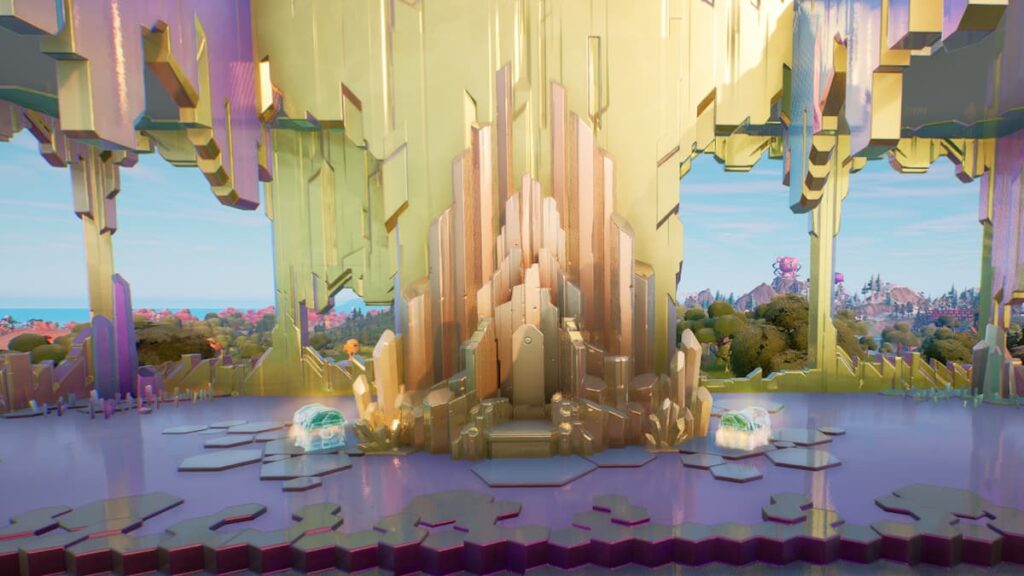 Chrome Chests are located at POIs and areas affected by Chrome. You will find them in abundance at POIs like the Herald's Sanctum, Lustrous Lagoon, Shimmering Shine, and Cloudy Condos. These are the initial POIs affected by Chrome, and players can expect it to spread to other locations over the course of the season. Chrome Chests also have a chance of dropping the Chrome Splash; this item allows players to phase in and out of walls easily.
Players will also find ammunition boxes covered with Chrome at these locations. We recommend landing at any of the four locations mentioned above to find Chrome Chests easily. The best spot to land would obviously be Herald's Sanctum, as you can get Chrome Chests, a few easy eliminations, and also fight the Chrome boss Herald at this location. There is a Chrome tornado near the Herald's Sanctum, and you can use this to easily rotate to different locations.
For more on Fortnite, check out Best Tryhard Fortnite Names to use in-game or Fortnite Warm Up & Edit Courses List – Best Practice Maps! (September 2022) on Pro Game Guides.