The Galactic Empire challenges have arrived in Find the Force Quests in Fortnite. One of the challenges requires players to visit Moment's Rest and Restful Retreat, two of the unnamed landmarks, and you can do this easily to earn Galactic Reputation. If you are planning to unlock the Darth Maul skin quickly, then complete these quests to unlock the cosmetics from the Find the Force event pass. Here's where you can find and visit Moment's Rest and Restful Retreat in Fortnite.
How to find Moment's Rest and Restful Retreat in Fortnite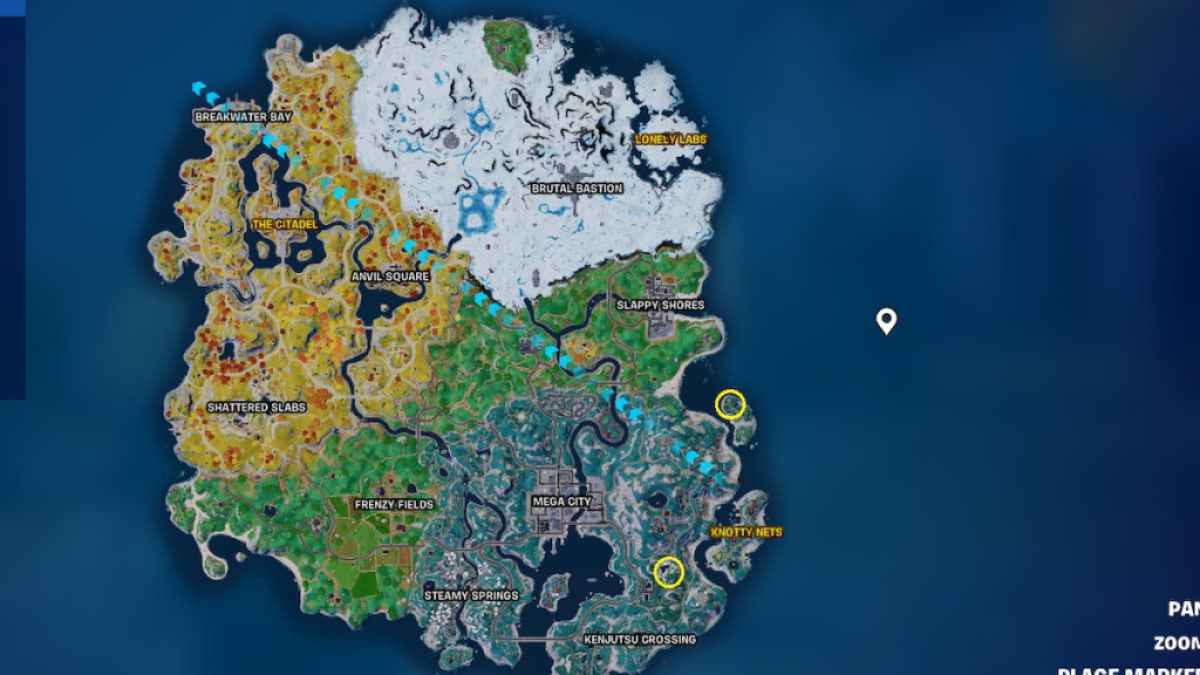 Moment's Rest and Restful Retreat are two of the unnamed landmarks in Fortnite, and both of them are located on the southern half of the map. You must visit both of these landmarks to complete the Galactic Empire challenge. Check the yellow circles on the map image above to see the exact location for both the unnamed landmarks.
Moment's Rest is located southeast of Mega City, and directly north from Kenjutsu Crossing. You will find a gas station close by, and the vehicles kept there can be used to escape this area quickly. Keep in mind that others are going to visit this same spot to complete challenges, so you can camp this spot for easy eliminations.
Related: How to eliminate opponents with Force Throw in Fortnite
Similarly, Restful Retreat is located on the southeastern edge of the map, on the small island north of Knotty Nets POI. This area has a Slurp Truck which you can destroy to gain 100 shields instantly. Likewise, there are a few chests, Slurp Barrels, Campfires, and a Geyser that you can use to get airborne to rotate from the area. We recommend visiting Restful Retreat first, as you can get your shields up and get weapons. Once you are armed and ready, visit the Moment's Rest landmark to complete the quest and earn 200 Galactic Reputation.
Wondering how to complete all Star Wars Quests in Fortnite? Check out All Star Wars Find the Force Quests & Rewards in Fortnite on Pro Game Guides.