Genshin Impact's development team continues to expand Teyvat with new areas, characters, and exciting events and stories, one update at a time. While Version 3.2 is just about to come, there's a lot to be excited about in the upcoming Version 3.3 update, which will fall around December!
Check out this compilation of leaked content expected to drop in the next update. But remember: take leaks with a grain of salt and know that changes between the beta server and actual release aren't uncommon.
A huge thank you to Project Celestia, @genshinBLANK, @Plusleleaks, @RazerNinjas, @hxg_diluc, and the Genshin Impact community for providing information.
Genshin Impact Version 3.3 release date
HoYoverse confirmed that Genshin Impact's Version 3.2 update would drop on December 7, 2022. Reference the roadmap below for when to expect the upcoming updates. Since the five-week update adjustment will end after Version 3.2, Version 3.3 is expected to return to regular six-week update intervals.
Version Update 3.2 - Scheduled for November 2, 2022, and will run until December 6, 2022.
Version Update 3.3 - Scheduled for December 7, 2022, and will run until January 17, 2022.
Version Update 3.4 - Scheduled for January 18, 2022, and will run until February 28, 2022.
Genshin Impact Version 3.3 leaks – Wanderer, Scaramouche, Faruzan, TCG, & more!
New characters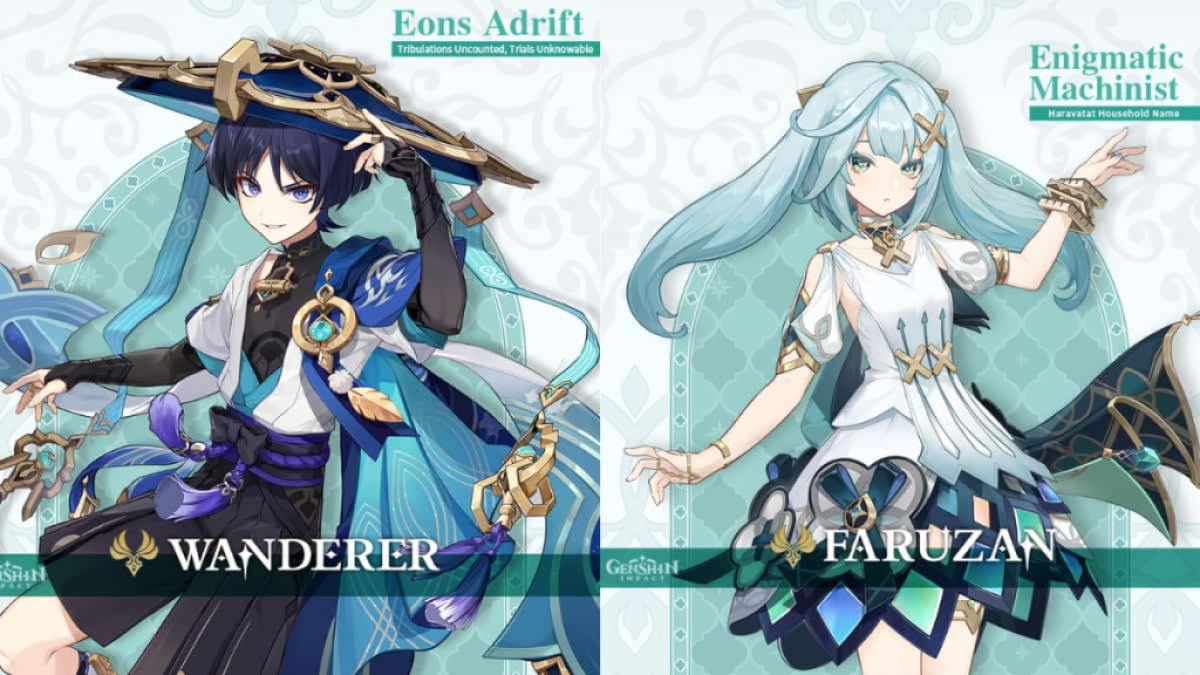 HoYoverse has confirmed the release of two new characters for Version 3.3: Wanderer and Faruzan.
Wanderer (Scaramouche) – model, kit, skills, gameplay
Scaramouche, number six of the Fatui Harbingers, codename Balladeer, will become a new Weekly Boss in Version 3.2. In the following update, he's expected to be released as a playable character named Wanderer—a five-star Anemo catalyst user with a redesigned (but still familiar) outfit. His leaked kit suggests that Wanderer may be the first character to sprint mid-air. Meanwhile, his leaked Ascension materials include some of the most annoying materials to farm: Rukkhashava Mushrooms and Handguards.
In support of the Version 3.3 release timeline, @genshinBLANK stated that Wanderer's Story Quest would also appear in the same update, which is typical for five-star character releases. However, leaker @Ubatcha1 stated that the Story Quest would be integrated into the Archon Quest's Interlude Chapter, similar to how Shenhe's Story Quest was treated. In a since-deleted tweet, leaker @SagiriShape claimed that Wanderer would have the first five-star Hangout, which Ubatcha debunked. There is currently no conclusive information from leakers on the state of Wanderer's personal chapter, but fans can rest assured that he will be spotlighted in one form.
Based on video leaks of Wanderer's gameplay, he can attack mid-air with the help of his iconic hat, but is allegedly susceptible to interruption, so players may prefer to pair him with a reliable shielder. More importantly, Wanderer stomps on enemies with his Elemental Burst. Check out the amazing angle of his Burst below—a treat to fans who have been patiently waiting for this moment for the past two years.
Incidentally, Wanderer's Special Dish is allegedly called Shimi Chazuke, with a leaked description that states: "Have you finished yet? Stop gawking and wash the dishes now."
Faruzan – model, kit, skills, gameplay
Faruzan is a member of the Sumeru Akademiya who disappeared once upon a time but was eventually found by Cyno. He describes her as a kind and chatty parent in his voice lines. She's expected to be released as a playable four-star Anemo bow user. Her leaked kit suggests that she will have massive utility, with the ability to shred enemy resistance, buff the team, and group units off-field (akin to Venti).
A video of her gameplay has also begun circulating online.
Character banner roadmap
Twitter leaker @Ubatcha1, @SagiriShape, @SaveYourPrimos, and Uncle Lu posted questionable character banner roadmaps for Version 3.3 to 3.6.
3.3 first half - Wanderer (five-star Anemo catalyst), Arataki Itto (five-star Geo claymore), and Faruzan (four-star Anemo bow)
3.3 second half - Raiden Shogun (five-star Electro Polearm) and Kamisato Ayato (five-star Hydro sword)
3.4 - Alhaitham (five-star Dendro sword), Hu Tao (five-star Pyro polearm), and Yaoyao (four-star Dendro polearm)
3.5 - Dehya (five-star Pyro claymore) and Mika (four-star Cryo polearm)
3.6 - Baizhu (five-star Dendro catalyst) and an unknown new character, some speculate that Nahida will rerun following the pattern of Archons rerunning every four patches post-release
Additional character leak: Kaveh appearance & VA
Kaveh, the wine-addicted, freeloading roommate to Alhaitham and the architect who built the Palace of Alcazarzaray, appeared in the Version 3.2 Archon Quest doing what he does best: bickering with Alhaitham. His release timeline is unknown, but he's suspected of being a four-star claymore user. HoYoverse also officially revealed that his Japanese voice actor would be Yuma Uchida, who also voiced Jujutsu Kaisen's iconic Fushiguro Megumi.
Related: Genshin Impact Nahida farming guide
New weapons
According to translations of information from @Plusleleaks (reposted from Genshin Rumors), Version 3.3 may introduce two new weapons.
Alaya
Five-star catalyst
Attack: 674
Crit Damage: 44.1 percent
Passive: After using an Elemental Skill, the wielder obtains a buff, increasing Normal Attack damage every second. When a Normal Attack hits an enemy, the buff will increase by two stacks. It can only have a maximum of 10 stacks.
Allegedly Wanderer (Scaramouche)'s signature weapon.
Kasabouzo
Four-star sword
Attack: 510
Elemental Mastery: 165
Passive: When an attack hits an enemy, the target will receive the "Fright" effect, which increases the damage the wielder / Kasubozou umbrellas deal. This passive is still highly speculative—leakers are still trying to decipher the full kit.
Allegedly an event-exclusive weapon.
New Artifacts
Two new Artifact sets have been leaked to allegedly appear in Version 3.3. These are the current descriptions, according to leaker Sagiri:
Flower of Paradise Lost

Two-piece: Increase Elemental Mastery by 80.
Four-piece: The equipping character's Bloom, Hyperbloom, and Burgeon Reaction Damage are increased by 50 percent.

Additionally, when the equipping character triggers Bloom, Hyperbloom, or Burgeon, they will gain another 25 percent bonus to the Reaction.
Each stack of this lasts 10 seconds. Max four stacks simultaneously. This effect can only be triggered once per second. The character who equips this can still trigger its effects when not on the field.
Desert Pavilion Chronicle

Two-piece: +15 percent Anemo Damage Bonus.
Four-piece: After Charged Attacks hit opponents, this character's Normal Attack Speed will increase by 10 percent, while Normal, Charged, and Plunge Attack Damage will increase by 30 percent for 10 seconds.
New enemies
Leaker @genshinBLANK stated the following enemies might appear in-game at one point, but their exact release schedules are unknown. Some could possibly make it to Version 3.3.
New major quests
According to @genshinBLANK, Wanderer (Scaramouche)'s Story Quest will be released in Version 3.3 to coincide with the release of the playable character. In another tweet, they stated that players could allegedly go through portals to see pieces of Wanderer's memory. Meanwhile, the Sumeru Interlude Chapter could also release in the same update, which could temporarily pause our adventures in the nation of wisdom and give the game time to flesh out other areas afterward.
New gameplay mode: Genius Invokation TCG
HoYoverse officially announced that the highly-teased card game called Genius Invokation will finally be released in Version 3.3. This card game was first introduced as a popular kids' game in Inazuma's Hanamizaka and was later revealed to be invented in Sumeru. Cyno, the General Mahamatra, is a known superfan who treats his cards with utmost care. Full details of the card game have yet to be revealed, but players can battle against NPCs (with rewards) and other players for fun (no reward system for PvP). Additionally, according to leaker @memetrollsXD, NPCs who players can battle against will appear on the world map.
New system update
According to the official Genshin Livestream, new text languages for Italian and Turkish will be released in Version 3.3. Since this was announced directly by HoYoverse's team, players can look forward to experiencing the game comfortably in their local languages.
New Spiral Abyss
According to information crossposted by @Plusleleaks and translated in r/Genshin_Impact_Leaks, Version 3.3 will introduce the following Spiral Abyss floor blessings.
Phase 1: When the on-field character does damage with Normal Attack, Charged Attack, and Plunge Attack, the character gets a +10 percent Elemental Damage buff and a +10 percent Physical Damage buff. The buff lasts for four seconds, six stacks max. You can only obtain one stack per second. When the on-field character deals damage types that are not Normal Attacks, Charged Attacks, and Plunge Attacks, the buff timer resets, and a new counter begins. When the character leaves the field, the buff resets.
Phase 2: When the on-field character deals Swirl Damage, the team's Crit Damage increases by +20 percent for eight seconds. The buff stack counts individually. Max three stacks. You can only obtain a max of one stack per second.
Phase 3: When the on-field character deals damage using the same Element four times, they will release a five-meter AoE shockwave. When dealing with different Elemental-type damage, the counter will reset. Physical Damage does not reset the counter. The shockwave can only occur once every four seconds. Can only obtain one counter stack every 0.1 seconds.
Related: How to solve the Apam Woods Luxurious Chest rune puzzle in Genshin Impact
New events
Akitsu Kimodameshi
Barebones leaks allege that the main event for Version will be called Akitsu Kimodameshi, and will likely involve Yokai-catching mechanics. All Inazuma characters (not including Scaramouche/Wanderer, who is considered a Sumeru character) except for Kokomi, Sara, and Shinobu are said to appear, with a particular spotlight on Itto and Heizou. This event will likely have breakout mechanics, where players must engage in various challenges to complete the event Domain.
Other events
Additionally, the following events were hinted at by @genshinBLANK, but no further information about their exact mechanics has circulated.
Windtrace (rerun)
Misty Dungeon - Realm Of Light Trials (rerun)
Coin Collect Event
Brick Breaker (allegedly set in Inazuma)
Sandworm Dodge Challenge (allegedly set in Sumeru)
Check out Genshin Impact announces new merch release of iconic Statue of Her Excellency, the Almighty Narukami Ogosho, God of Thunder to score the iconic Raiden Shogun statue.