Genshin Impact, the open-world action-RPG is a gacha game, where on your journey through the gorgeous land of Teyvat, you'll get a bunch of different currencies. These currencies can then unlock various items, weapons, and characters using the Wish system, but everything has a rating out of 5 Stars. 1 Star being the worst and, of course, 5 Star being the best. What makes things easier is unlocking the Battle Pass; however, it takes a fair amount of grinding to do!
There's an Adventure Rank that levels up as you complete quests, open chests, etc. Basically, if you do anything in the game world, you'll earn Adventure XP. You can unlock more mechanics to the game at certain Ranks to level up and get supplies faster. Once you hit that big old Adventure Rank 20, you'll unlock the Battle Pass.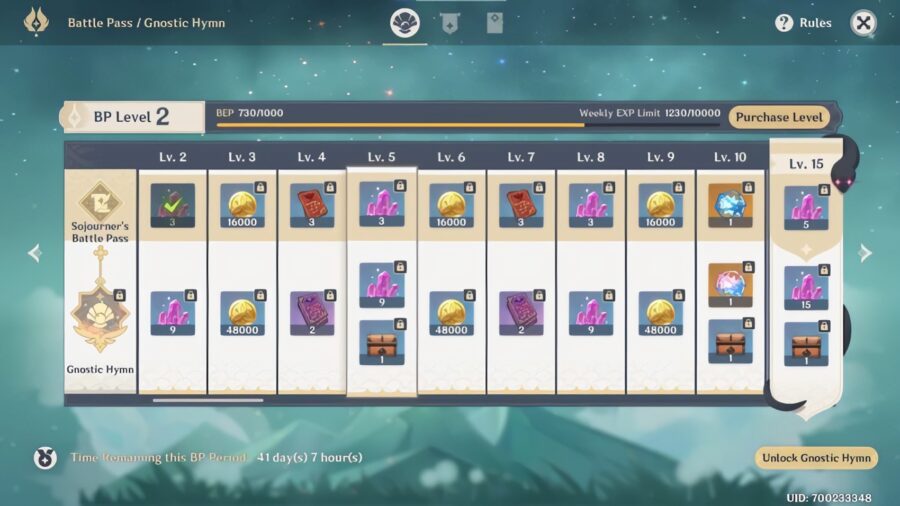 Yes, this is a strange use of a Battle Pass, because generally, you use the Battle Pass from the start, to help you unlock things as you begin your journey. In a game like Genshin Impact, the max Adventure Level at this moment is 60, and that is a lot of grinding and exploring to get up to that. It helps that once you hit Rank 16, you can play with friends, to make it easier!
Unlocking the Battle Pass gives you access to more daily and weekly quests for you to complete, and completing them will earn you Battle Pass XP, which ranks up the pass and rewards you for doing so, and in total, the pass contains 30 levels. Like most games that utilize a Battle Pass system, there are two different tiers, a free tier and a paid tier. The free tier is called Sojourner's Battle Pass, and the premium version is called Gnostic's Battle Pass.
When you hit Rank 20 and unlock the Battle Pass, you'll automatically have the free tier version, but to get access to the premium version, you have to hit the Unlock Gnostic Hymn in the bottom right-hand corner of the screen. This will take you to the relevant store platform to purchase the premium tier for $9.99 USD per season. There's also a $19.99 USD version that will advance you 10 BP levels, and also includes a namecard style and 5 Fragile Resin.
At the time of this writing, you will have about 40 days to complete the battle pass. It looks like seasons will be around 45 days long in total.
Battle Pass Rewards
If you're considering purchasing the Battle Pass, and are wondering what the difference is then there's a great visual representation of what you get for each of them in the image below that was created by SyleSpawn on Reddit. As you can see, you get a pretty significant upgrade in rewards. There's a lot of extra experience boosts and a bunch more Mora you can collect.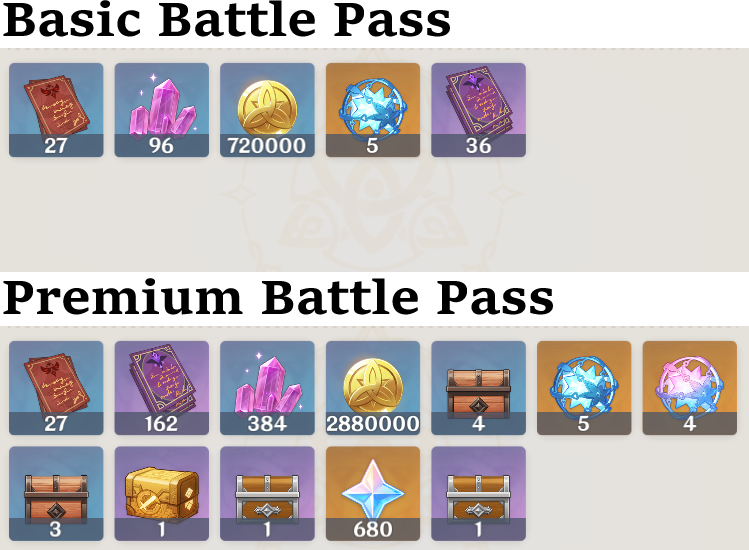 Not only that, you will also get many more chests to unlock, and you get some of the Intertwined Fates that can be used to purchase limited-time banners. The gold weapon chest might be unfamiliar to you, but they will give you the battle pass exclusive weaponry.
Is the Battle Pass Worth It?
That's a hard one to answer, because worth is very subjective. From what I've seen, people have mostly been disappointed with the additional rewards. According to Demone Kim on YouTube, if you are looking to spend money, the Blessing of the Welkin Moon is the best option available to you. It is $4.99 and you will get 300 Genesis Crystals, which can be exchanged for Primogems, and 90 Primogems daily for 30 days. This is a total of 3,000 Primogems, which can get you wishes for additional characters and items. He also does recommend the paid battle pass, because of the skill books you receive in the chests. These will make it so you can conserve your Resin when upgrading your character's skills.
If you plan on playing a whole lot of Genshin Impact, then it's probably worth putting the $9.99 into the Battle Pass. If you're a casual player, then you might want to hold off, because it's only really going to be worth it if you can reach the end of the pass, and it does take quite a while to do so.
We have plenty of other guides for this game in our Genshin Impact section!