Sumeru is home to peculiar little woodland fairies who make friends with children and protect people against the Marana, which is also known as the Withering. Getting to know these little creatures starts from a fated encounter in the World Questline called Aranyaka: Part I - Woodland Encounter. It's divided into three World Quests:
The Children of Vimara Village
Into the Woods
The Lost Child
In this World Questline, you'll encounter a lot of Withering Zones, so make sure to always have a battle-ready team!
How to unlock Aranyaka: Part I - Woodland Encounter World Questline in Genshin Impact
This is optional, but we recommend completing the Archon Quest Chapter III: Act I - Through Mists of Smoke and Forests Dark until the part where you say goodbye to Collei and leave Gandharva Ville. At this point, you would have completed the tutorial for getting rid of Withering Zones, which will make this World Questline a lot easier.
Otherwise, head west of Gandharva Ville to find a girl being attacked by fungi. Its exact location is circled in the image below. Defeat the mushrooms to prompt a dialogue with the girl named Rana, officially starting the Aranyaka World Questline.
Related: How to use Stamina restoring flowers in Sumeru in Genshin Impact
How to complete The Children of Vimara Village Sumeru World Quest in Genshin Impact
Prepare a battle-ready team and follow Rana toward a Withering Zone. Help her get rid of the anomaly by using Dendrograna to shoot the buds of the Withering Branches and get rid of the enemies that pop up. Once that's done, interact with the Tumor of the Withering to prompt a cutscene showcasing the area being cleared of the corrosion.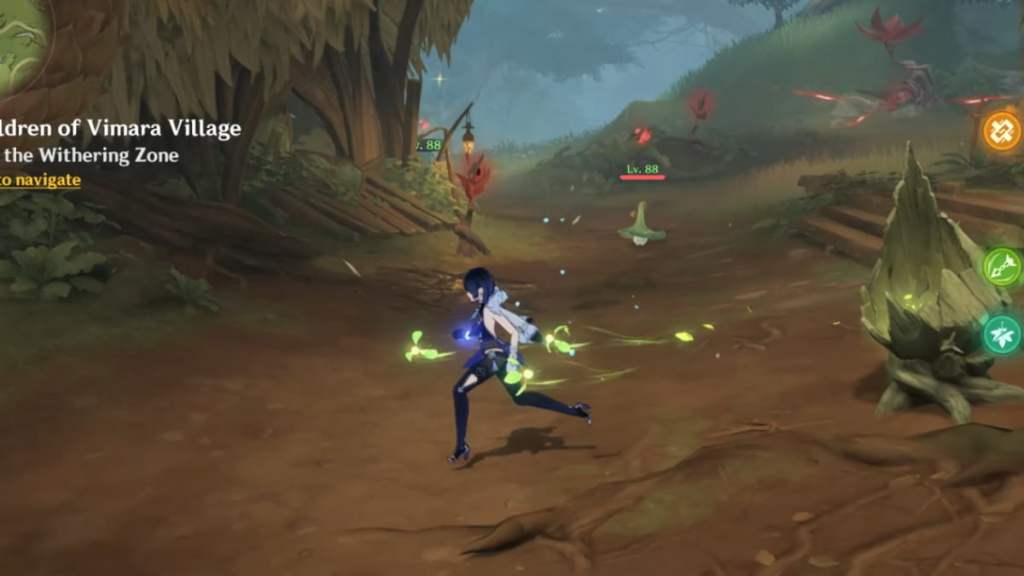 After getting rid of the Withering Zone, follow Rana to Vimara Village, where she'll introduce you to a series of townsfolk. Eventually, you'll be asked to entertain three children: Iotham, Kavus, and Sudabeh. You can speak to them in any order and can choose any dialogue option, as they'll all end with the same conclusion. Once that's done, speak to Rana to complete the World Quest.
Check out our guide on the next part of this questline: Genshin Impact Into the Woods World Quest guide – Aranyaka Part I.