The Blossoming Starlight Outfit is a skin that can exclusively be used by Klee, everyone's favorite Pyro fish bomber. While Klee is a five-star character, the Outfit is only classified as a four-star, which means that it doesn't include special Skill animations like Diluc's Red Dead of Night skin.
Regardless, Blossoming Starlight transforms Klee into an adorable little mage reminiscent of the Hexenzirkel. I'm personally a huge fan of the design, so I'm definitely going to get it ASAP! If you love it too, then here's how you can get it.
How to get Klee's Blossoming Starlight Outfit in Genshin Impact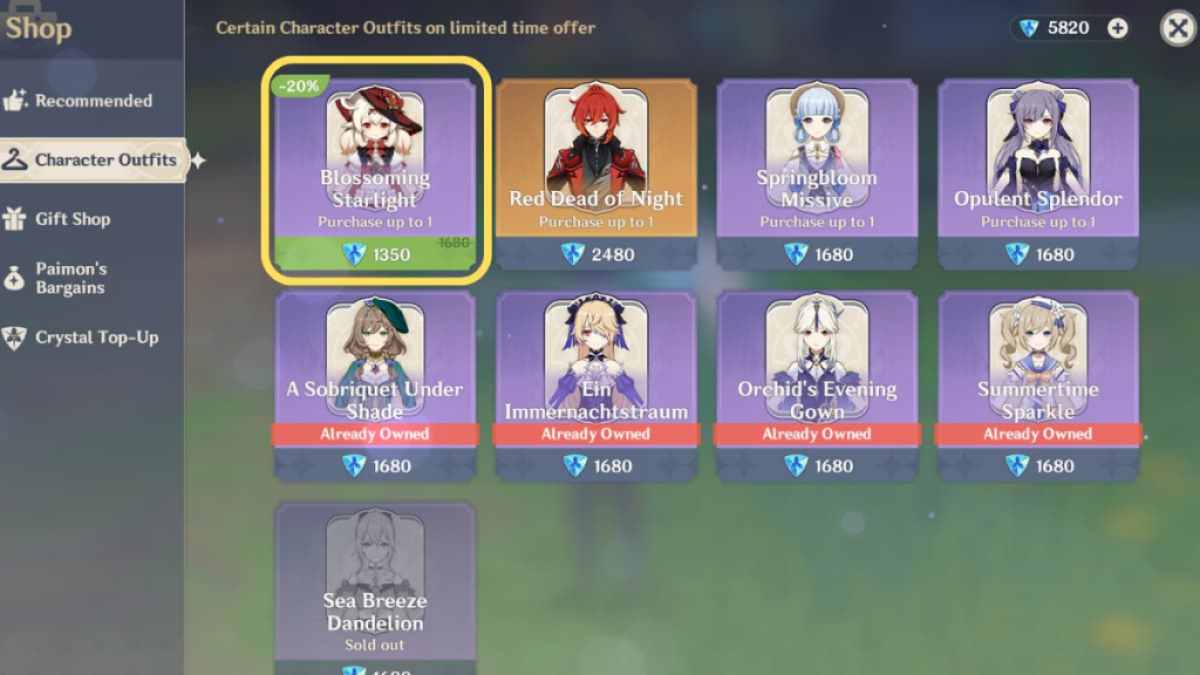 Related: How to get Lisa's A Sobriquet Under Shade skin in Genshin Impact
Klee's Blossoming Starlight skin can only be purchased from the Character Outfits store. Open the Paimon menu, click on Shop, then select the Character Outfits section on the lefthand corner of the screen. The Outfit is on sale for a discounted price of 1,350 Genesis Crystals from July 5, 2023, to August 14, 2023. After August 14, the Outfit will remain in the store at full price—1,680 Genesis Crystals.
Genshin Impact typically keeps all Outfits permanently in stock, so there's no rush to collect Genesis Crystals and purchase Blossoming Starlight. However, if you want to take advantage of the discounted price, make sure to purchase within the designated period. You can buy this Outfit even if you don't own Klee but can only equip it once you've pulled for her. She's in the limited banner rotation until July 25, 2023, so it's a great opportunity to get both Klee and her skin together.
How to get Genesis Crystals in Genshin Impact
Genesis Crystals are paid currencies that can be converted into Primogems. There's, unfortunately, no way to obtain them without shelling out real-life money. They can be purchased via the Crystal Top-Up section in the Shop, and you'll also get a few every time you buy a Blessing of the Welkin Moon.
To build your characters' wardrobes, check out How to get Ningguang's Orchid Evening Gown skin in Genshin Impact here on Pro Game Guides.