The Majestic Hooked Beak is a character Ascension material that can be farmed from the Jadeplume Terrorshroom—a majestic Normal Boss that can be found in the northeast of the Vissudha Field in Sumeru, west of Vanarana. The Jadeplume Terrorshroom is also the source of Nagadus Emerald Gemstones, which are used to ascend Dendro characters.
Where to find the Jadeplume Terrorshroom in Genshin Impact
Light up the Sumeru World Map by interacting with the Statue of the Seven in the Vissudha Field, then head to either of the cliffs circled in the image below. From there, glide toward the portal in the sky to be transported to the hidden area where the Jadeplume Terrorshroom resides.
Once you're in the Jadeplume Terrorshroom's territory, you can unlock the Teleport Waypoint inside, so you can easily teleport to the area when farming in the future.
How to defeat the Jadeplume Terrorshroom in Genshin Impact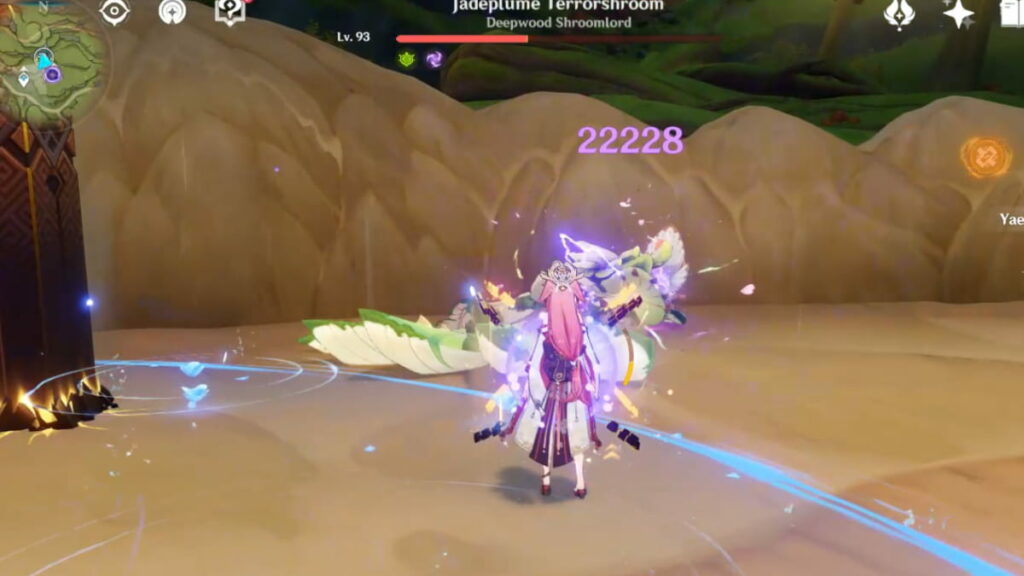 The Jadeplume Terrorshroom is a fairly straightforward Normal Boss without particularly annoying mechanics like the Golden Wolflord. It does quite a bit of damage with its physical attacks, but they're easy to dodge by running or putting up a shield. The Jadeplume Terrorshroom is particularly susceptible to Quicken and Aggravate Reactions, which are caused by combining Dendro and Electro. These are able to disable the Boss, rendering it immobile on the ground. We highly recommend using this Reaction if you want the battle to end as quickly as possible. Once the battle is over, you need to spend 40 Original Resin to claim rewards.
Check out our guide on How to get rid of Withering in Sumeru in Genshin Impact to save the region's biome.