The Nagadus Emeralds are Dendro character Ascension materials that can be used for the likes of Collei, Tighnari, and more. The series consists of four materials: the Sliver, Fragment, Chunk, and Gemstone.
Where to get Nagadus Emerald Ascension materials in Genshin Impact
Bosses
Nagadus Emerald materials are dropped by Dendro Normal and Weekly Bosses, such as the Jadeplume Terrorshroom, which can be found northwest of the Vissudha Field in Sumeru, west of the Vanarana. It costs 40 Original Resin to claim rewards. The higher your World Level, the better your chances at getting the higher-tier Nagadus Emerald drops. However, there's no guarantee of getting this material in a specific tier, regardless of your World Level.
Nagadus Emerald Sliver—dropped by all Dendro Normal and Weekly Bosses
Nagadus Emerald Fragment—dropped by Dendro Normal and Weekly Bosses level 40+
Nagadus Emerald Chunk—dropped by Dendro Normal and Weekly Bosses level 60+
Nagadus Emerald Gemstone—dropped by Dendro Normal and Weekly Bosses level 75+
Crafting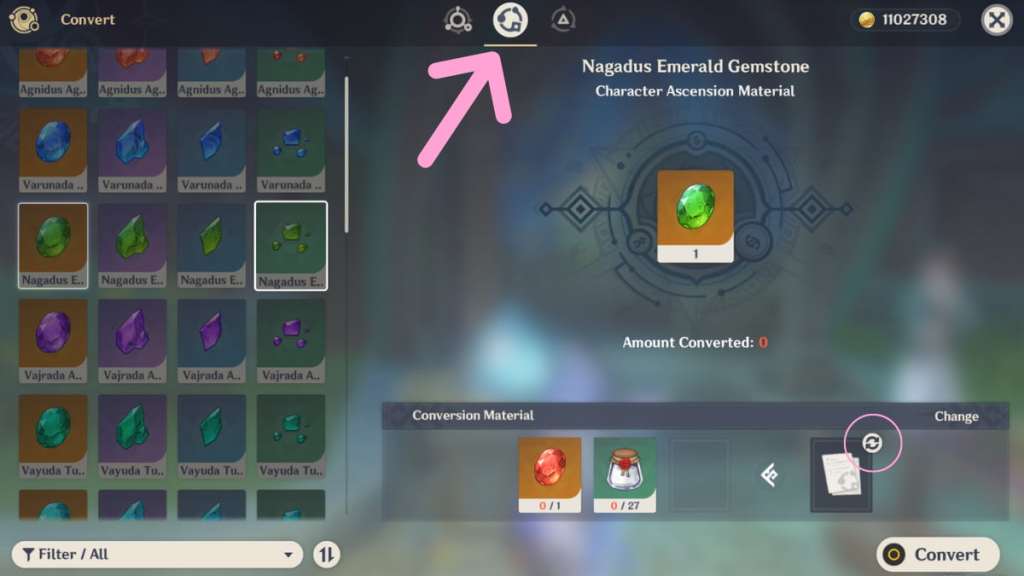 Head to any city and interact with the Crafting Bench. You can exchange three lower-tier materials for one material one tier higher. For example, three Nagadus Emerald Slivers plus some Mora will merit you one Nagadus Emerald Fragment. Since lower-tier materials are easier to farm, this makes it easier to get Chunks and Gemstones.
Meanwhile, you can also exchange other Elemental stones for Nagadus Emeralds. Switch to the Convert tab on the upper part of the screen and select the Nagadus Emerald material you need. You can convert any of your existing stones of other Elements plus some Dust of Azoth in exchange for their Dendro counterpart. Click on the switch button beside the recipe to change the stone you want to exchange.
Events
Genshin Impact regularly hosts events that historically provide character Ascension materials as rewards. Make sure to participate in these events to farm some Nagadus Emerald stones at no Resin cost.
Check out our guide on How to solve all Contemplation & Association questions in the Genshin Impact Sumeru Archon Quest to help you end the eternal samara.