The Mementos Lens is a new gadget that Travelers can obtain by progressing in the Sacrificial Offering questline. This objective is part of the Sacred Sakura Cleansing Ritual Genshin Impact world quest, in which Kazari—the mysterious masked shrine maiden you encounter at the beginning of Narukami Island—tasks you with clearing barriers and cleansing the Sacred Sakura tree.
How to obtain Memento Lens
Sacrificial Offering will first lead you to explore the Konda well, then to the abandoned shrine northeast of Konda Village. After you complete the Mysterious Shadow puzzle at the abandoned shrine, you'll receive an ancient text that requires decoding. You and Paimon decide to take this text to the Grand Narukami Shrine.
At the Grand Narukami Shrine, speak with the shrine maiden who is waiting for you. After explaining the text's meaning, she will offer you the Memento Lens as an aid in your journey.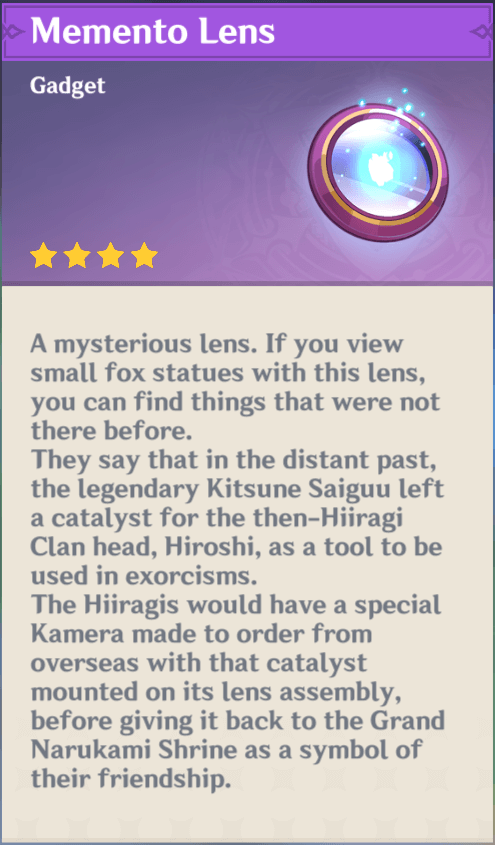 How to use Memento Lens
According to the shrine maiden, everything in Inazuma, from rocks to trees, has a spirit. You can interact with these spirits by equipping Memento Lens, which allows you to see what the naked eye cannot.
Return to the abandoned shrine and use your Memento Lens while standing in front of the small fox statues, called Earth Kitsunes. With the Earth Kitsune fixed in your lens, click or interact with the statue. A short scene will play afterwards, revealing what you couldn't see before.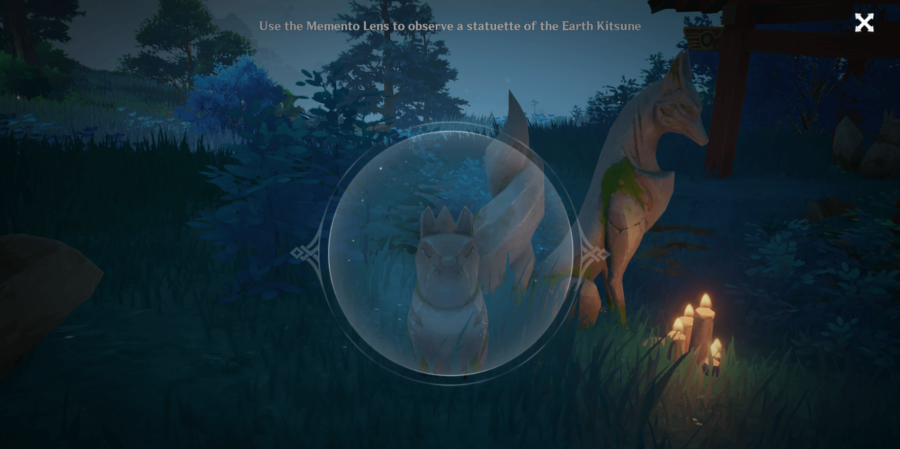 Even after completing this quest, you'll get to keep the Memento Lens as a permanent addition to your gadget inventory.
For your next step in Sacrificial Offering, check out our guide on how to find the barrier beneath the abandoned shrine. You can also earn free in-game prizes by redeeming Genshin Impact codes.