The Tome of Taliesin is a Genshin Impact Wonders of the World Achievement that you can unlock by obtaining Taliesin's gift in The Chasm: Underground Mines. You might remember that The Chasm's exploration team includes a distressed bard named Taliesin, who's looking for inspiration to create songs. After exploring the depths of the Underground Mines, the ever-so-capable Traveler may have some interesting tales to tell.
Prerequisites for The Tome of Taliesin Hidden Exploration Objective & Achievement in Genshin Impact
The Hidden Achievement is connected to a Hidden Exploration Objective that involves telling Taliesin about everything you experienced in The Chasm's Underground Mines. Before that, you must complete all of these prerequisites:
World Quests
Archon Quest
Hidden Exploration Objective
How to obtain Taliesin's gift in Genshin Impact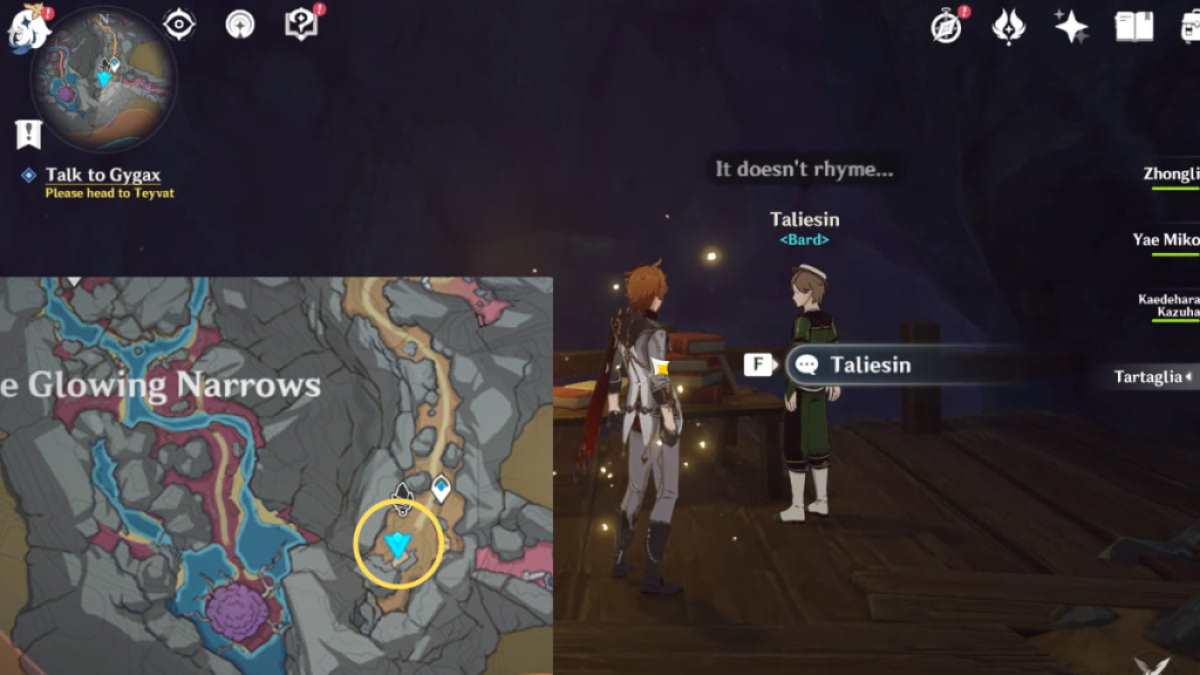 After you've completed the long list of prerequisites above, head to the camp at The Glowing Narrows and speak to Taliesin. From here on, you need to speak to Taliesin multiple times. There are six dialogue routes in total:
Well, if you just need me to tell you stories...

Tell of your adventures in The Chasm.

(1) Tell of the darkness and the creatures from the Abyss...
(2) Tell of the azure crystal you found in the depths of The Chasm.
(3) Tell of the fluorescent fungus in the caves...

Tell of the people you've met and the things you've seen.

(4) Tell of the nine Black Serpent knights...
(5) Tell of your search for your kin...
(6) Tell of the Fatui who met with a crisis...
Complete all six dialogue routes in any order. Then speak to Taliesin again. He'll state that he's gotten dizzy from all your stories and will ask you to come back later. You must wait until the next server reset or one real-life day and return to Taliesin. Speak with him again to get the Quest Item called Taliesin's Manuscript, as well as the Hidden Wonders of the World Achievement called The Tome of Taliesin.
To learn more about Genshin Impact lore, check out our guide on Who are Descenders in Genshin Impact? here on Pro Game Guides.