The Golden Apple Archipelago is back for Genshin Impact's Summertime Odyssey event, which runs from July 15, 2022, to August 24, 2022. Part of your summer island exploration involves completing a plethora of World Quests and puzzles, and by rearranging the Bonsai after Kaedehara Kazuha's event Domain, you'll be able to unlock even more content to play.
How to unlock the Rearrange Bonsai feature in the Genshin Impact Golden Apple Archipelago
After completing The Golden Apple Vacation Returns!, you'll unlock As the Courtyard in Spring Once Appeared. This quest will require you to complete Kazuha's Domain in three parts:
After completing all three parts, the Bonsai on Kazuha's island will complete. You can interact with it and select Rearrange Bonsai to use its features.
Related: All Chest locations in the Golden Apple Archipelago – Genshin Impact Summertime Odyssey event
How to use the Rearrange Bonsai feature in Genshin Impact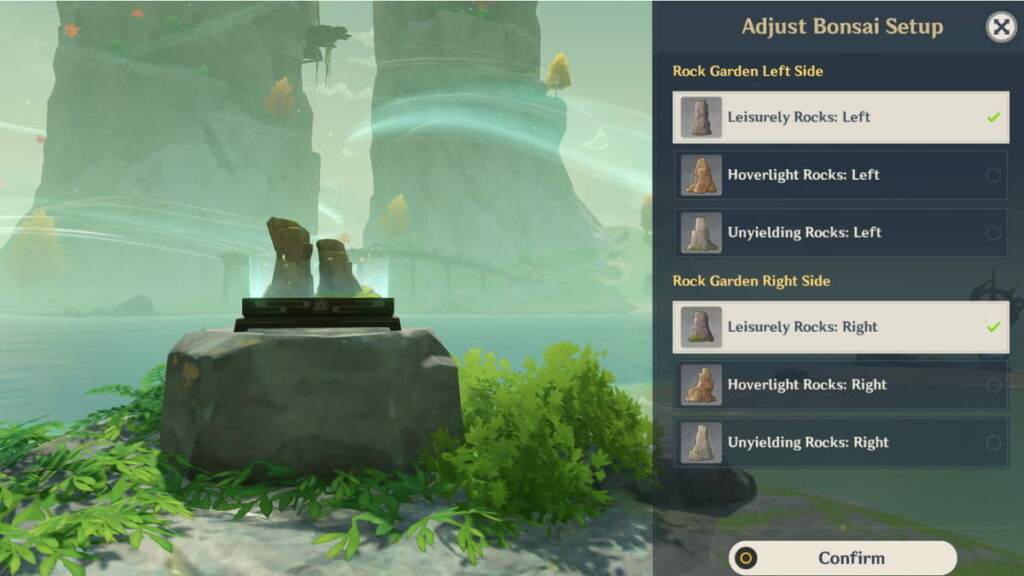 Interact with the Bonsai on Kazuha's island and choose Rearrange Bonsai to open the setup menu. As its name suggests, you can change the formation of rocks by choosing what you want to showcase on the left and right sides of the display pot. After changing the formation, don't forget to click Confirm to save your changes.
The Bonsai formation affects the World Quests, puzzles, Time Trials, enemies, and Chests that appear in the Pudding Isle of the Golden Apple Archipelago. For example, the following combinations will change the puzzles, quests, and enemy types to relate to the three playable nations:
Monstadt—Leisurely Rocks: Left + Leisurely Rocks: Right
Inazuma—Hoverlight Rocks: Left + Hoverlight Rocks: Right
Liyue—Unyielding Rocks: Left + Unyielding Rocks: Right
The left rock corresponds to the mountain on the left of Pudding Isle, while the right rock corresponds to the mountain on its right. You can make every Bonsai combination to spawn all sorts of new puzzles, Chests, and more on the island.
Check out our guide on Genshin Impact Resonating Visions event guide – All Phantasmal Conch locations for free Fischl skin! to score Fischl's amazing Outfit.