With the release of the Teyvat Chapter Interlude Teaser: A Winter Night's Lazzo cinematic, HoYoverse revealed several secrets about the Fatui Harbingers. Every one of the Harbingers has been uncovered, and players can now put faces to names.
Previously, the only Fatui Harbingers known by the public were Childe and Scaramouche, but now the ranks have been brought to light. One of these Harbingers is Regrator, also known as Pantalone, who is in command of Snezhnaya's finances. Who is this elusive Harbinger?
Who is Regrator in Genshin Impact?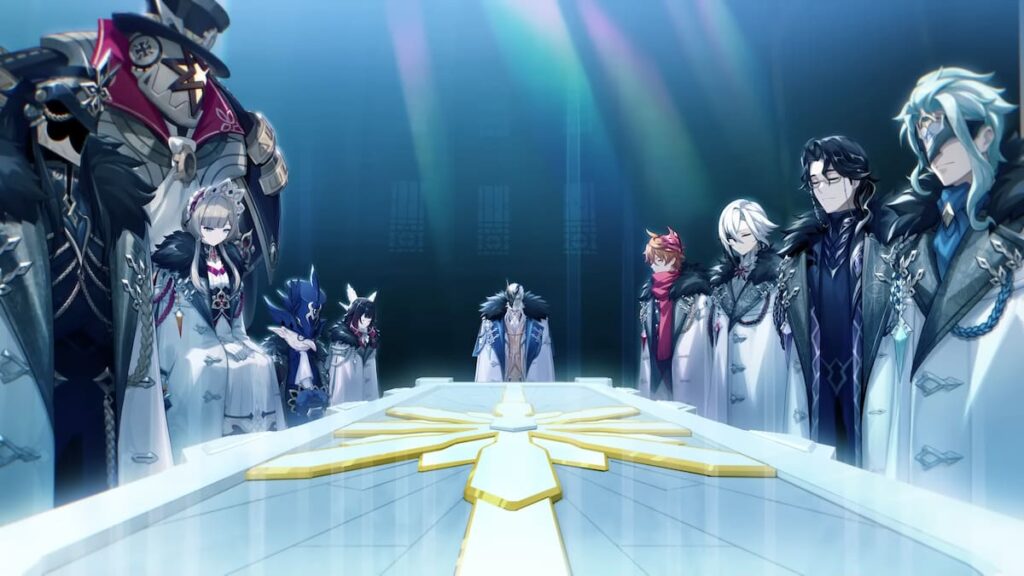 Regrator is the ninth Fatui Harbinger. He is responsible for the flow of money in Snezhnaya, and is well-acquainted with finances as displayed by his extreme wealth. Regrator appears in Yelan's backstory, although he was never given a face until the Teyvat Chapter Interlude Teaser: A Winter Night's Lazzo cinematic.
His true name is Pantalone, although he often goes by "Regrator" to avoid revealing his identity. The name "Pantalone" is a reference to the Italian style of theatre "La Commedia dell'Arte," where archetypical characters improvise their reactions to a problematic situation.
Related: All Genshin Impact Character Ages, Birthdays, and Zodiac Signs
Do the other Harbingers go by theatric aliases?
Every one of the Harbingers uses names derived from the Italian theatre style "La Commedia dell'Arte." The "Pantalone" character is portrayed as an elderly man obsessed with wealth, despite his frugal lifestyle. In the same vein, "La Signora" is an adept female strategist who is married to Pantalone, which rings true in Genshin Impact's lore.
"Arlecchino," or "Harlequin," is embodied by the aptly named Arlecchino, who bears the split-color design of a traditional harlequin. Each member of the Fatui Harbingers is named after a character of La Commedia dell'Arte, and acts in accordance with their archetype.
For more Genshin Impact guides, come check out Genshin Impact reveals the faces and voices of all Fatui Harbingers in new Teyvat Interlude Teaser here on Pro Game Guides.