Keqing has long been considered a below-average character due to her mediocre damage, reliance on charge attacks that knockback, and lackluster reactions due to the Electro element. However, with the introduction of the Dendro element, she has become a more viable asset due to the new element's bonuses. Here is why we believe Keqing has become a better character since the release of Genshin Impact's 3.0 update.
Keqing and the Dendro Element
The Dendro element is the saving grace of Keqing. Her greatest flaw that's kept her out of the meta limelight since Genshin Impact's release has been her modifiers. Electro's element has had no stand-out reactions to supplement her damage. With the triple elemental reaction Aggravate, however, Keqing's overall damage has skyrocketed due to its impressive scaling with Elemental Mastery. Aggravate has made Elemental Mastery far more useful to Keqing, making it easier to obtain viable artifacts for her to use. We don't recommend fully focusing on Elemental Mastery, as Keqing still needs to invest in the traditional damage stats she's always utilized. Getting Elemental Mastery on artifact sub-stats is ideal.
Related: All Dendro Characters in Genshin Impact – Current and Future
Quicken and Aggravate
You'll need to apply the Quicken reaction first to trigger the Aggravate reaction. Quicken is triggered when Electro meets Dendro, or vice versa, on a target. When Quicken is triggered, hit the target with Electro again to apply Aggravate. As mentioned, Aggravate is a massive damage buff. It adds significant flat damage to Electro attacks and can notably deal Crit Damage, something all other Electro reactions lack. Keqing's Electro application has always been consistent due to her infusion, making her the perfect driver for both the Quicken and Aggravate reactions.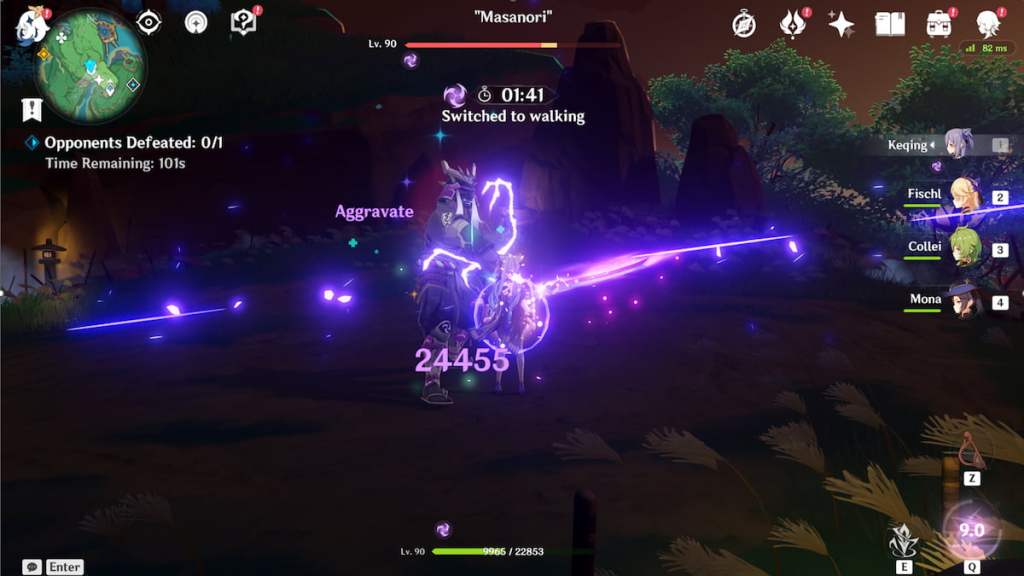 Collei and the Dendro Traveler
As supports for Keqing, Collei and the Dendro Traveler both serve as sufficient off-field Dendro applicators for her to utilize. This is fantastic for Keqing because she needs to be on-field dealing constant Electro damage to make good use of the Aggravate damage boost. Both characters also provide additional Elemental Mastery to Keqing, further boosting her damage from Aggravate.
Fischl's Synergy
Fischl works well with Keqing because of her first Ascension passive and final Constellation: Undone by Thy Sinful Hex and Evernight Raven.
Undone By Thy Sinful Hex
Fischl's Undone By Thy Sinful Hex Ascension allows her Oz to fire bolts of Electro that deal 80% of her attack as additional Electro damage if an on-field character triggers an Electro reaction. This includes Quicken and Aggravate. This passive does not have a cooldown, so every single Electro reaction will trigger it. Because the Dendro aura does not disappear when Quicken or Aggravate are triggered, each separate instance of Electro damage will cause a Quicken or Aggravate reaction, which triggers Fischl's passive.
Related: All Dendro Elemental Reactions and Combos in Genshin Impact
Evernight Raven
Evernight Raven, her final Constellation, works similar to her above Ascension. It is powerful for the same reasons, including applying extra instances of Electro. The biggest difference is that these additional bolts are triggered from Oz through joint attacks from the active character. This also does not have a cooldown. Keqing attacks extremely fast, meaning that every time she hits a target, another bolt from Oz is fired in conjunction. Each of these bolts also applies Electro and trigger Quicken and Aggravate.
With Keqing serving as the driver for Fischl's Oz, the combination of these two passive effects leads to an enormous amount of Electro damage in a short amount of time.
For more guides and information on Genshin Impact, check out All Genshin Impact Elements, Elemental combos, and Reactions and Best Dori builds in Genshin Impact – weapons, Artifacts, & more! on Pro Game Guides.