Ghost of Tsushima was one of the most critically acclaimed games in 2020. It was a standout success for the PlayStation 4. Because of how well it performed, Sony has decided to give this Game of the Year contender a definitive release with Ghost of Tsushima: Director's Cut. With such a sensational rerelease announced, fans are eagerly anticipating information about the title.
Ghost of Tsushima: Director's Cut will be released on August 20, 2021, for $69.99 on PS5 and $59.99 on PS4. Sucker Punch says that this version of the game will release for both PS4 and PS5. It'll come with all previously released DLC and several upgrades designed specifically for the PS5. These include:
Dynamic 4K Resolution (Up to 60 FPS)
3D Audio (for compatible PS5 Headsets)
Japanese Lip Sync for those who chose this language option
Haptic Feedback for the DualSense Controller
Adaptive Triggers that add resistance to simulate actions.
Other bonuses in the Director's Cut are shown in the image below.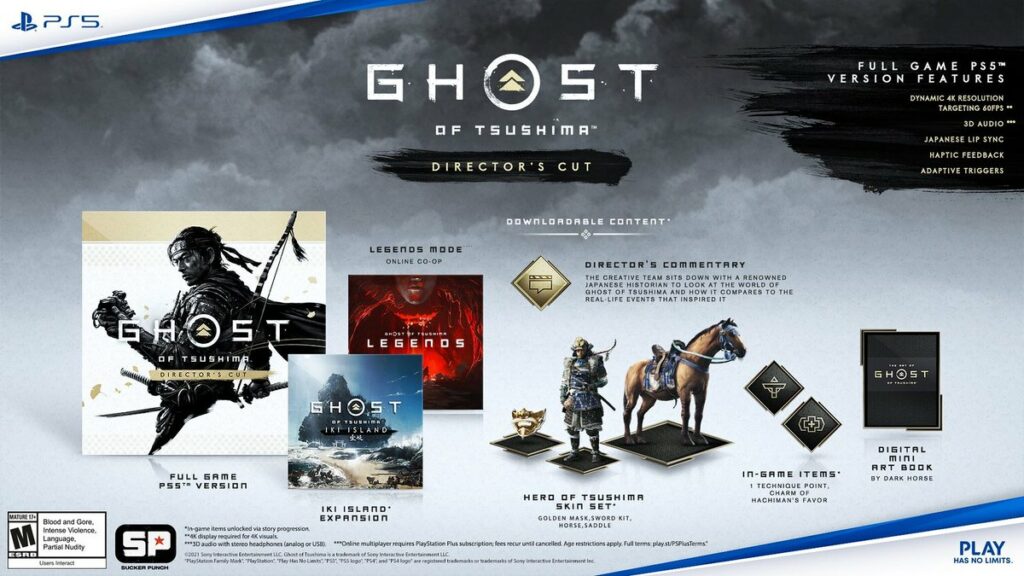 Related: Ghost of Tsushima Sequel Might Already be in Development
Not only does the Ghost of Tsushima: Director's Cut boast improved visuals for the PS5, but it comes with the Iki Island Expansion. Sucker Punch says this DLC will offer a brand new story and characters for Jin to interact with on his journey. There are also new trophies for Iki Island.
If you already own a copy of Ghost of Tsushima on PS4, you'll be able to upgrade to the PS4 Director's Cut for $19.99. PS4 users can then upgrade at any time to the PS5 version for $9.99. Those looking to upgrade to the PS5 Director's Cut directly can do so for $29.99 as well.
Ghost of Tsushima: Director's Cut even allows with saved progress on the PS4 version of the game to transfer their saves to the PS5 version.
For more on Ghost of Tsushima, check out Ghost of Tsushima: What is New Game+ and How Do You Unlock It? or Ghost of Tsushima: Legends - How to Change Your Class.