Hogwarts Legacy has finally allowed the Deluxe Edition users to start playing the game, and players need to know the best PC performance settings. The game is up and running for PC and console users worldwide. The joy of finding yourself in the wizarding world feels amazing but at the same time, the right settings to keep playing the game without any lags are equally important. Here are the best PC performance settings for Hogwarts Legacy.
Best Graphics Settings Performance for Hogwarts Legacy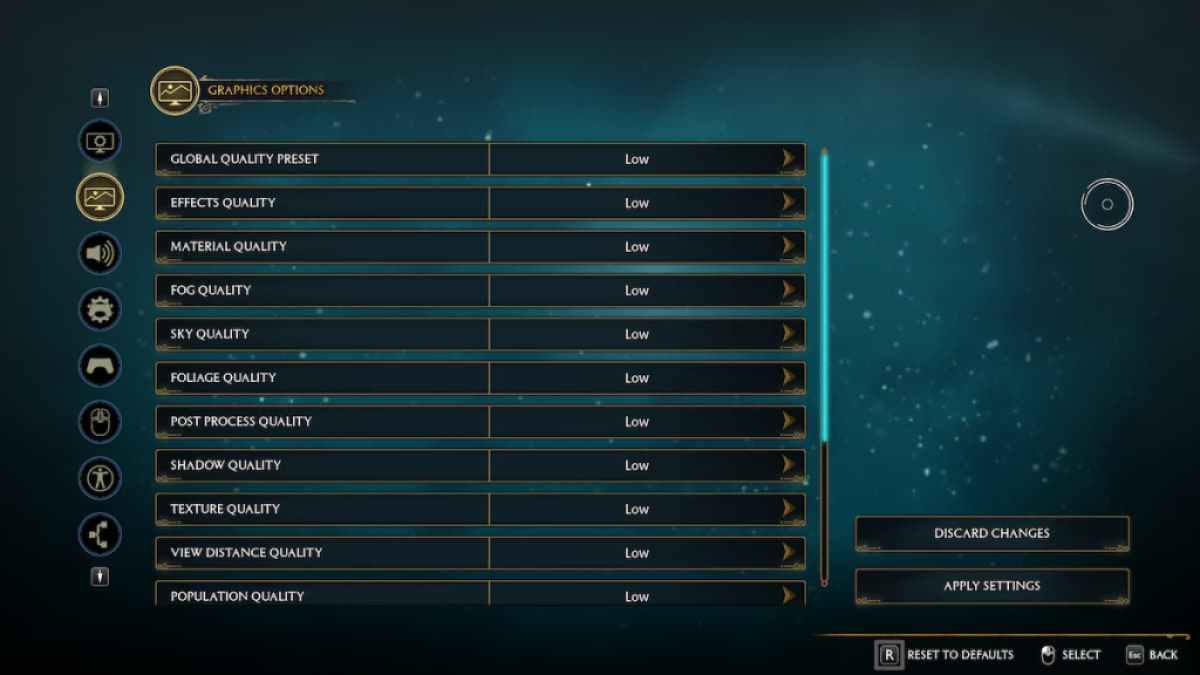 Once you are done installing the game, head to the settings menu to check the Display options tab. Make sure to configure the settings to enjoy the best visual experience the game offers.
Global Quality Preset: Low
Effects Quality: Low
Material Quality: Low
Fog Quality: Low
Sky Quality: Low
Foliage Quality: Low
Post Process Quality: Low
Shadow Quality: Low
Texture Quality: Low
View Distance Quality: Low
Population Quality: Low
Window Mode: Windows Fullscreen.
Frame Rate: 60
Motion Blur: On
Depth of Field: On
Film Grain: On
VSync: Off
Upscale Type: NVIDIA DLSS or AMD FSR 2
Upscale Mode: NVIDIA DLSS Auto or AMD FSR 2 Quality
Upscale Sharpness: 0
Chromatic Aberration: On
Ray Tracing Reflections: Off
Ray Tracing Shadows: Off
Ray Tracing Ambient Occlusion: Off
Best NVIDIA Settings Performance for Hogwarts Legacy
After you are done with the in-game settings, you can improve the gameplay significantly by selecting the best options in the NVIDIA control panel. You can do it from the Global 3D Settings menu and change it to the below settings. The ones using a laptop to run Hogwarts Legacy should definitely turn on the Power Management Mode to get optimal performance.
Image Scaling: On
Antialiasing FXAA: Off
Antialiasing Transparency: Off
Anisotropic Filtering: Application Controlled
Antialiasing Mode: Application Controlled
Max Frame Rate: Off
Low Latency Mode: Ultra
Ambient Occlusion: Performance
Optimize for Computer Performance: On
NVIDIA Reflex Low Latency: On
Related: All Answers to get the Stag Patronus in Wizarding World
These are the best settings for optimal performance for Hogwarts Legacy on PC. Although PC users might find their systems struggling, it entirely depends on their hardware. Portkey Games have briefly described what each setting does in the graphics menu and its effects on the systems performance.
To find out more on Hogwarts Legacy check out, Hogwarts Legacy Performance vs Fidelity Mode – Which is Better? on Pro Game Guides.