As you piece together the puzzle of the Founders and Ranrok's evil plan, you'll controversially seek help from the goblin, Lodgok. Though others might be suspicious of his intentions, he has proven so far that he is trustworthy. To begin this quest, look for a letter from Lodgok in which he tells you he is off to the Coastal Mine to try and reason with Ranrok. He certainly can't do it alone, so it makes sense that you follow him and collect some loot as you do.
How to complete the Coastal Mine in Hogwarts Legacy - Complete Guide
The Coastal Mine is located in the southeastern part of the map. Once you select the quest in your Quest Menu, your marker should lead you directly there. You can use a Floo Flame from a nearby town and then fly the rest of the way on your broom.
There will be some enemies guarding the entrance, including an armored troll, so you can choose whether or not you'd like to go stealthily or quickly take them out before entering.
To the right of the main entrance, you can head off to a smaller locked door. This door requires a level three Alohomora, which you can get by collecting some Demiguise Moons and upgrading your unlocking spell. Inside this room is a Legendary chest for you to loot before continuing.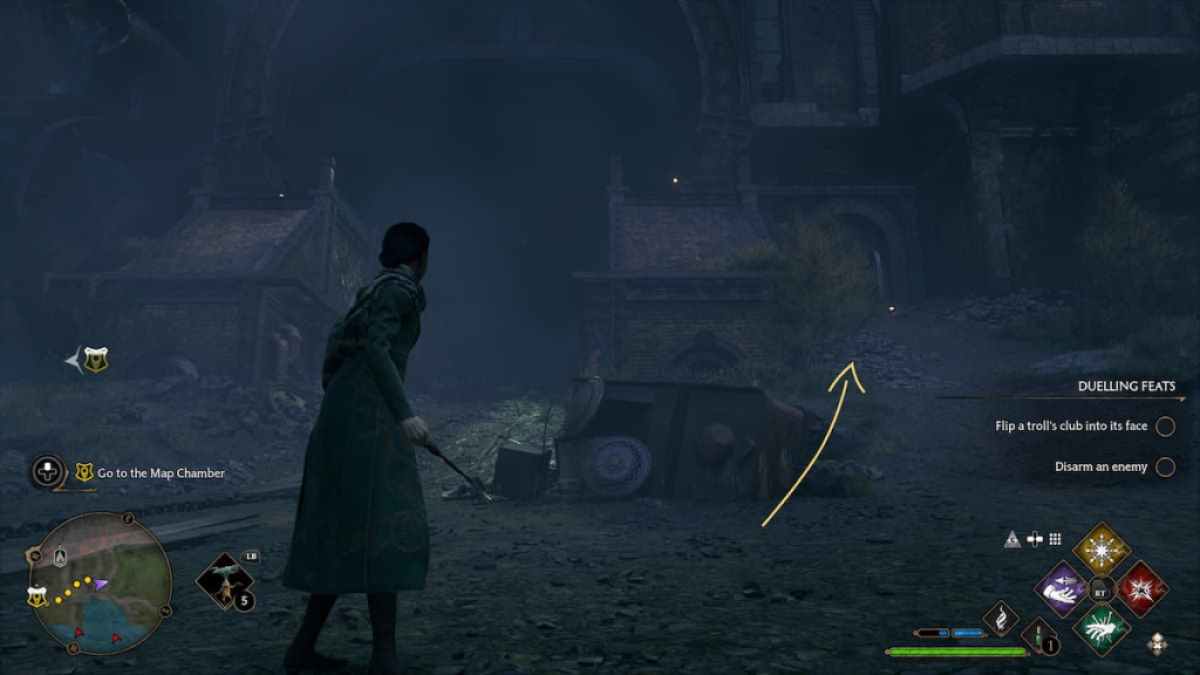 Once you have the chest, you can head through the main tunnel and to the right to find the entrance into the mine. Inside the entrance, you'll walk down a few steps and come to a cart. Hold X/Square to interact with it and wait as your character rides the cart to the next level.
Once you're off the cart, head forward to the right, follow the path, and then up the metal stairs. Here you'll see a boiler, the same type you saw while completing the Gobbledegook quest. You'll need to use Incendio or Confringo to light it. It will power up a lever to a locked door you'll need later on.
Related: How to reach the southern part of the World Map in Hogwarts Legacy
After you've lit the boiler, turn around, and you'll spot a metal staircase around the left corner leading to a rail and moving platforms. You won't be able to make the jump across. Instead, use Accio to grab onto the handle and pull the platform over to your side. Make sure to keep holding down RT to allow the spell to fully pull it forward.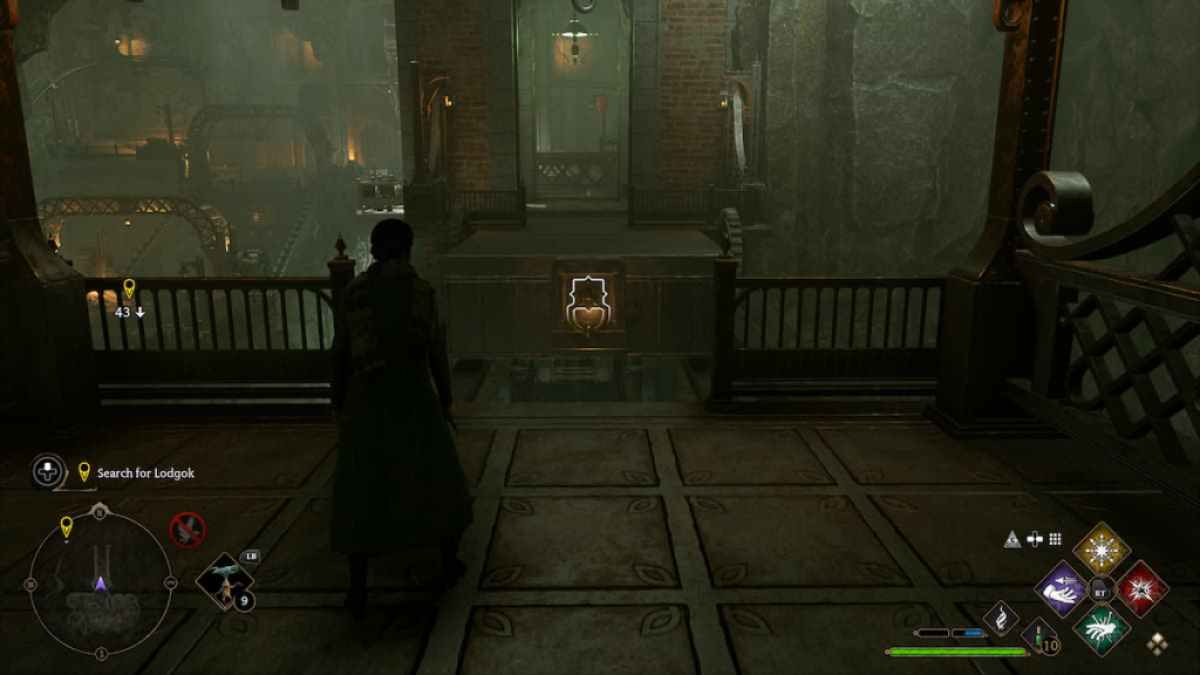 You can hop onto the platform once it's close enough to your side. Then, use Accio to grab onto the handle of the fixed platform ahead of you and pull yourself all the way across.
Once across, continue forward over a small bridge, and you'll run into some more enemies to defeat. Directly to your right, however, at the end of the bridge, you'll notice a brief detour. You can use Accio to pull down the box and then use it to climb up the stone wall. This will lead to a level three locked door, which you can unlock with Alohomora. Inside this locked area, you can grab the loot: a bag and a small chest blocked by a barricade. You can break through the barricade to collect it.
Once you have the loot, head back out to the main area. To your right will be a slightly gated area, in front of you a separate storage-like area, and then to your left, an archway leading to more rails. To collect all the possible loot, you'll want to head over to the right first into the gated area. In here is another boiler to light. Lighting this boiler powers the lift just down the stairs behind it. Step on and interact with the crank with X/Square to descend to a lower level.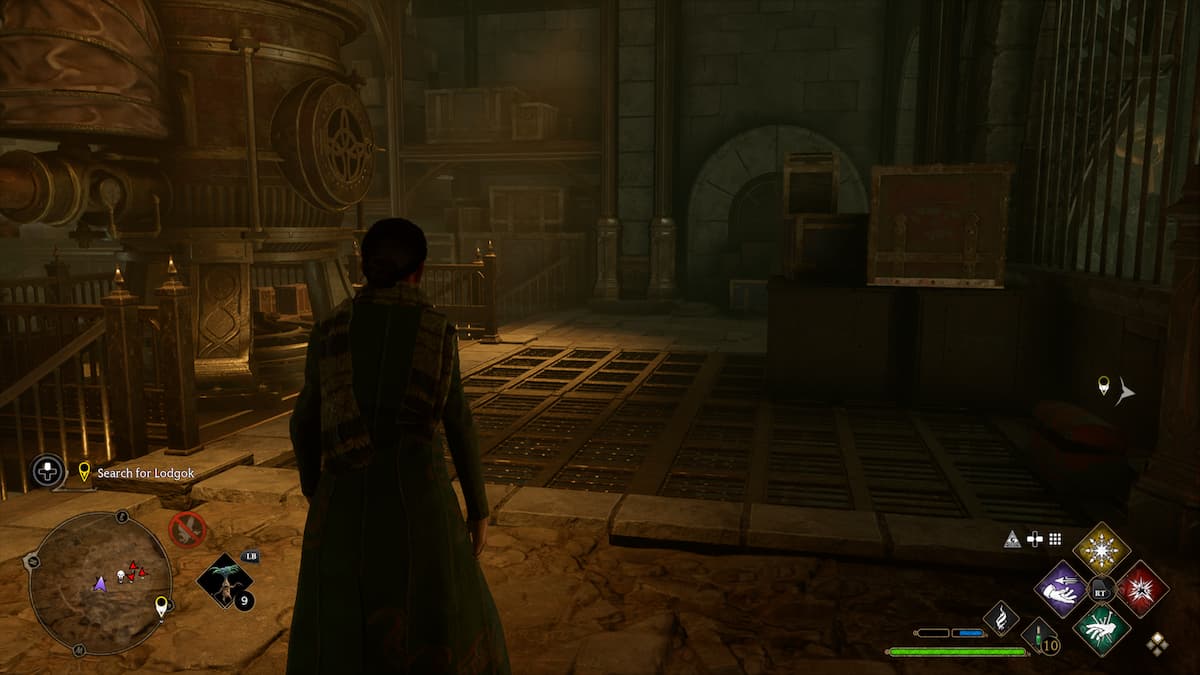 This area will be extremely dangerous. There is a boss here, more goblins, as well as another troll. Once the lift hits the bottom, notice another boiler directly to your left. You can light this up with a fire spell. Then you'll need to either sneak around or defeat all the enemies to collect the Legendary chest just straight forward from the lift on the opposite side of the room. There is also some smaller chests to the right side.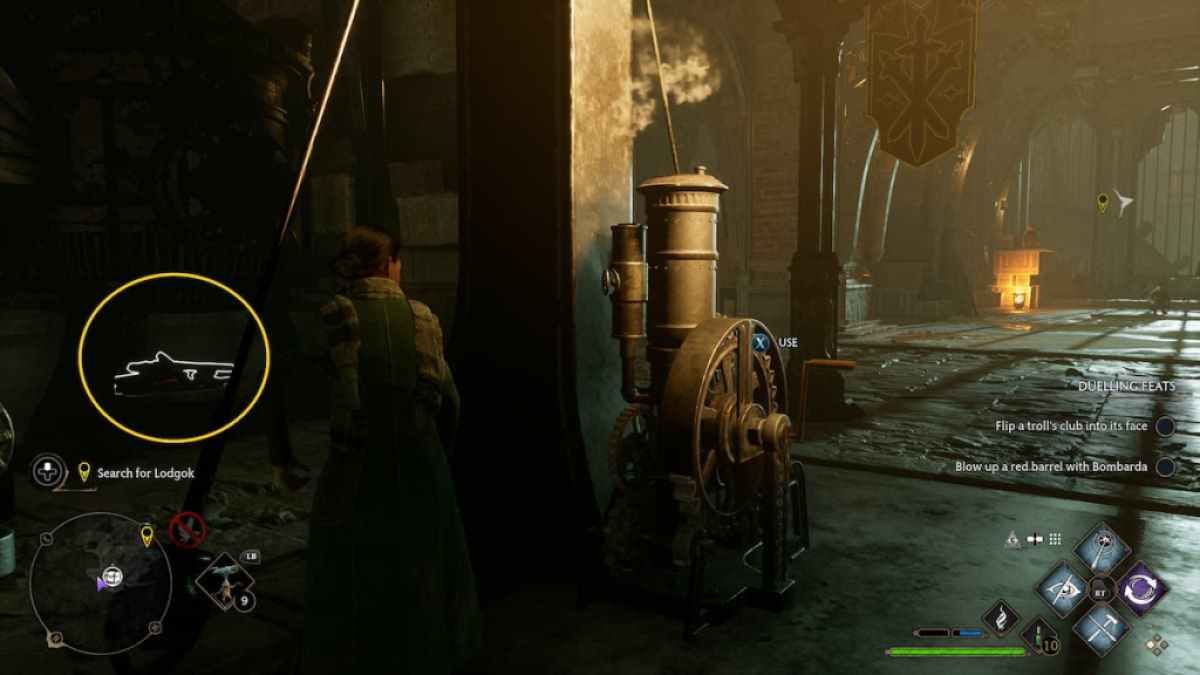 Once you have the loot, get back on the lift and ascend back to the main level. You can head off to the right to the storage area to collect some loot, as well as the first collection chest. To continue the story, you'll need to head to the archway, where there is another platform rail. Again, you'll need to use Accio to pull the platform over to your side. Then use Accio again to grab onto the opposite fixed platform and pull yourself across.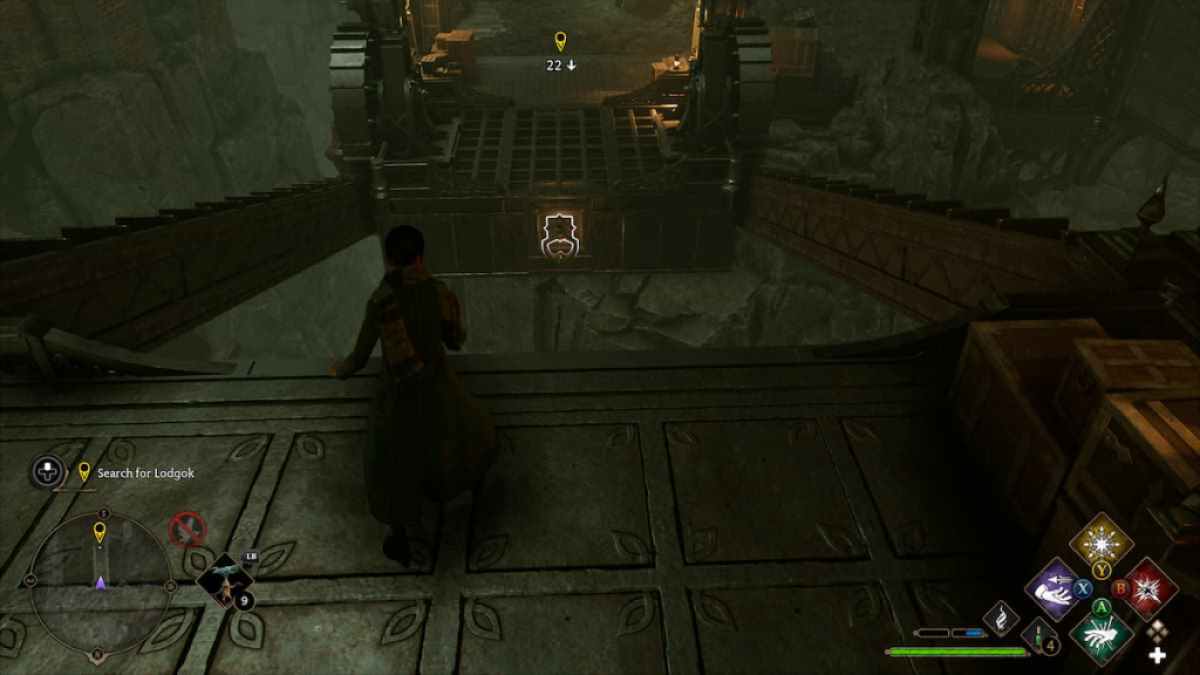 Once across, there will be a small chest and a bag directly to your right for you to collect, as well as more enemies to fight. In this area, you'll notice once again a few different branching pathways to go. There will be another cart directly in front of you and then a room to your right where there is another boiler to light. You can take the cart to get to the second collection chest, but to continue the story, head to the boiler and light it up. This will open up another lift for you to take. Interact with the crank to begin your ascent.
Once you walk off the lift, you'll immediately see a cutscene of Ranrok, revealing that he is, in fact, there. This will be brief, and then you'll have to begin the big battle of the mine. There will be another troll, an archer, and several more goblins. The best way to easily defeat them, if you have it, is to use Imperio on the troll while you try to focus your attention on defeating the goblins. Then, once you just have the troll, you can get him to run into some of the pillars around by dodging his attacks. This will help your quest and also deal him some damage.
Related: How to flip a Troll's club into its face in Hogwarts Legacy
Once all the enemies are defeated, you will be prompted to collapse pillars to destroy the drill. Some of these may have already been taken out during your battle. You can use Revelio to highlight all their locations in blue. Then, use some spells to break them. This can be anything from Confringo to Bombarda or the like.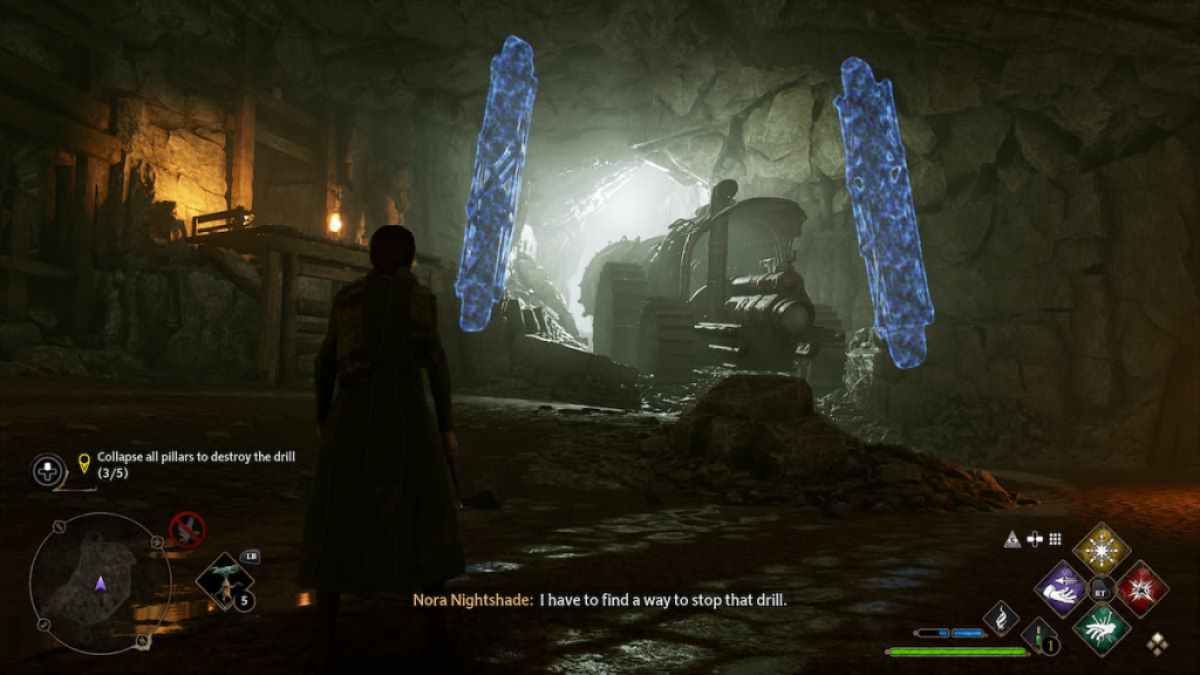 When the pillars are all destroyed, it will activate another cutscene. You will be confronted by Ranrok and Rookwood, as well as finally find Lodgok. You will discover Lodgok's relation to Ranrok as being his younger brother. Ranrok, however, will be upset that Lodgok has kept information from him and ultimately kill him. Your character escapes the interaction by jumping onto a cart.
After the cutscene, hop off the cart and open the metal gate in front of you. This will lead you right back to the entrance. Keep to the left corridor, and you will find the exit.
How to get all the Collection Chests in Coastal Mine in Hogwarts Legacy
There are two collection chests in the mine, and don't worry if you didn't get them on your first time through. You can head back whenever to collect them, even if you've already completed the quest here. These are usually in trickier locations, so here is a step-by-step on how to collect them:
Collection Chest #1 Location in Coastal Mine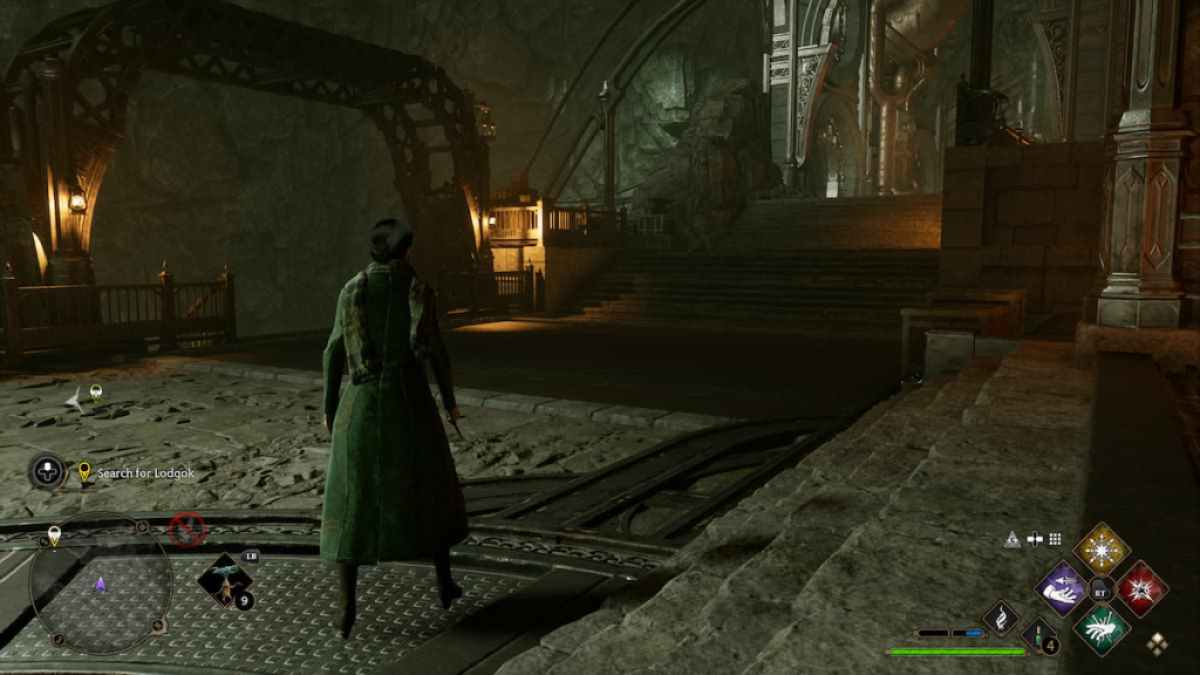 Once you come across the first rail platform and get to the area with the gated second boiler to your right and the second platform rail to your left, head straight up the steps and into a storage-like room. Directly to the right of the fireplace, at the far side of the room, will be a staircase leading up. Walk up the steps, and you'll see a stone wall to climb by holding A/X. You'll need to climb up several of these until you come to an enclosed area with a grate on the ground.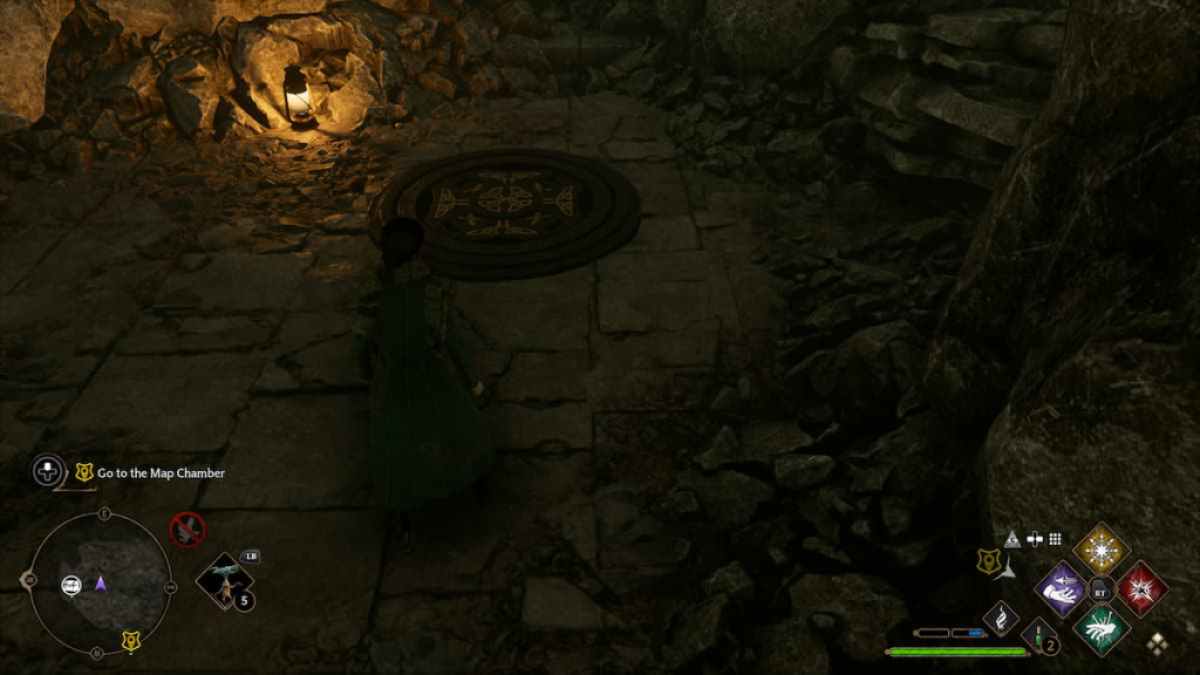 You can use Accio to pull the grate up and reveal a ladder underneath. Climb down the ladder, and you'll get to a secret area with the collection chest, as well as several other chests to loot. There will also be a shortcut back to the main room as you continue through.
Collection Chest #2 Location in Coastal Mine
The second collection chest is a little less hidden. To get to it, you'll need to get on the second cart you come across. Your character will make a statement saying they wonder where it leads.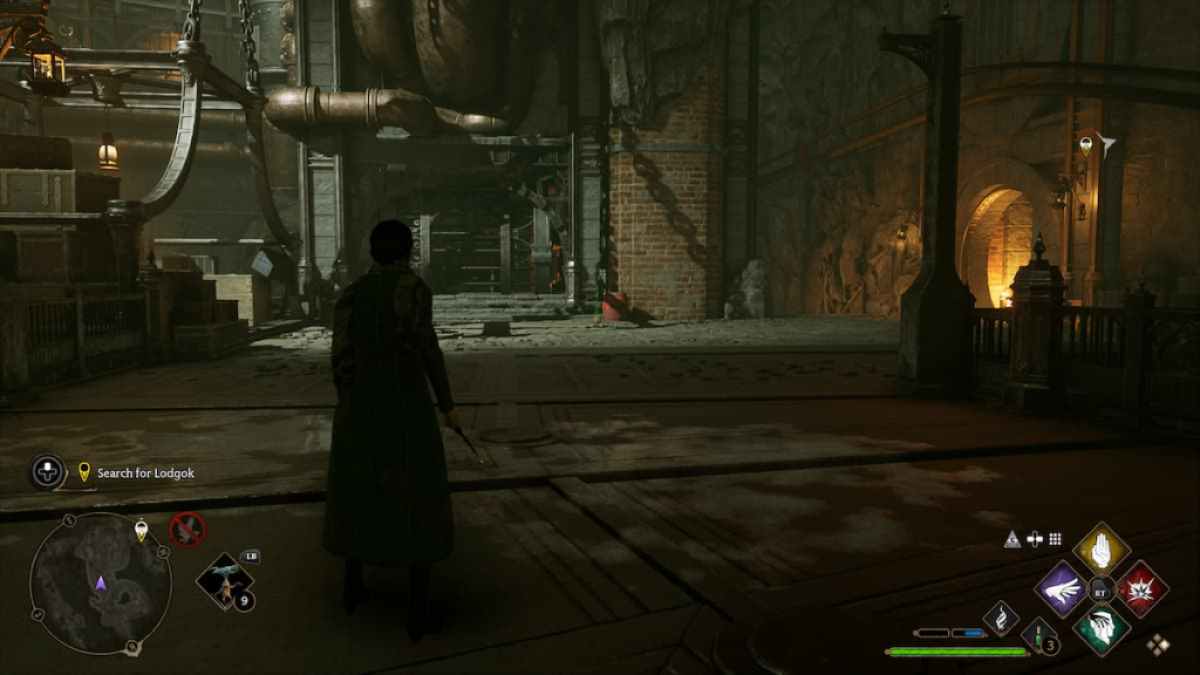 Once you take the cart, you'll come to a small room. There is a rounded locked door here, and hanging beside it is a lever you can pull. This lever needs to be powered, which, if you lit all the boilers you came across earlier, should hopefully already be prepared. Use Accio to pull it, and it should unlock the door and allow you to press X/Square to open it.
Inside, you'll find the collection chest. Then you can head back out and take the cart back to the main area to continue through the mine.
Though there aren't too many puzzles here to complete, there are plenty of trolls and enemies to make up for it. Come prepared by organizing your spells appropriately and ensuring you have plenty of potions available to you. Don't miss out on all that good loot!
Looking for more Pro Game Guides Hogwarts Legacy content? Check out our guides on How to enter the Chamber of Secrets in Hogwarts Legacy or All Hogwarts Secrets and where to find them in Hogwarts Legacy!