In Hogwarts Legacy, players may experience several technical issues like the black screen, blue character glitch, and general crashes on startup. Low frame rate and stuttering are some of the issues that are commonly affecting players on PC. Here's how to fix low frame rates and stuttering in Hogwarts Legacy.
How to fix stuttering and frame rate in Hogwarts Legacy
Stuttering and low frame rate will be an issue for players using low-end devices. Players who have older generation graphics cards can make a few adjustments in the settings to stabilize stuttering and get a constant frame rate. Follow the steps mentioned below to fix the stuttering and frame rate issue in Hogwarts Legacy.
Fix Upscaling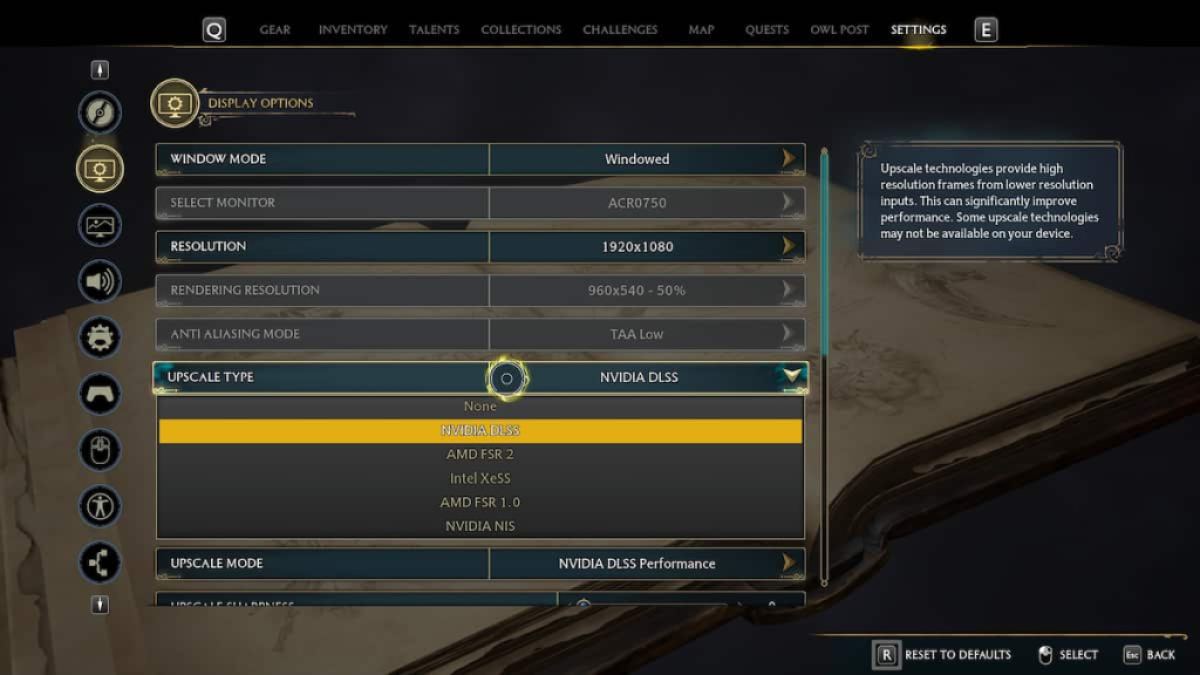 Changing the Upscale Type and Mode in the Display options for Hogwarts Legacy can make a massive improvement to fix stuttering and low frame rate. This setting provides a high-resolution frame rate with low-resolution input. The options for Upscale Type are listed below.
None
NVIDIA DLSS: For RTX GPUs
AMD FSR 2: For AMD Radeon 6000 series GPUs
Intel Xe55: For Intel integrated GPUs
AMD FSR 1.0: For older AMD Radeon GPUs or integrated AMD graphics
NVIDIA NIS: For NVIDIA GPUs without RTX
Disable Ray Tracing
The next thing you can do is Disable Ray Tracing entirely. Select the Graphics Options tab in settings, and scroll down to Ray Tracing. Disable all of the following options.
Ray Tracing Reflections: OFF
Ray Tracing Shadows: OFF
Ray Tracing Ambient Occlusion: OFF
Related: Where to get Graphorn and Graphorn Horn in Hogwarts Legacy
Set Framerate and switch on V-Sync
You can set a designated frame rate, and also switch on V-Sync to stabilize the stuttering in Hogwarts Legacy. Under Display Options in settings, select the V-Sync tab, and toggle it to ON. This will force your GPU to operate at a rate no higher than your monitor's refresh rate. Similarly, scroll down to Framerate, and select 60. You can choose a higher frame rate, but it's best to keep it at 60 to avoid any sort of stuttering.
Reduce Graphics and Population Quality to low
The last thing you can try in the game is to reduce the Global Quality Preset to low in the Graphics Options tab. Once that's done, every visual option will get set to low by default. You can also reduce the Population Quality to low to get a better frame rate without stuttering.
These are some of the solutions you can try to fix the low frame rate and stuttering issue in Hogwarts Legacy. Additionally, you can check for updates on graphics drivers and set the game's priority to high in windows to get the best visuals in Hogwarts Legacy.
Want to complete all the side quests in Hogwarts Legacy? Check out How to complete A Bird in the Hand quest in Hogwarts Legacy on Pro Game Guides.