Idle Heroes is the perfect pocket RPG to take with you on the go, no matter where you are. Journey through ancient ruins and magical forests to relinquish the evil forces thrall over the land. There are so many heroes to collect, each fitting into an element with unique abilities that will help you succeed in all your battles. Who you choose to lead through the missions can mean the difference between your success or failure. While it is up for interpretation what strategy is the most effective, here are some of the characters we think are the best and might be worth trying!
Eloise
Eloise can be a one-man-army. Not only is she capable of a counter-strike on a block, but she can also heal. Her Scarred Soul ability damages enemies at the end of each round and heals a percentage of health back for her and her allies. This allows her to tank most locations and last a lot longer during more challenging boss fights. Her passive skills can lower enemies' damage and precision, leaving them more vulnerable to heavy-hitting attacks. Be sure to keep Eloise's block up, though, as this is part of the reason why she's such a great hero.
Ignis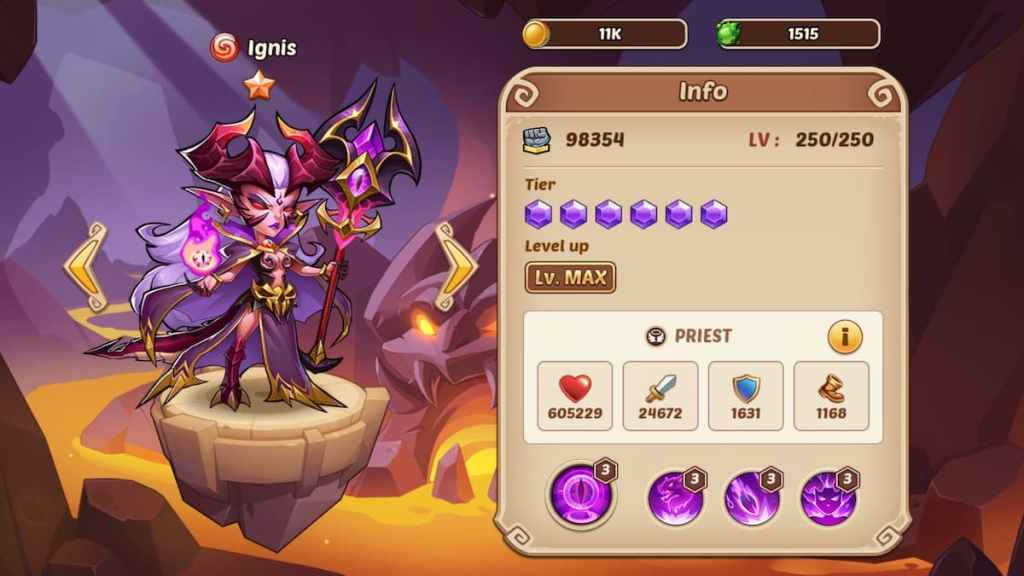 Ignis is one of the best heroes for team support due to her healing abilities. Though she may not be capable of dealing out significant damage like some other characters, she can heal, give out energy, and increase the active skills of her team even if she dies. Her active skill, Blessing of Dragonflame, has a smart heal technique that heals the lowest health ally and provides a damage reduction. This is a worthy sacrifice character that hugely benefits your defense and could win you the fight.
Rogan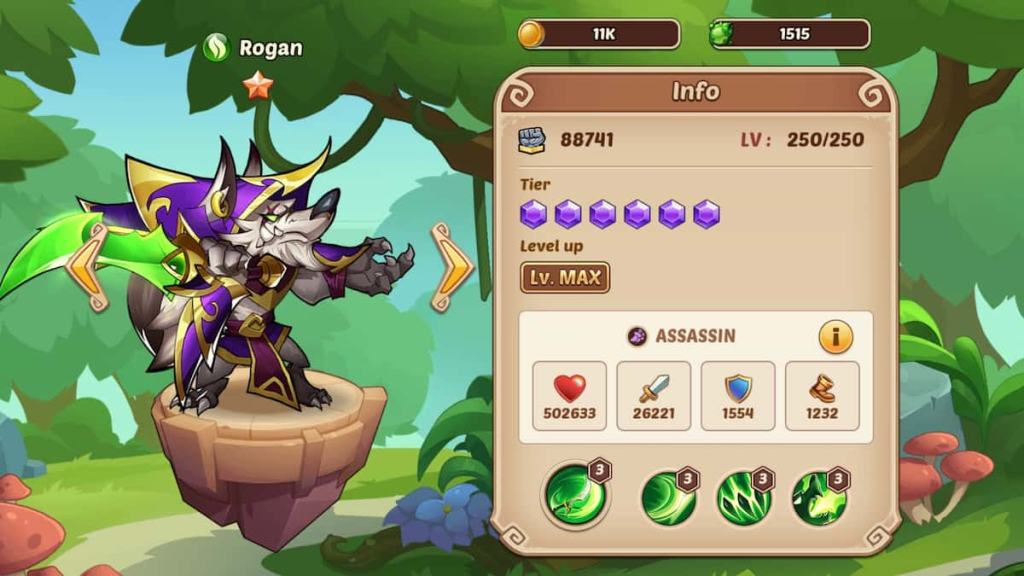 Rogan is another great support hero that will provide bonuses and ultimately make your team stronger just by being in the line-up. What makes Rogan so great is his passive skills, which are skills that happen no matter what during a fight. These passives will increase your whole team's speed, damage, and critical damage, meaning if you have a heavy hitter character at the ready, their attack will be even more potent just by having Rogan beside them. This method works even better if you utilize multiple Rogans as well.
Related: Idle Heroes Codes (May 2022)
Amen-Ra
Amen-Ra can easily be defined as one of the best heroes with her special defensive techniques. Her Shadow Defense grants your allies a Guardian Shadow, negating damage and turning it into healing. It also has the chance to petrify enemies for two rounds, buying you more time to get your attacks in order. Her passive skills are also significant advantages to your play with increased health, even more, damage reduction, and a curse to transform enemy heals into damage. She also resists one round of potentially being controlled, which means you can turn around an attack quickly and efficiently.
Tix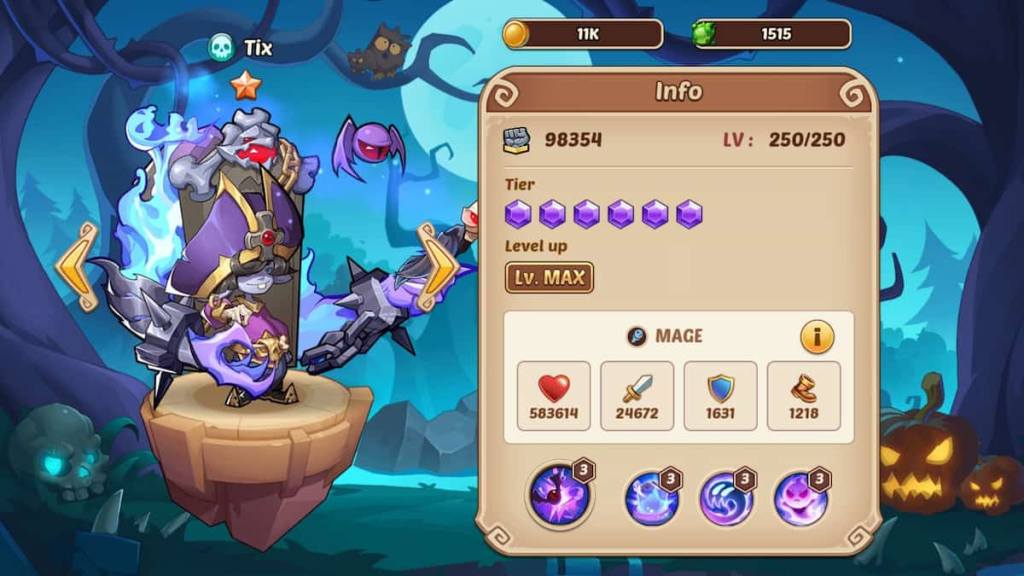 Tix is one of those best heroes for dealing damage and being your main attacker during battles. He is capable of stealing enemies' attacks by dealing out a percentage of that target's attack back at them or stealing their damage with attacks using his passive skills. He also can Silence and Horrify enemies, making them controlled for a few rounds or unable to release active attacks. He is a hero you should definitely consider if you are looking for someone that will deal major damage.
Drake
Another hero with some excellent passive skills and especially effective while fighting bosses is Drake. Every time the active skill or basic attack occurs, Drake gains a Shadow Lure, which gives enemies Defense Down, meaning reduced armor, damage, block, and dodge, and allows Drake a chance to dodge attacks. This Defense Down is probably the most beneficial for your team, putting enemies in a more vulnerable position for attacks. Drake also uses his Black Hole Mark that hits on round ends and can deal some hefty damage.
Sherlock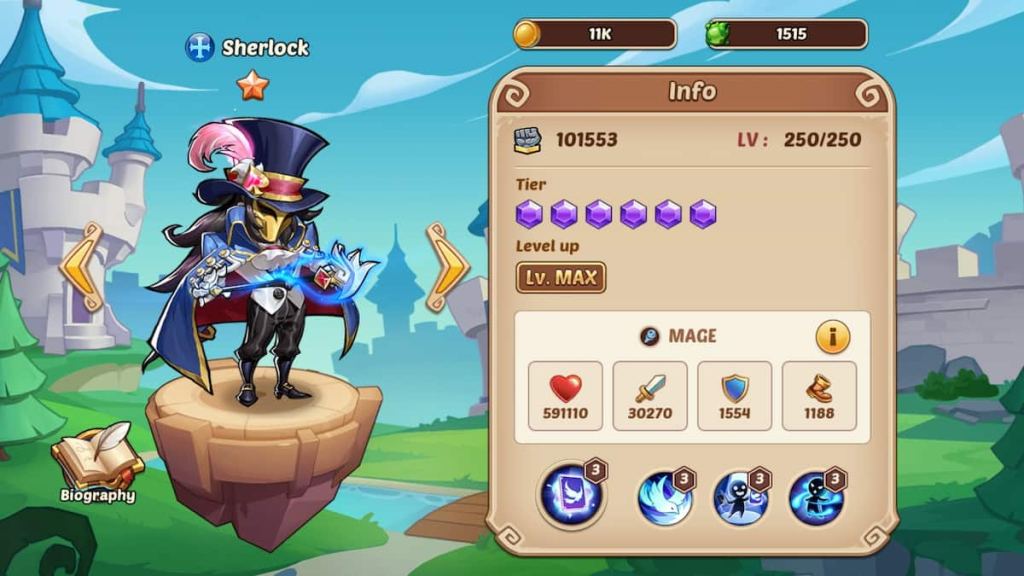 While Sherlock may not seem as extraordinary compared to Xia or Tix, he has some skills that can absolutely blow away the competition if used correctly. He is one character with decent health and basic attack, with passive that help with damage reduction and speed. However, his regular attack has a chance to Shapeshift enemies into doves, which makes them incapable of completing any actions and essentially useless. He also has the opportunity to protect himself by exchanging health with enemy players if his health dips below a certain percentage. Geared with the right items, Sherlock could be the ultimate tank character capable of the most OP control power.
Related: Best Idle Mobile Games
Sword Flash Xia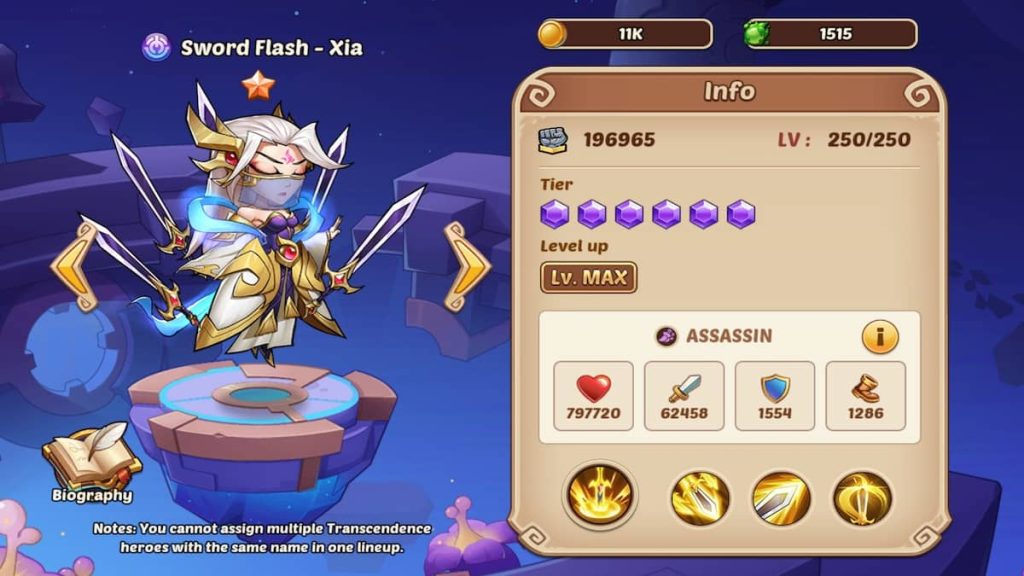 Sword Flash Xia is known to be one of the most powerful offensive heroes you can get with excellent base damage stats and abilities that only continue to increase that damage to insane amounts. Her Void Crusher and Glowing Blade both can cut through enemies' armor and deal big hits while also restoring some of her lost health. Her Impeccable Flow can also be stacked, resulting in great dodge and extra damage to her attacks. Used with the right gear, Sword Flash Xia can become one of the best attackers for your team.
Garuda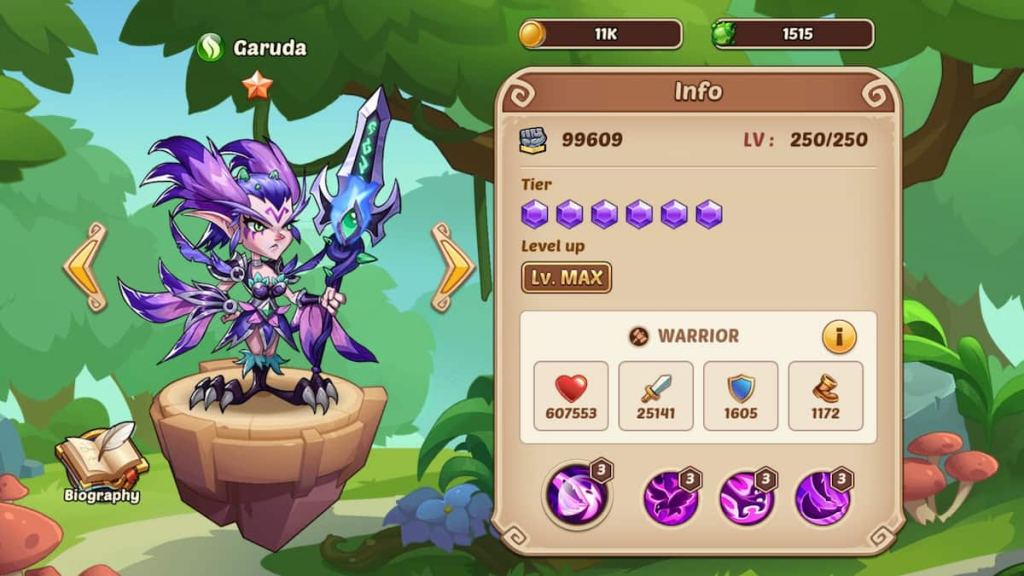 Garuda is a warrior, making her one of the best attackers you can utilize for your team. Her extra damage skills and passive boosts make each of her attacks count big. Her skills maximize her damage by adding a layer of Feather Blade, which gives Garuda some damage reduction in defense but then detonates to deal more damage to her enemies. Her passives give her extreme amounts of critical damage, attack, health, and control immunity, which can be very helpful to avoid losing the lead of a battle.
Ithaqua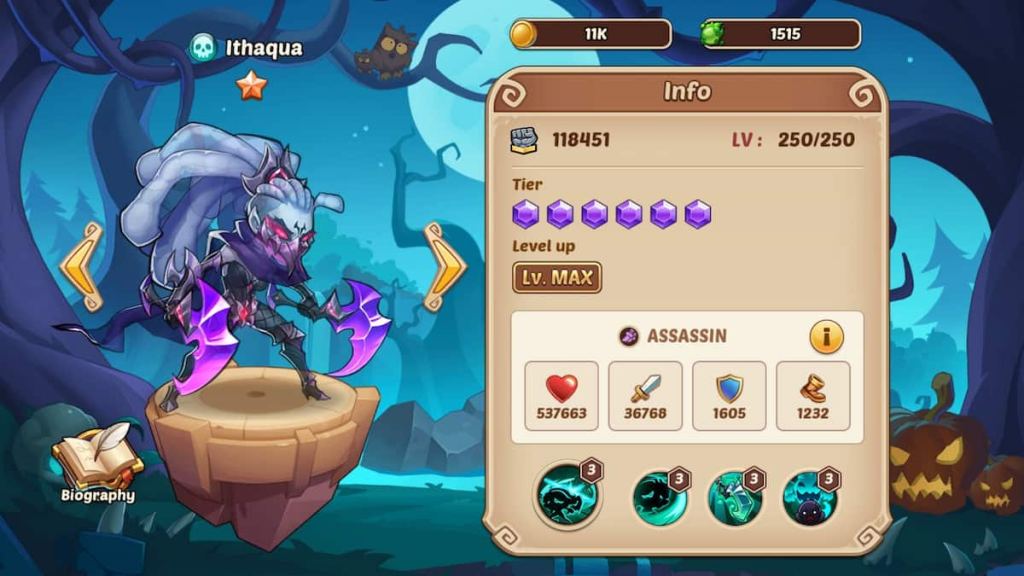 Ithaqua is a lethal attacker that can be super beneficial for your Idle Hero team. Her attacks leave enemies with multiple DoT effects, which means they will continue to deal damage or benefit her next attack over time. Her passives allow for increased critical damage, control immunity, and speed, making her a helpful offensive hero, especially when paired up with other supportive heroes that will increase her damage even more.
These are excellent choices for some of the best heroes you can utilize in your battles in Idle Heroes. However, you can take plenty of other strategic paths by building up other heroes and line-ups. Who are some of your favorite and most powerful characters?
Looking for more Pro Game Guides mobile games content? Check out our lists of Best Mobile IO Games or Best Mobile MMORPGs!