Every month PlayStation Plus subscribers can download a selection of games for free from the PSN Store. These titles are yours to keep as long as you have an active PS Plus account. Here are the free PS Plus games for May 2022.
All PS Plus Free Games for May
The games releasing for PlaySation Plus this month are the following: FIFA 22, Tribes of Midgard, and Curse of the Dead Gods. Remember to add them to your PlayStation library before they expire.
Free Playstation Plus Games for May
FIFA 22 (PS5, PS4)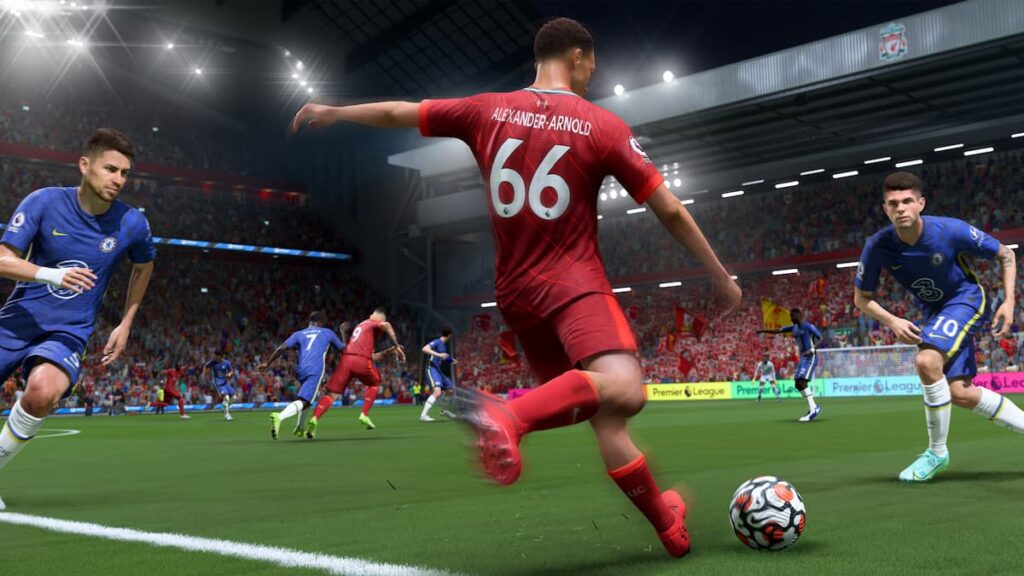 Free Period: May 3 to June 6
Powered by Football, EA Sports FIFA 22 brings the game even closer to the real thing with gameplay advances across every mode. Build your dream squad in Ultimate Team, Create Your Club in Career Mode, and express yourself in style on the streets with reimagined Volta Football gameplay. Enjoy local or online competitive multiplayer matches on PS4 and PS5****, while the power of PS5 makes every match even more real with groundbreaking next-gen HyperMotion technology. With big innovation all over the pitch, it's time to start your FIFA 22 season!
PlayStation Plus members can kickstart their brand-new Ultimate Team or bolster their existing squad with the PlayStation Plus FUT Pack for FIFA 22 Ultimate Team. This pack includes 11 players rated 82 or above to help build your dream squad in FIFA 22 Ultimate Team, as well as an Icon Moments Loan Player Pick, allowing you to choose between some of the best ballers in history and add one of three to your squad for five games.

FIFA 22 versions are single entitlement and need to be redeemed separately to add both to your game library.
Related: 7 Multiplayer VR Games with Cross-Platform/Cross-Play
Tribes of Midgard (PS5 & PS4)
Free Period: May 3 to June 6
Tribes of Midgard blends survival and ARPG genres into a colorful co-op**** or solo experience set within the universe of Norse mythology. As an Einherjar, returned to life by Odin himself, you and your tribe of up to 10 players will need to defend the Seed of Yggdrasil from evil forces set on bringing about Ragnarök. Together, you will have to venture out and explore the wilderness of Midgard to gather the resources, materials, and hidden treasures essential to forging new weapons, epic armor, and fortifying your village. Your greatest threats lie hidden throughout Midgard in the form of giants and great beasts of Norse legend. Will you be able to conquer these forces, save the Seed, and escape before the onset of Fimbulwinter?
Curse of the Dead Gods (PS4)
Free Period: May 3 to June 6
In this skill-based, single player roguelike, explore an accursed temple, a seemingly-infinite labyrinth of bottomless pits, deadly traps, and monsters. Your greed will lead you to death, but that is not an escape. Rise to fight again. Collect mystical Relics and an arsenal of weapons to make yourself unstoppable, but each powerful curse can be a double-edged sword, creating unique curses that influence your playstyle on every attempt. Defy the malignant deities that linger in this place. Battle through hordes of enemies in dark, cavernous passages filled with traps and secrets of all sorts – fire-spewing statues, explosives, hidden spikes, and worse.
Free Playstation Plus Games for April
Hood: Outlaws and Legends ( PS5 and PS4)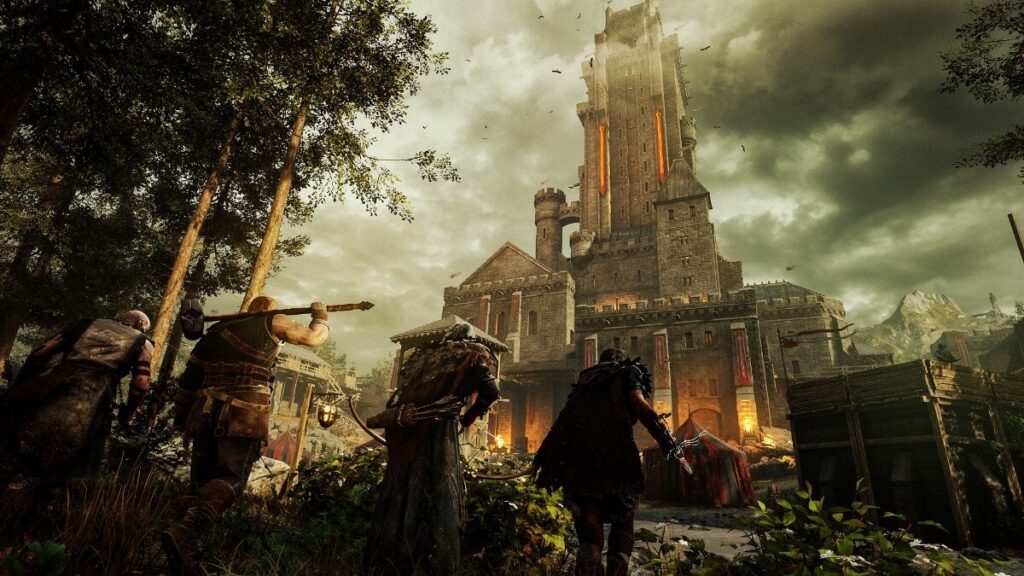 Free Period: April 5 to May 2
Hood: In this intense online multiplayer title, rival gangs compete in daring heists to hit the wealthy where it hurts. One of the different game modes is State Heist: a full coop PvE mode where teams control spawn points to recuperate as much gold as possible. In Gold Rush PvPvE mode however, two teams of four players battle it out in an attempt to execute the perfect heist, stealing and extracting treasure while fighting each other and the AI Guards. Equipped with unique skills and mystical abilities, each character moves in stealth to steal treasures unseen. It's up to you to recruit your band of outlaws, master formidable fortresses and outplay your rivals.
Related: 5 Biggest Differences Between Overwatch 1 and 2
SpongeBob SquarePants: Battle for Bikini Bottom – Rehydrated (PS4)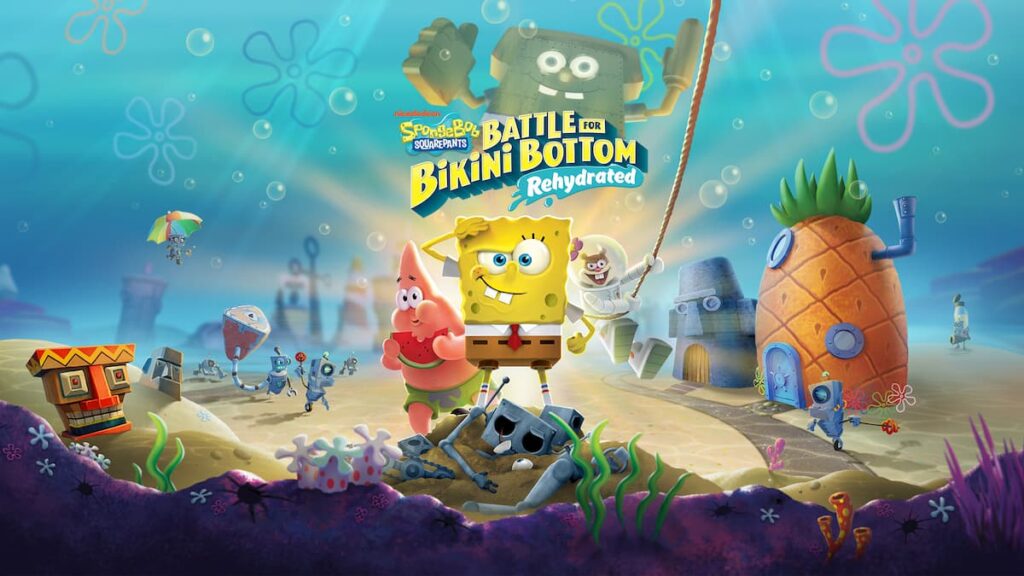 Free Period: April 5 to May 2
The classic platformer returns, faithfully remade in spongetastic splendor! Play as SpongeBob, Patrick and Sandy and use their unique sets of skills to thwart Plankton's evil plan to rule Bikini Bottom with his army of wacky robots. Meet countless characters from the beloved series and enjoy horde mode for up to two players, online2 and offline.
Slay the Spire (PS4)
Free Period: April 5 to May 2
Embark on a journey up the ever-changing Spire, in this fantasy deckbuilder adventure that fuses together card games and roguelikes. Craft a unique deck from hundreds of cards to efficiently dispatch foes and reach the top. Discover powerful relics to enhance your deck's powers to help you overcome different enemies and bosses.
Why not check out our Epic Games Store Free Games List – Schedule, Current and Upcoming Games article on Pro Game Guides for more free games!