Jackbox Party Packs have always been fun, but Party Pack 9 feels a little more special than the rest. It has one of the few most requested re-releases of all time and a ton of new games to try. The best part about this pack is how more than eight players can join every game. Nobody needs to be left out of the fun. Of course, like all Party Packs, each has its best and worst. Jackbox Party Pack 9 is no different.
Every game in Jackbox Party Pack 9, ranked
Quixort
Fibbage 4
Nonsensory
Junktopia
Roomerang
Our favorite games in Jackbox Party Pack 9
Quixort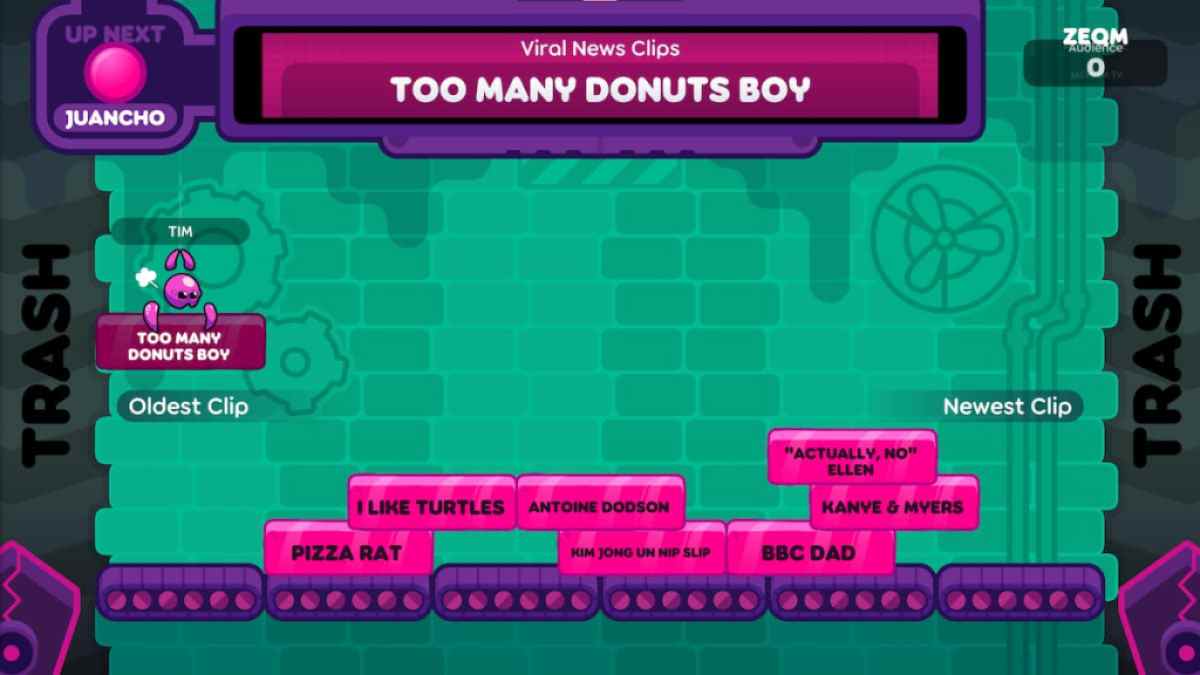 Quixort is arguably the best game of the pack. This is a trivia-sorting game where each team's goal is to arrange falling bricks, with notable events listed on them, in the proper order before they hit the floor. While Quixort's "trivia-sorting" premise doesn't sound that great in theory, you and your friends will have an absolute blast if you like fun facts and internet culture. The categories are extremely creative, from "math equations whose answers are smallest to largest" to "oldest to most recent viral internet clips." Expect a ton of arguing and the slow realization of how old you are now.
Fibbage 4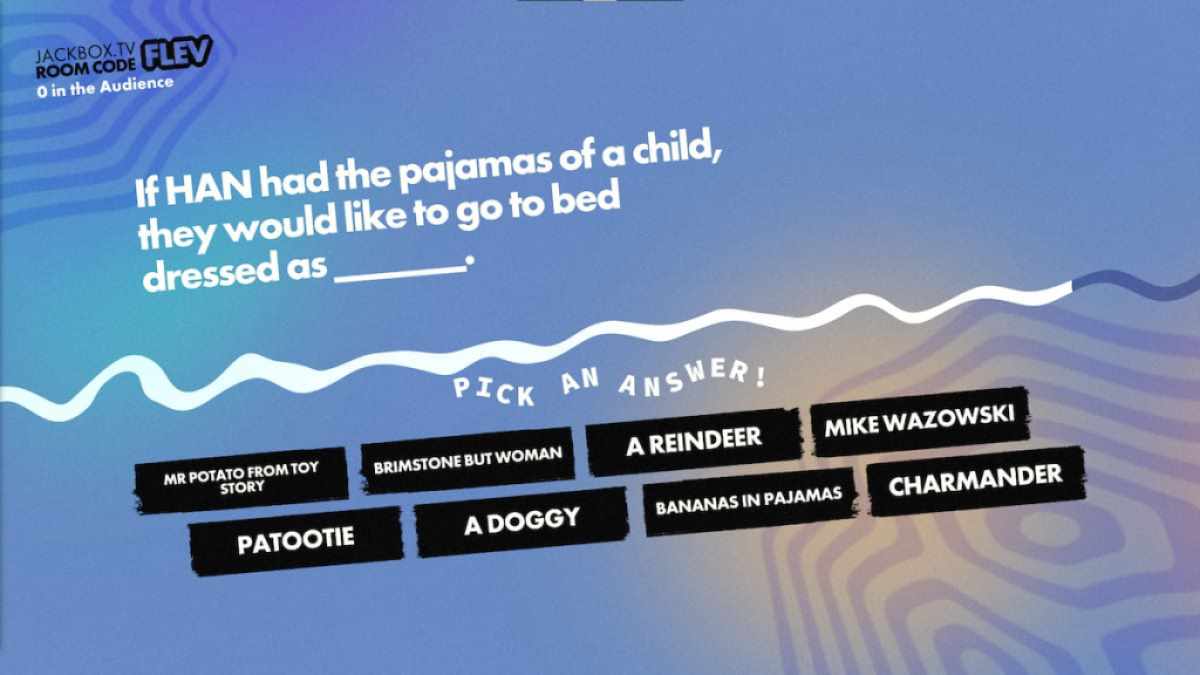 Of course, no Jackbox top list would be complete without mentioning Fibbage whenever a new one is released. If you didn't already know, Fibbage is a game where you're given prompts and are tasked to write answers that could be the "truth." You and your friends will then have the opportunity to guess the real truth with everyone's answers collected, and those who find the current answers and fool the most players win the game. The prompts in Fibbage 4 are funnier and timelier than its predecessor.
What makes Fibbage 4 and other Fibbages a great game though is its Enough About You mode, which lets players guess the truth about their co-players. Fibbage 4 is a good warm up game before playing everything else in Jackbox Party Pack 9. It's also a good icebreaker if you've invited new friends over to play.
Nonsensory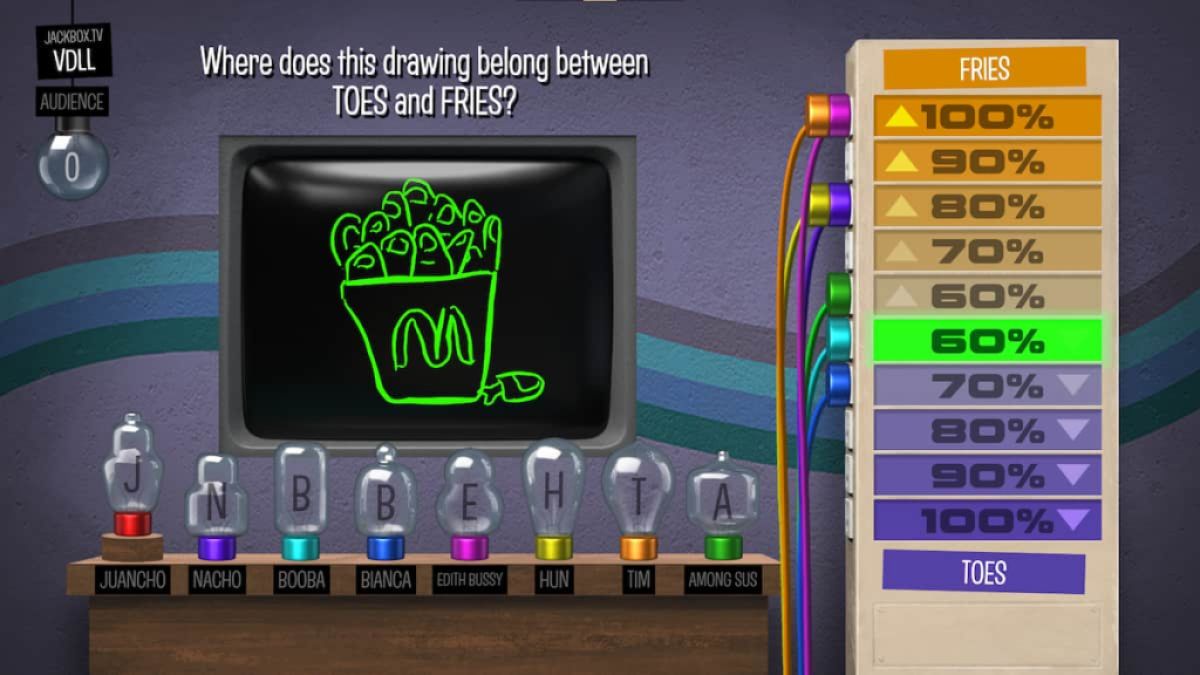 Nonsensory plays very similarly to games like Drawful and Skribbl.io. It's a guessing game where each player is given a percentage-based prompt and is expected to write or draw it to the best of their ability. After, other players will get the opportunity to guess its placement from a scale of 0% to 100%. For example, the guessee could get a prompt like "it needs to be 40% on a 'manly' scale" and would then need to think of an answer that best fits that. If you're a bunch of silly creatives, this game is a ton of fun. Just look at these finger fries we've drawn!
Related: Best Roblox VR Games
Other games in Jackbox Party Pack 9
Junktopia
Since the advent of Patently Stupid from Party Pack 5, Jackbox Games never forget to include a presentation game in every other Party Pack. Junktopia is Party Pack 9's addition to the category. It tests the players' ability to convince other players to buy literal junk and profit from it. There's a part where you purchase and haggle your items and a second one where you've been allowed to sell them. It's a fun thinking game but definitely not for everyone.
Roomerang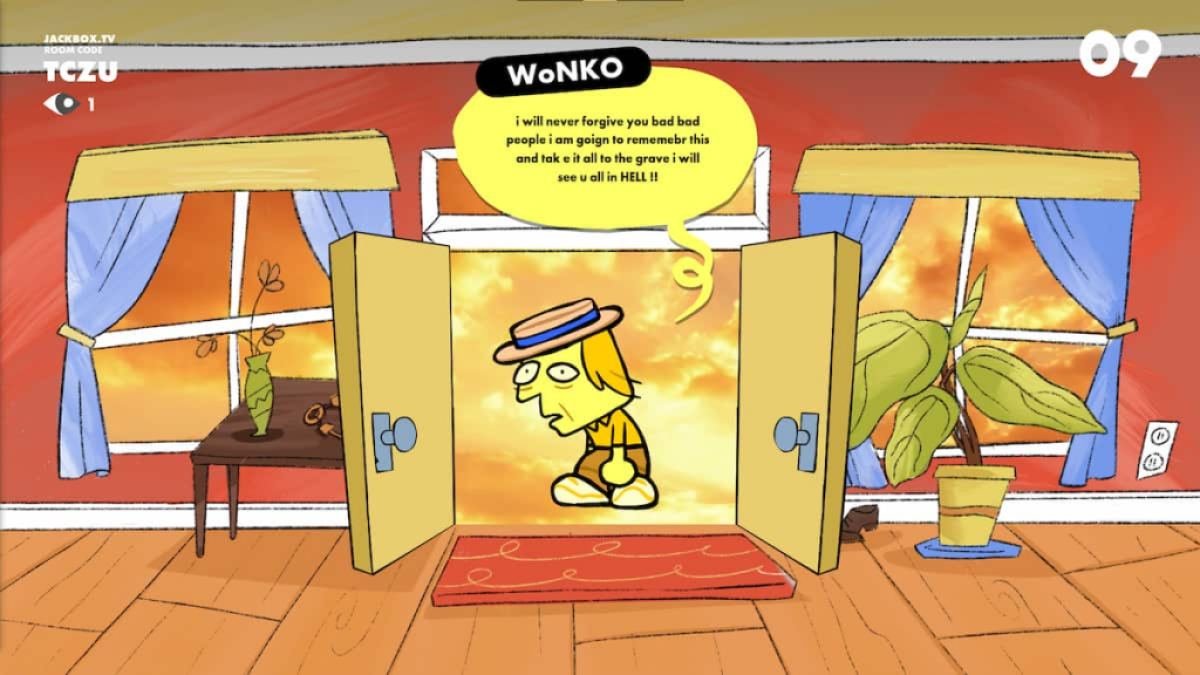 Roomerang is a reality TV game where you're tasked to roleplay characters with predetermined traits (like a country-music lover or someone who despises the holidays). The goal is to finish assigned tasks—in character—and convince fellow players that you deserve to stay in the game. It's a good game in theory, but players need to be a good sport and follow the rules for it to be fun. After all, there's always an opportunity to gang up on one person and send them out of the show until the final round.
For more party game recommendations, check out Every Jackbox Party Pack 8 game, Ranked and 25 Party Games You Can Play Online With Friends – PC, PS, XB, Switch, iOS, Android on Pro Game Guides.