Sailing the seas is a key mechanic in Lost Ark. Therefore, the player will spend a considerable amount of time in collecting resources to upgrade their ship. However, this task gets trickier over time, as your ship will require more uncommon parts and rare materials to upgrade. One of these rare materials is the Bilbrin Timber, or otherwise known as Bilbrin wood. It is used for building lightweight ships, and cannot be logged from felled trees. In this guide, we'll tell you how to find Bilbrin wood most efficiently.
Where to find Bilbrin Wood in Lost Ark
The easiest way to acquire some Bilbrin wood is to sail to Lake Shiverwave, located on the eastern shores of Rohendel. In this area, you will find the travelling merchant ships named Spearfish Hunting Guild Vessel, and Plumpcrab Fishing Guild Vessel. You can purchase Bilbrin wood from both of these merchant ships in exchange for Sceptrum's Coins.
Keep in mind that both the Spearfish Hunting Guild Vessel, and the Plumpcrab Fishing Guild Vessel will dock in any port, but they will only sell Bilbrin wood when they are docked in Lake Shiverwave, in Rohendel. The ships will dock in Lake Shiverwave port every 10 to 15 minutes, so keep checking the dock frequently. In order to purchase one Bilbrin wood, it will cost 25 Sceptrum's Coins.
Another way to collect Bilbrin wood is from purchasing it from the Trade Merchant in your Stronghold. However, the chances of a Trade Merchant showing up at your Stronghold with Bilbrin wood is rare. Therefore, this can be an unreliable method. Some of the merchants that may carry Bilbrin wood are Tuleu, Astiel, and Maxelle.
Related: How to upgrade your ship in Lost Ark
What is Bilbrin wood in Lost Ark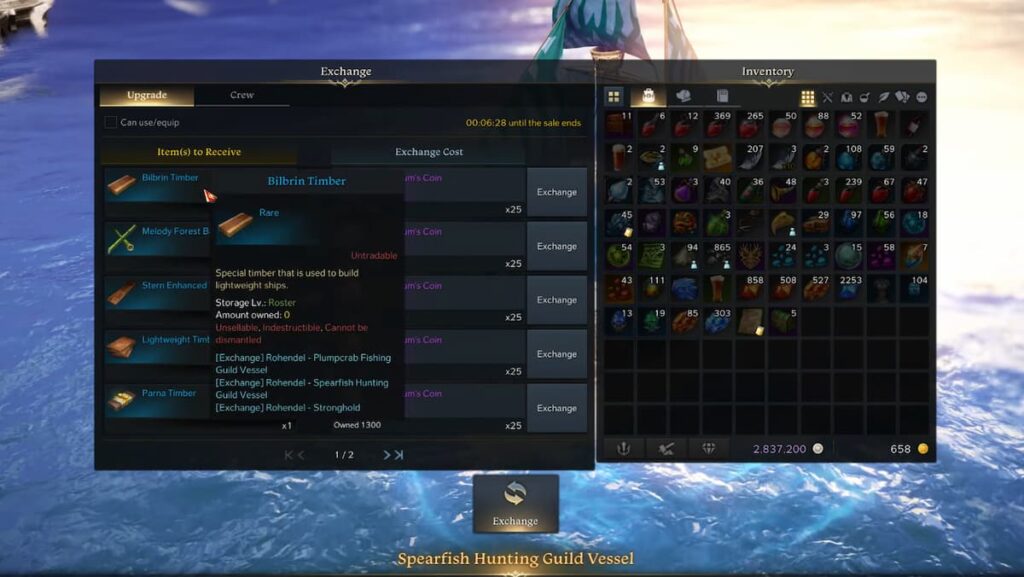 Bilbrin Timber, also known simply as Bilbrin wood, is a Rare crafting material in Lost Ark. It is a type of wood that is used for upgrading and building lightweight ships. Unlike Timber, Bilbrin wood cannot be logged from naturally spawning trees, and can only be collected by exchanging Sceptrum's Coins at the Spearfish Hunting Guild Vessel, or the Plumpcrab Fishing Guild Vessel. You can also purchase Bilbrin wood from Trade Merchants at your Stronghold, in exchange for seals.
How get Sceptrum's Coins in Lost Ark?
Sceptrum's Coins are a unique type of currency used by pirates in Lost Ark. The coins can be earned by completing various quests and challenges in Rohendel. Sceptrum's Coins are accepted by merchants on the island of Rohendel, and by travelling merchant ships that dock in the port of Lake Shiverwave. Apart from that, they can be exchanged with any willing merchant who would trade them for Pirate Coins.
Looking to build a vessel to carry out missions in Lost Ark? Check out How to build ships for Dispatch Missions in Lost Ark, right here on Pro Game Guides.