Modern-theme texture packs in Minecraft have never had a strict definition. Some of us like to see space-themes and some of use just want to see sleek and cool updates to the textures we already know. We've covered both categories in our list of Best Modern Texture Packs for Minecraft below!
Many of the more advanced Minecraft texture packs require Optifine to be installed for them to work. We strongly recommend installing it to improve gameplay performance and visual effects if you want to use the resource packs listed below.
All the texture packs we have listed are updated to accommodate for Minecraft version 1.16 and above. If you'd like to see how to install a texture/resource pack for your game, be sure to check under the list for instructions.
The Shortlist
If you are using this page to check out a specific texture pack, you can use the links below to go directly to that part of the page. The download links go directly to the PlanetMinecraft page where you can download the file based on its resolution.
Do you have suggestions for texture packs you'd like to see added to the list? Leave a comment below with a link to the medieval texture pack you like, and we might feature it the next time we update our list. Remember, all featured texture packs must work for the most recently released version of Minecraft!
Related: Best Minecraft Adventure Maps 1.16
Best Minecraft City Texture Packs
Below you'll find a clearer description and previews of all the texture packs on our list. If there are any addons associated with the resource pack, we'll also mention them below.
JammerCraft
JammerCraft is a high resolution texture pack (64x) that makes crafted blocks look more realistic to match what they might look like in modern society. Many of the textures use a sleek and plain look to fit in with most modern settings. This allows for players to create better architecture in their Minecraft cities. This texture pack is best for players who like to build areas that look like suburbs rather than urban cities, but it can certainly be seen to be accommodating for both!
Modern HD
Modern HD is a great texture pack for players who want to build rich, classy homes in their Minecraft world. If you and your friends use this texture pack on a server, you'll feel like you're part of an upper-class society. Use this texture pack to bring civilization to the natural elements in Minecraft, or simply use it to build a large, high-rise apartment complex for you and your friends (or some very lucky villagers).
Tiny City Pack
Tiny City Pack is an interesting take on the idea of city texture packs in Minecraft. Entire blocks are altered to look like sections of a building or structure, which allows you to build entire cities in a short amount of time. When you use this texture pack, you'll feel like Godzilla walking through your miniature towns. The video below reflects an outdated version of this texture pack, but it's a good reference to see how the texture pack works.
Tilemaster City Pack
Like Tiny City Pack, this texture pack is an experimental texture pack that manipulates block textures to look like sections of a structure. However, the difference with this one is that instead of being parts of a building, blocks look like entire sections of a city! This texture pack allows you to create massive cityies in minimal time, ranging from rural areas to suburbs to down locations. If you've ever had a dream to build and run a massive metropolis, this texture pack is for you!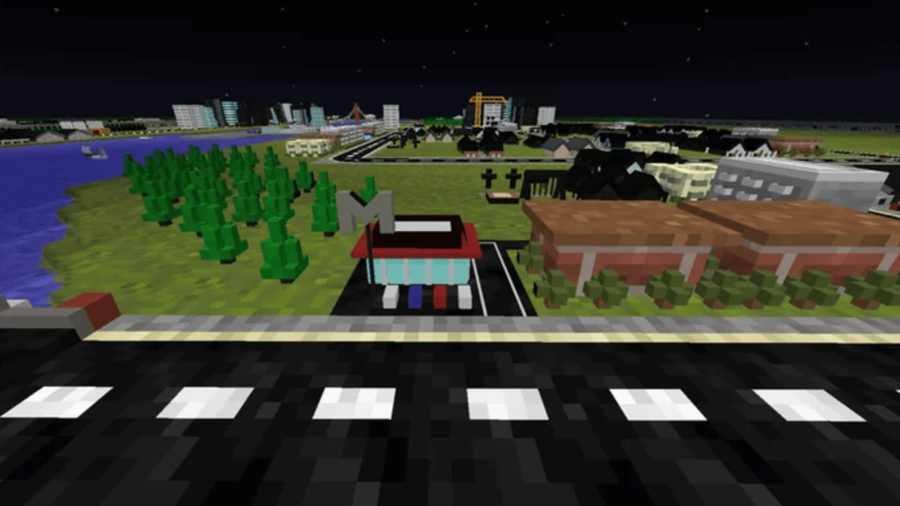 Modern City Construction
Modern City Construction is a fun texture pack with a cartoony feel. It re-textures most blocks to have a higher resolution, but simpler aesthetics. This texture pack feels closer to city textures of SNES games from the early 90s. It's themed textures are meant to look similar to what you might see when buildings are under construction, still in the wood and stone phases. To top it all off, Modern City Construction also re-textures some tools to look like construction equipment!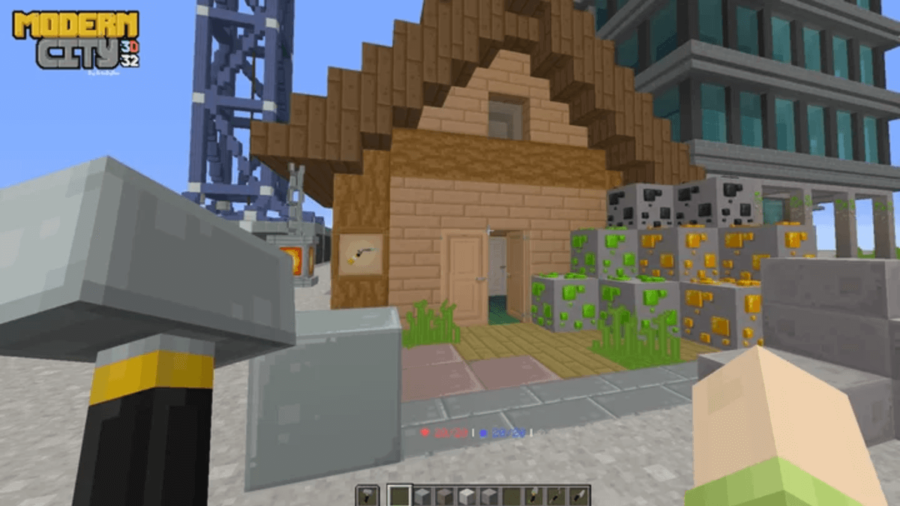 Related: Best Minecraft Puzzle Maps 1.16
Additional Info
The videos and images above mostly feature these texture packs with shaders that improve the visuals of Minecraft. These improvements include things like proper lighting, water effects, and particle effects. While installing the texture packs will improve the look of your game, you also need to install OptiFine and a decent shader to get the full effect. Use the directions or links below to make the most of your Minecraft experience.
Installing OptiFine
For detailed instructions, use our guide on How to Install Minecraft OptiFine. Alternatively, you can follow the basic instructions below.
Make sure you have Java installed. If not, go to the Java Download Page and install it.
Go to the OptiFine Download Page and download the version of OptiFine made for your version of Minecraft.
Run the downloaded file to install OptiFine to your Minecraft source files. When given the option, click Install.
In the Minecraft Launcher, go to the Installations tab and make sure OptiFine is selected as the version of Minecraft you'd like to run.
Installing Resource Packs
For detailed instructions, use our guide on How to Install Texture Packs in Minecraft. Alternatively, you can follow the basic instructions below.
Use the links above to go to the download page for the Texture Pack you'd like to install.
Open your Resource Pack folder from the Minecraft Main Menu (not the Minecraft Launcher).
Open the folder containing your texture pack's folder (usually can be found in your browser's/computer's Downloads folder).
Drag the file for the texture pack from the current folder to your Resource Pack folder.
Select the Resource Pack from the Main Menu to use it.
Shaders
For detailed instructions, use our guide on How to Install BSL Shaders in Minecraft. Installing Shaders is a bit more complex than installing OptiFine and texture packs, so we recommend using the link above to see how to install shaders. If you have a different shader you'd like to install, you can follow the same process. The list below provides examples of a few of the best shaders.
That's it for now! Don't forget, you can easily switch between resource packs in the Minecraft Main Menu, so be sure to give all the textures packs in our list a shot!
Now that you know some of the best medieval texture packs, why not test them out on some of the best Creative maps? Use them on all the maps list on our Best Minecraft Survival Maps, Best Minecraft Challenge Maps, and Best Minecraft Parkour Maps!