Modern-theme texture packs in Minecraft have never had a strict definition. Some of us like to see space-themes and some of use just want to see sleek and cool updates to the textures we already know. We've covered both categories in our list of Best Modern Texture Packs for Minecraft below!
Many of the more advanced Minecraft texture packs require Optifine to be installed for them to work. We strongly recommend installing it to improve gameplay performance and visual effects if you want to use the resource packs listed below.
All the texture packs we have listed are updated to accommodate for Minecraft version 1.16 and above. If you'd like to see how to install a texture/resource pack for your game, be sure to check under the list for instructions.
The Shortlist
If you are using this page to check out a specific texture pack, you can use the links below to go directly to that part of the page. The download links go directly to the PlanetMinecraft page where you can download the file based on its resolution.
Do you have suggestions for texture packs you'd like to see added to the list? Leave a comment below with a link to the medieval texture pack you like, and we might feature it the next time we update our list. Remember, all featured texture packs must work for the most recently released version of Minecraft!
Related: Best Minecraft Adventure Maps 1.16
Best Minecraft Modern Texture Packs
Below you'll find a clearer description and previews of all the texture packs on our list. If there are any addons associated with the resource pack, we'll also mention them below.
Last Days
Last Days was originally started by Doku, who made the extremely popular DokuCraft texture pack. He dropped it at one point, but this new texture pack was so popular that fans revived it and finished it. Last Days is a post-apocalyptic texture pack that tries to picture what modern society could become. The sky is dark and overcast, which is supposed to represent pollution and radiation. The flowers are encased because that's the only way they'll survive the polluted air. This truly is a fascinating theme that will make you want to protect the climate in real-life!
FutureSpace
FutureSpace is a high-resolution texture pack (128x) that transforms Minecraft into a space-theme, making you feel like you're a pioneer on a new planet. Naturals blocks receive higher detail and most crafted blocks receive a sleek new design that makes your normal base now look like a space base. It's up to you on whether this is a casual terraforming mission, or a death-defying hardcore fight for survival. Or...maybe both? Just remember, in FutureSpace, no one can hear you scream.
Anemoia
The world anemoia is an uncommon word that means nostalgia for a time you've never known. This texture pack portrays that feeling perfectly. It represents would a modern or future world, but feels like it's set in an alternative universe, rather than an alternative world. This texture pack has high-contrast blocks that make it easy to know what you're looking at, but still make them all flow together rather nicely. The animals are cute, the villagers are aliens, and the world is something else!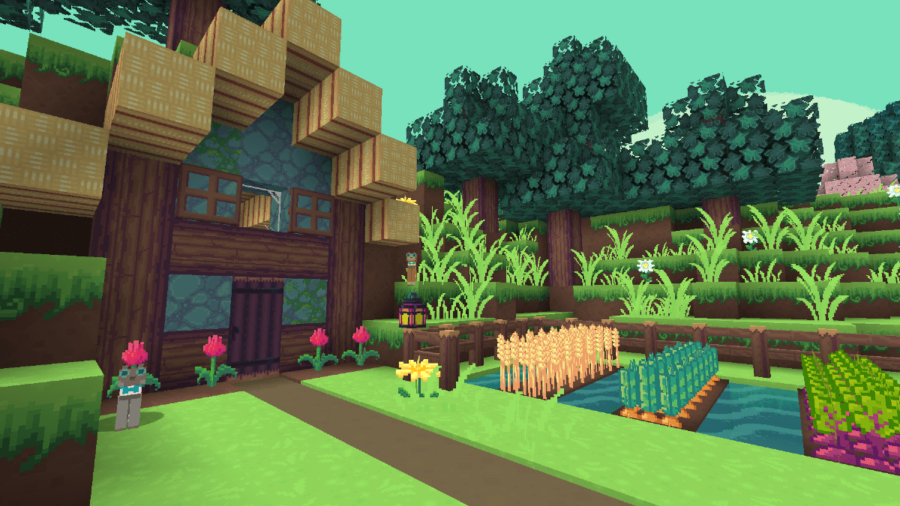 Invictus Vanilla
Invictus Vanilla is true to its name, and looks like a spruced up, high resolution (64x) version of the default texture pack. This is what Minecraft would look like if it was developed today, in an age of higher-end graphics cards. With its high resolution, it may be stressful on average computers. Still, this is truly what modern Minecraft should look like. The only downside is that if you play with this level of detail now, you'll feel like you've been missing out for years!
ModernArch
While Invictus Vanilla felt true to the video-game feel, ModernArch feels true to the real-life feel. This is an extremely high-resolution texture pack (going up to 1024x) that makes Minecraft look like a blocky form of the living world. The textures are beautiful, but costly. This texture pack is only ideal for higher-end gaming devices that can handle the stress of populating hundreds of millions of blocks at a high resolution. On their website, they recommend a computer running the lowest resolution has at least 16GB of RAM, and a 6GB video card. They put so much work into the higher-resolutions that you must donate to their patreon to get them. Be careful if you do, you might not be able to tell the difference between the real world and Minecraft.
Related: Best Minecraft Puzzle Maps 1.16
Additional Info
The videos and images above mostly feature these texture packs with shaders that improve the visuals of Minecraft. These improvements include things like proper lighting, water effects, and particle effects. While installing the texture packs will improve the look of your game, you also need to install OptiFine and a decent shader to get the full effect. Use the directions or links below to make the most of your Minecraft experience.
Installing OptiFine
For detailed instructions, use our guide on How to Install Minecraft OptiFine. Alternatively, you can follow the basic instructions below.
Make sure you have Java installed. If not, go to the Java Download Page and install it.
Go to the OptiFine Download Page and download the version of OptiFine made for your version of Minecraft.
Run the downloaded file to install OptiFine to your Minecraft source files. When given the option, click Install.
In the Minecraft Launcher, go to the Installations tab and make sure OptiFine is selected as the version of Minecraft you'd like to run.
Installing Resource Packs
For detailed instructions, use our guide on How to Install Texture Packs in Minecraft. Alternatively, you can follow the basic instructions below.
Use the links above to go to the download page for the Texture Pack you'd like to install.
Open your Resource Pack folder from the Minecraft Main Menu (not the Minecraft Launcher).
Open the folder containing your texture pack's folder (usually can be found in your browser's/computer's Downloads folder).
Drag the file for the texture pack from the current folder to your Resource Pack folder.
Select the Resource Pack from the Main Menu to use it.
Shaders
For detailed instructions, use our guide on How to Install BSL Shaders in Minecraft. Installing Shaders is a bit more complex than installing OptiFine and texture packs, so we recommend using the link above to see how to install shaders. If you have a different shader you'd like to install, you can follow the same process. The list below provides examples of a few of the best shaders.
That's it for now! Don't forget, you can easily switch between resource packs in the Minecraft Main Menu, so be sure to give all the textures packs in our list a shot!
Now that you know some of the best medieval texture packs, why not test them out on some of the best Creative maps? Use them on all the maps list on our Best Minecraft Survival Maps, Best Minecraft Challenge Maps, and Best Minecraft Parkour Maps!