If you're new to Monster Hunter Now, or to GPS location games in general, getting oriented into how they work can be tricky. Not only do you need to move around to find what you need but you also need to be able to interpret what the ever-evolving map tells you while you're on the move. So read on for my complete MH Now map guide.
Monster Hunter Now map - Habitats
There are three different habitats available to explore in MH Now at launch which are Swamp, forestry, and Desert. The habitat is displayed in the top left corner of the screen at all times and will affect what creatures appear in your area while there is speculation it can also affect which resources you'll find. You can find which location a creature will be found in by looking at your Monster Guide (click your avatar, then the Monster Guide icon).
Related: How and when to use Paintballs in Monster Hunter Now
It is important to note that the habitat in a geographical area will regularly change (for example, your house). Again, speculation is rife about how often it changes, or what causes it to change. Some suggest it has a chance to change hourly, while others think it may be affected by weather. However, the important thing is Niantic didn't make the same mistake they did with Pokemon Go. No matter how remote your location is, or how little you can travel, it is possible to see all the habitats regularly.
Different locations in MH Now - mining nodes, resources, and monsters explained
When looking at the map in Monster Hunter now, the information being thrown at you can be confusing. Here's a brief rundown of the most common elements: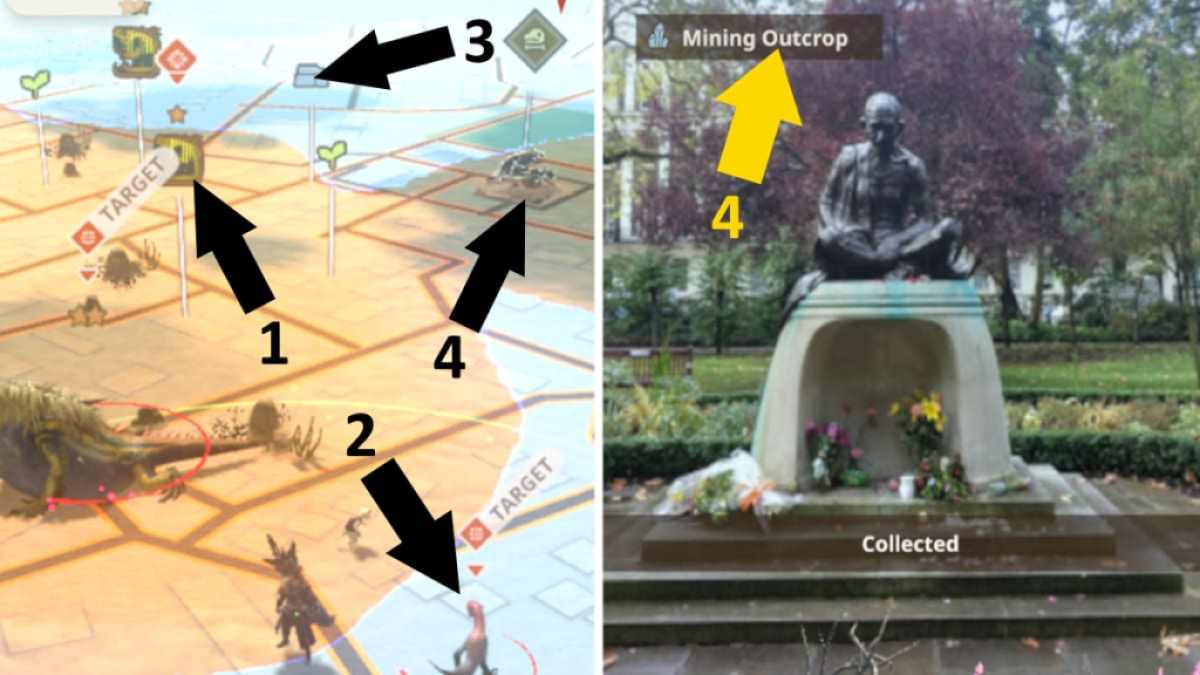 1. Large Monsters
You will recognize a Large Monster because it will have at least one star hovering above it, alongside its own unique icon. The actual size of it isn't relevant. The unique icon can be very useful, as you can match it to any quests you may currently have. You can see all the unique monster tags in your monster Guide.
2. Small Monsters
These will have nothing other than their animation and a red circle underneath them (all monsters have this). Note that defeating small monsters will not give you anything other than common resources but they can still be worth fighting if you need those basics or if you have a quest to complete any kind of monsters (not large ones). Also, they're a good way to build up your Special Skill to use on a tougher creature once charged.
3. Resources
This will be a single resource, with an icon such as an iron bar or a leaf. All you need to do is move close enough that your green glowing circle covers its position and then Palico will go and collect them for you.  
4. Collection points
These are spots that have more resources than usual. For these, you need to click the location yourself, and then click in the close-up until the spot has been completely mined. These are great, as they give you multiple resources. As with monsters, you'll know it's a collection point because it will have a diamond-shaped icon above it with the resource type inside.
4. Quest objectives 
These act in the same way as collection points (above), in that you need to click them for a close-up and then click again to gather what you need. 
Note that mining and quest locations often have some fun real-world information about where they're positioned, so if you know some local points of interest it's worth going to take a look just in case they're featured in the game, like the Ghandi Memorial I found above.
For more on Monster Hunter now check out All Weapons in Monster Hunter Now – Weapon Unlock Guide and Monster Hunter Now Cheat Codes (MH Now) here at Pro Game Guides!