Leatherworking is performed at a tannery in any of the major towns throughout New World. While there aren't a lot of items that you can craft at a tannery, it is vital to have a high skill in leatherworking if you want to craft the materials necessary for some high-level armor.
The key to leveling up leatherworking is to kill and skin any wildlife you see. These creatures will yield rawhide, which you will refine into leather. Higher-level creatures like bears and elk will yield more leather per kill, so be sure to seek them out.
Be sure to save all the leather you make. Each tier of leather is used as an ingredient when crafting the next tier. For example, four coarse leather, the first leather you can craft, is used to make rugged leather. This will achieve two things: you won't have to go out and farm rawhide to work your way up to better leather, and you'll have access to plenty of materials for high-level leather, which offers more experience points.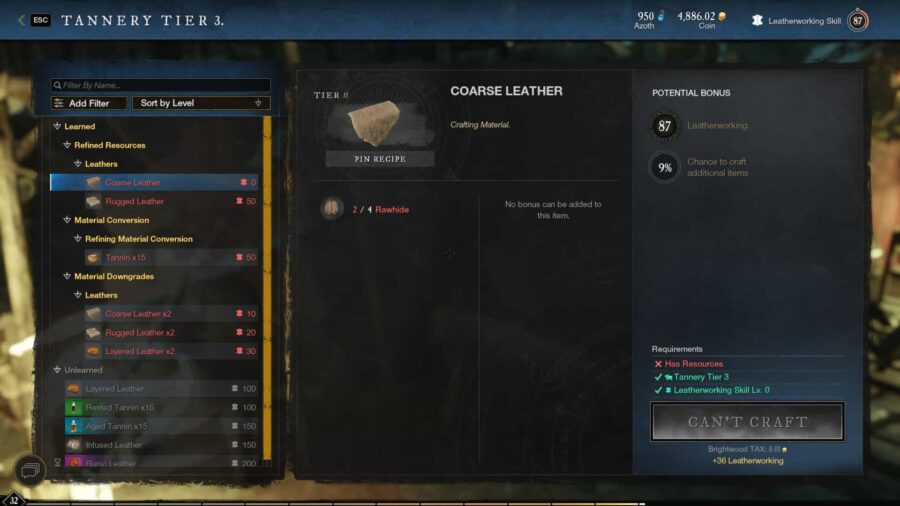 It's also important to loot any supply containers you find out in the world. You'll find important refining materials like tannin and weak solvent, which are required to craft high-level leather. If you find yourself in need of these materials, you can buy material converters from your faction representatives and turn items like cross-weave and sand flux into the materials you need.
Leatherworking is straightforward to level. Be sure to kill and skin all the wildlife you see and save all the materials you craft, as those are important ingredients for higher-level leatherworking recipes. And if you have the coin to spare, you can always find materials for sale at the trading post.
Need help leveling your tracking and skinning? Check out our guide here.