Utterly Exhausted is an Octopath Traveler 2 side story you can view the first time you step into New Delsta. It concerns a young man who feels like there's an evil spirit following him around, and is asking for a "special invigorating stone" from the west to quell his bad juju. Here's how to complete it.
How to complete Utterly Exhausted in Octopath Traveler 2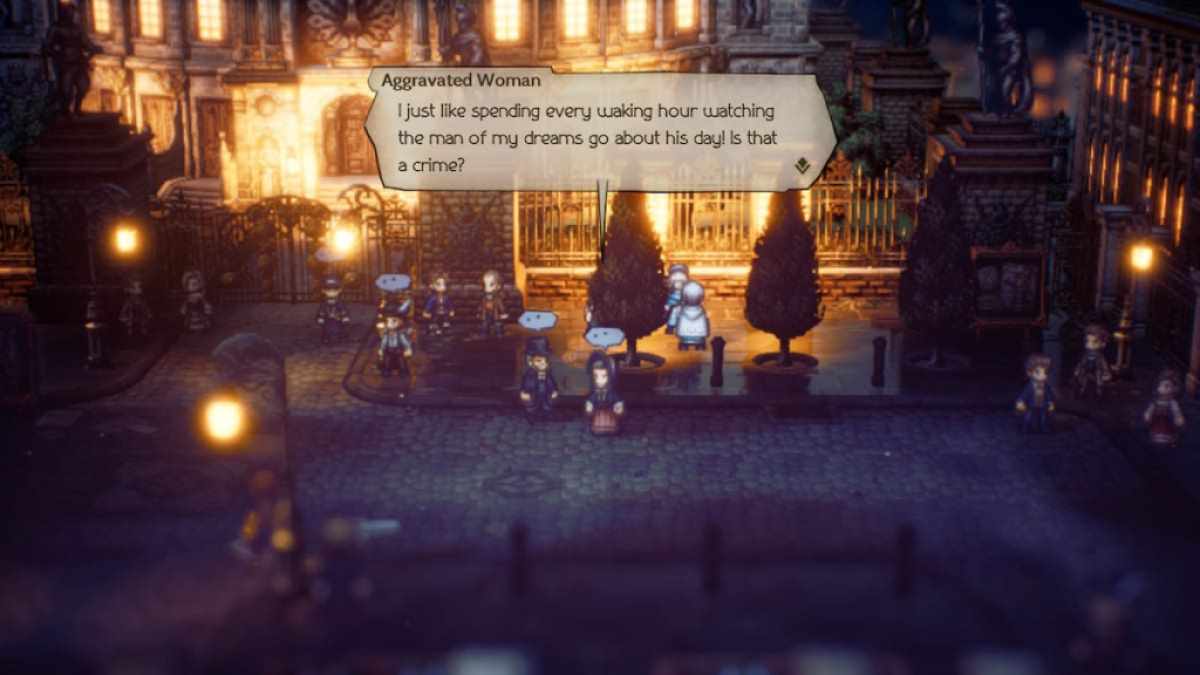 First, know that there is no special invigorating stone, so don't bother searching for one. The hint to resolving his woes is the "bad spirit" that he claims to be following him. This "bad spirit" is actually a woman nearby who is staring at him very intensely. Knock her out with Castti's Path Action. She's located behind the tree in the picture above. You can also Ambush her with Throne, but you need to be at least level 40—and this quest is more than completable right now.
The quest resolves itself afterward. You take the woman to the exhausted man, and she shies away from him. However, the man falls in love with her at first sight. It's a happy ending to this awkward start.
Related: Best secondary jobs for every character in Octopath Traveler 2
If you're stuck on an Octopath Traveler 2 quest like this one, it helps to pay attention to the NPC's dialogue. They often hold clues that you need to resolve most things. Also, we know it's tempting to just run past everyone and move on to the next area, but townsfolk are often brimming with information needed to complete these side stories. Speaking to them is never a waste of time! Case in point is the Waiting All Day and Night quest in the Canalbrine.
For more help with Octopath Traveler 2, take a look at Octopath Traveler 2 – Stolen Goods Side Story Walkthrough and Octopath Traveler 2 – Wanted A Good Joke Side Story Walkthrough here at Pro Game Guides.