Experience a new adventure in the iconic manga and anime world, One Piece. This RPG has a unique new story that, despite not being canon, still allows you to play as some of your favorite characters and utilize their abilities in battle. You can also collect various accessories and outfits for your characters, which changes their appearance in-game to some you might have recognized from the series. Here's how you can collect them.
All costumes in One Piece Odyssey
New World Challenge outfits
The New World Challenge outfits are the default costumes for the characters, and you will immediately see them as you start the game. You won't need to have any requirements or purchase to collect them. These are probably some of their most well-known outfits.
How to get Traveller outfits
The Traveller outfits are a slight variation of their defaults and can only be obtained by Pre-ordering the game on any platform. These costumes are available for all the characters except for Franky and Brook, who only have default skins.
Related: All characters in One Piece Odyssey
How to get Usopp's Traveling Sniper King outfit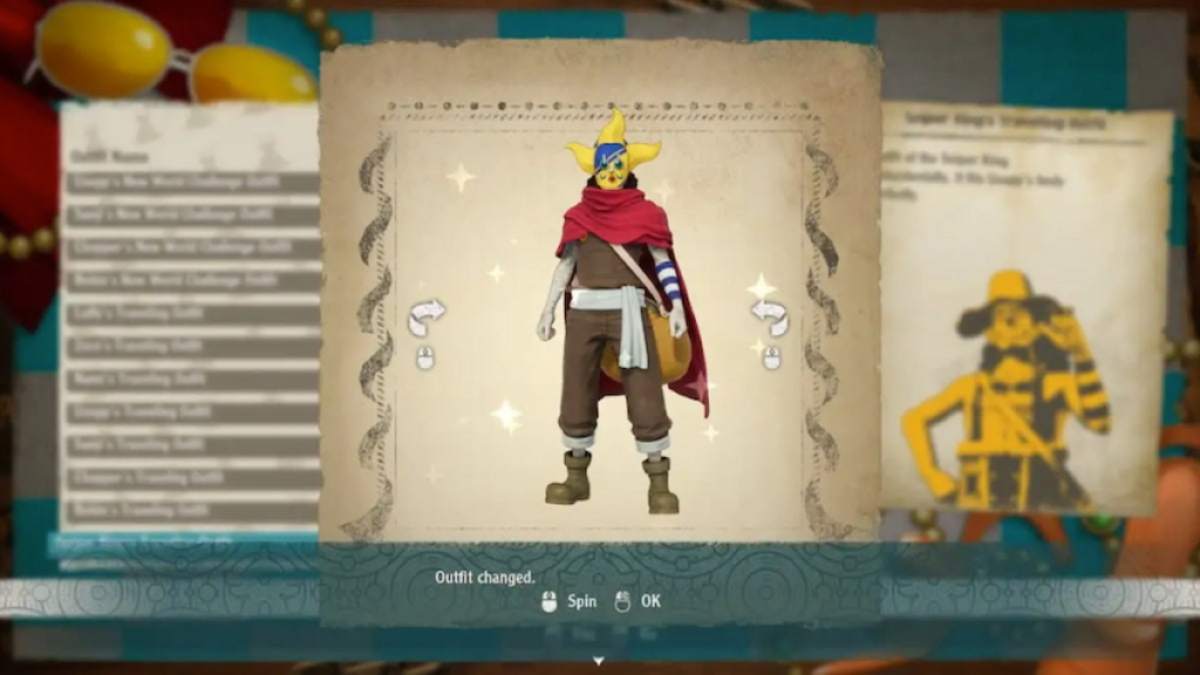 One extra special traveling outfit that is only available for Usopp is his Traveling Sniper King costume. You can only claim this goodie by owning the game's Deluxe Edition or purchasing the Adventure Expansion Pack.
How to change outfits in One Piece Odyssey
Your extra outfits will be listed in your inventory under Items and within the Important tab. However, if you try to select them and equip them through here, you will be unable to. That is because you can only equip and change outfits at your camp.
You can set up camp and hold parties to restore your Crew's energy at any Tent icons spread around your map. Interacting with the campfire will initiate the Crew eating some food and relaxing. You can then walk around and interact with everyone or begin the party, which automatically transitions into the next day. However, before you start the party, you will want to head over to the tents.
The tent you want to interact with has a little marker over it, making it easier to navigate. Here is where you can change your character's outfits. It will reveal a list of all the outfits you own and allow you to click on the one you'd like to equip. You can change all character outfits at one time, so you don't have to switch to the character you are changing.
Will more costumes be made available in One Piece Odyssey?
Currently, only the two outfit sets, plus Usopp's extra, are available in the game. There may, however, be more added in with DLCs or expansions in the near future. Once they become available, we will update this page for your convenience. Be sure to bookmark this page and check back whenever to stay notified.
For more guides, check out One Piece Odyssey Trophy/Achievement Guide and One Piece Odyssey Combat Guide – How To Fight here on Pro Game Guides!