When you reach the forest in Outriders, this boss will rear its ugly head, and you will need to beat it, so here are some helpful tips for doing just that.
How to beat the Chrysaloid Boss in Outriders
To beat the Chrysaloid Boss in Outriders, you will need to first pick a long-range weapon like an assault rifle or LMG and assign only long-range skills. After this, the rest is just a matter of avoiding some of the Chrsaloid's dangerous attacks, which you can do really easily by dodging out of the way when you see read markers on the ground. However, for one attack where the boss shoots a red beam, you will need to seek cover and stay in cover for the attack's duration, as shown below.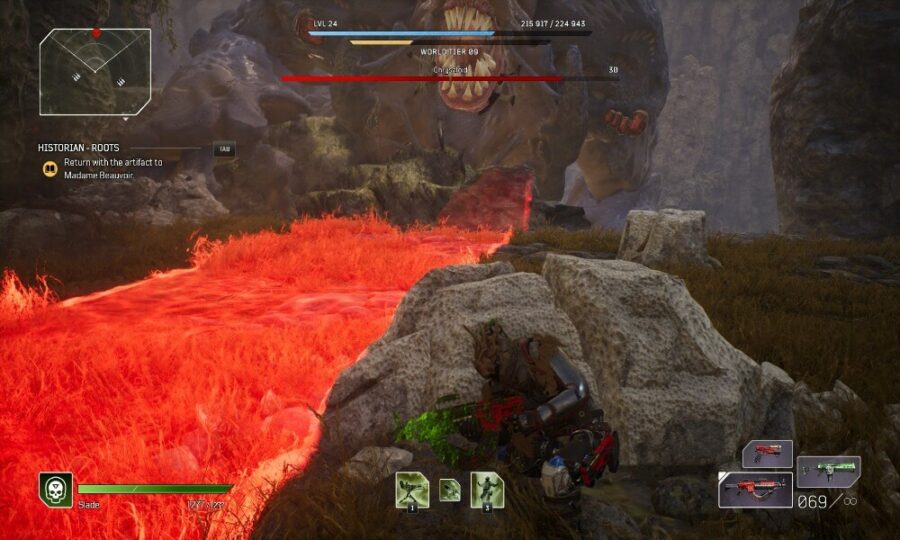 You can also find a tall rock towards the right of the area you are in, but this rock will do the job fine. Just stay in cover and don't aim your gun until the attack passes. Along with staying in cover, one thing you should be doing during this entire fight is to shoot at the boss's mid-torso, as shown below.
This is a case of the old boss has noticeable weak points, and in this case, if you fire at it you can do a ton of damage, so we suggest focusing on it to make this fight go by quickly. It would also help if you used a weapon with life leech and maybe a skill with a bullet buff like blighted, especially if you are a Technomancer. Combine this with some armor mods that extend and how long you can use that ability, along with buffing it, and you should be golden for the most part.
Keep firing at the boss's mid-torso and dogging its attacks, and you will eventually clear the way to phase two. However, during phase two, things will get tricky because you won't have cover anymore.
This is because Phase two of the Chrysaloid Boss fight is in an open area, but overall it's not too hard as long as you don't forget to look down and doge attacks. The most challenging part about this fight is that some hard Strix enemies will spawn in groups, and you will need to kill these guys fast before they all fire on you. Luckily if you have something like blighted rounds, you should be fine during this point.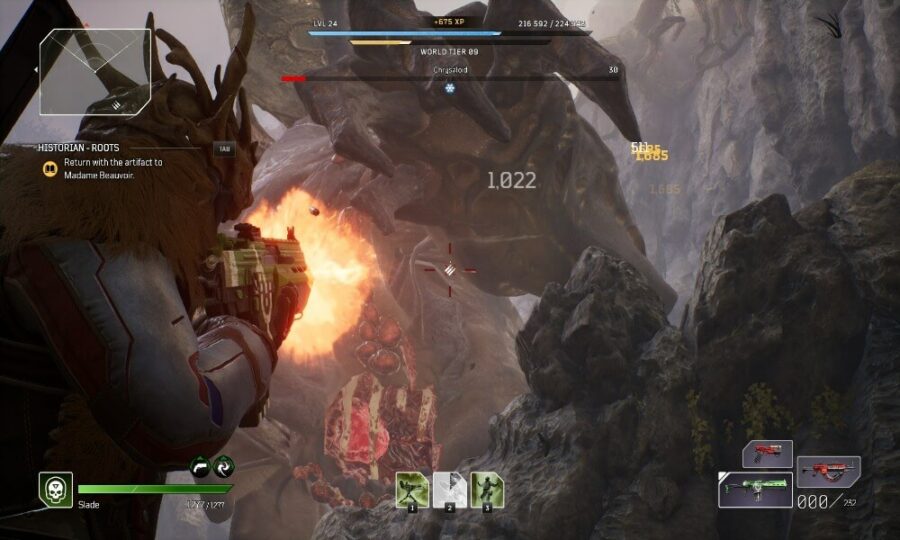 That being said, besides the Strx you should have no trouble clearing this next part. Just keep dogging the big guy's attacks and focus fire on the mid troso, and eventually, the boss will go down.
If you need any more help, here's a recap and some additional helpful tips for beating the Chrysaloid Boss, and if you still have trouble, we recommend bringing a friend along for the ride.
Helpful Tips for beating the Chrysaloid Boss
Stay in cover when the boss makes its beam attack.

Use Assualt Rifles and other long-range weapons.

We recommend bringing a friend along to make things go smoother.

Use bullet buffs like blighted rounds for significant effect.

Focus fire on the boss's mid-torso.

Use weapons with life leach to drain the boss's health.

During phase two, kill the flying Strx enemies quickly.
For more on Outriders we recommend checking out How to Level up World Tiers Fast in Outriders and How to Dismantle Weapons and Armor in Outriders