The Shaman Warlord is a mini-boss that's been giving players grief. This fight is designed a bit differently than others in the game which can make it pretty daunting at first glance. Don't worry, with some swift positioning and a little practice, you'll be able to conquer the warlord without dropping your World Tier too low.
How to Beat the Shaman Warlord in Outriders
This fight is all about positioning, reacting, and preparation. First, make sure your armor has a decent resistance level. The Shaman is one of the only caster-style enemies in the game with a fighting style that focuses on dealing elemental damage with lightning attacks. Its health pool is also a point of concern as it is much larger than other elites. Many are speculating whether or not this will be adjusted at some point, but for now, it's best to prepare for a longer fight than normal.
When you reach the Shaman, first eliminate all other enemies. Dealing with other adds during this fight creates chaos and prevents you from focusing on the deadly lightning attacks. The Shaman will repeat the same cycle of moves, so this really becomes a dance of trying to dodge while still finding time to deal damage.
First, dodge to either side to avoid his shield throw. Do not try to shoot through this attack. Next, he will try to cast his chain lightning attack, which must be interrupted. This is the toughest move to deal with because it is unavoidable if it goes off. It can even path around walls so you won't be able to hide.
Next is a close-range slam attack, which can be easily evaded. Last are the lightning strikes, which will telegraph with the AOE bubbles. Keep moving during these, preferably side to side so you are in a good damage position when it finishes. These will repeat until he is downed. Keep moving when necessary and finding moments to deal damage. Eventually, you will be victorious.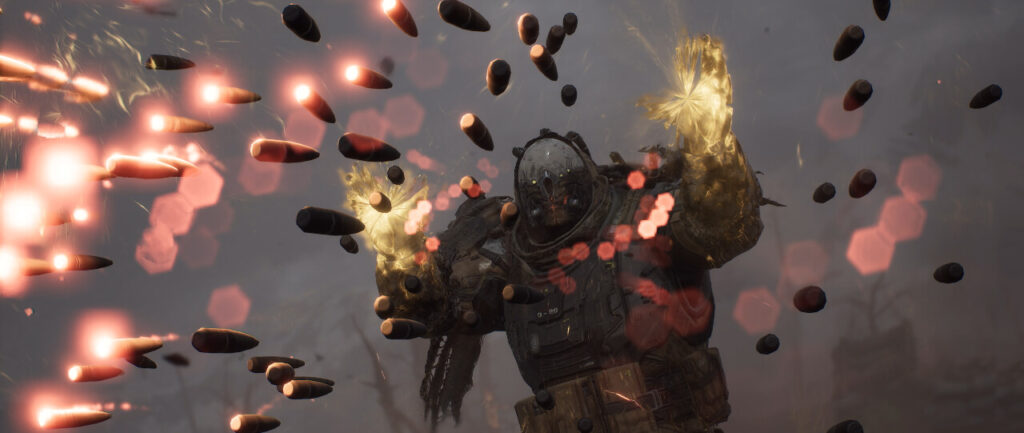 If you are having trouble, first try farming for better gear. Of course, lowering your world tier would be the fastest way to decrease the difficulty of the fight, but you would be sacrificing some of your chances for rare loot. Only time will tell if this elite's health will get tweaked in future updates. With our tips and some patience, you'll be killing the Shaman Warlord in no time!
For more on Outriders, check out How to get Legendary Weapons in Outriders!