Players are currently encountering numerous stuttering and lag problems in the newly released Outriders, so here are some quick and easy fixes to all of these problems.
How to fix stuttering in Outriders
To fix stuttering and lag in Outriders, we recommend trying the following fixes.
Disable DLSS

Disable Ansel

Turn off Vsync

Enable FPS limit

- swap between different rates to see any performance changes.

Turn on Controller Configuration

- The developers recommend turning this on even if you don't have a controller plugged in - more info on that below.

Disable crossplay -

you can do this via the options menu

(consoles)

Run the game in Windowed Mode

Update Drivers

Switch to Dx11

Go offline in friends mode on Steam

Add -force and -dx11 to Launch options on Steam
For the last fix, you will need to navigate to the game's launch options. You can do this by right-clicking the game in your library and hitting properties. After this, a tab with launch options at the bottom will pop up, as shown below.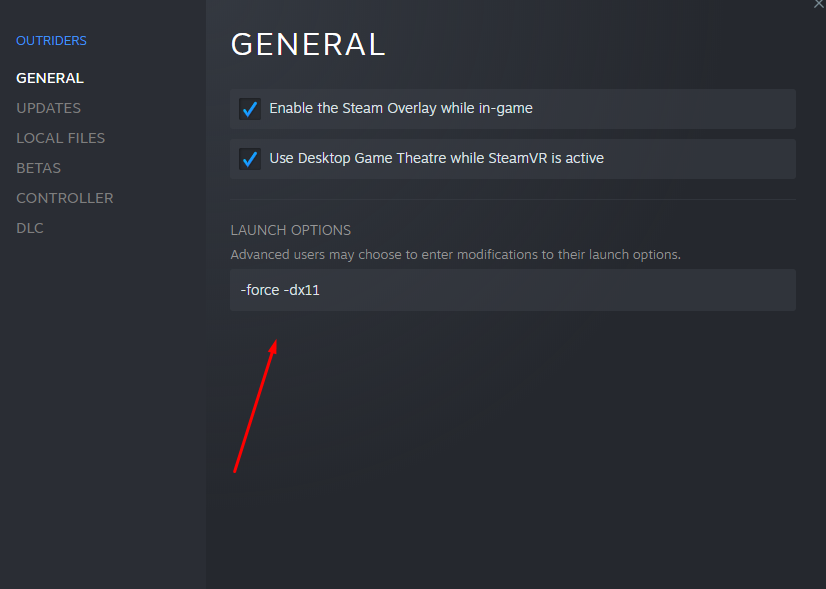 Trying the steps listed above should help improve performance somewhat until the developers finish and release a patch that will iron all the issues at a later date. That being said, keep reading for how to find and change options in the game.
Related: How to Reduce Lag in Fortnite
How to change graphic options in
Outriders
To change various options, all you need to do is find the menu on the home screen. After this, you will be able to change various graphics settings in both the display and advance display tabs.
How to go offline in friends mode on Steam
To go offline in friends mode, you will need to click your name at the top of the friends list tab. Doing so will make a tab of various options appear. One of these options will be one to go offline, click it, and that's all you need to do.
How to enable Controller Configuration in Outriders
To enable controller configuration in Outriders, start by launching Steam in big picture mode. You can do this by clicking view at the top left of your screen and then via the big picture mode option, as shown below.
Once in big picture mode, press the gear icon at the main menu, and locate the option that says controller, and then select your controller settings - make sure your controller is on for this.
After this, go back to the main menu and select library, and then the game and select manage game. Find and select controller configuration and then browse configs and select gamepad.
Your controller configuration should be enabled after this and hopefully will eliminate any stuttering you may be experiencing in the game when you are done.
For more on Outriders, we at PGG have you covered with guides like Are Outriders Servers Down? Here's how to check server status and How to fix Internet Connection Error in Outriders.