Updated October 10, 2023

Updated our list.
Overmortal is a Wuxia-inspired idle RPG where you can practice cultivation to learn immortal techniques, propelling your ascension to immortality. Like other games of this genre, you can craft powerful pills through alchemy to boost your stats, speed up cultivation, and explore various realms to defeat supernatural enemies.
I highly recommend claiming the codes below for Overmortal, as they will you with resources that can help you progress in the game. If you like similar Wuxia games, check out our compilation of Cultivation Simulator Codes and Murim Cultivation Codes to not miss out on amazing, limited-time rewards.
All Overmortal Codes List
Working Overmortal Codes (Active)
Congratulations—Redeem for rewards (Global only)
om999—Redeem for 100 Fateum and Treasure Token
om444—Redeem for 100 Fateum and Treasure Token (SEA only)
gift999—Redeem for 100 Fateum and Treasure Token
Expired Overmortal Codes
kao999—Redeem for rewards (SEA only)
kao555—Redeem for rewards (SEA only)
gift444—Redeem for rewards (SEA only)
Starlight—Redeem for rewards
Fantastic—Redeem for rewards
Blossom—Redeem for rewards
Destiny—Redeem for rewards
Smile—Redeem for rewards
Cheerful—Redeem for rewards
Monkeyking—Redeem for rewards
findkao—Redeem for rewards
harmony—Redeem for rewards

August—Redeem for rewards
Bliss—Redeem for rewards
Exuberance—Redeem for rewards
Jubilation—Redeem for rewards
Serendipity—Redeem for rewards
June—Redeem for rewards
Enlightenment—Redeem for rewards
Cultivation—Redeem for rewards
Transcendence—Redeem for rewards
Eternity—Redeem for rewards
Prudent—Redeem for rewards
Cautious—Redeem for rewards

Modest—Redeem for rewards
Happiness—Redeem for rewards
Omnipotence—Redeem for rewards
Paradise—Redeem for rewards
Refreshment—Redeem for rewards
Finalword—Redeem for rewards
Headwind—Redeem for rewards
BecomeDivinity—Redeem for rewards
Related: Tears of Themis Codes
How to redeem codes in Overmortal
Follow the steps below to redeem codes in Overmortal: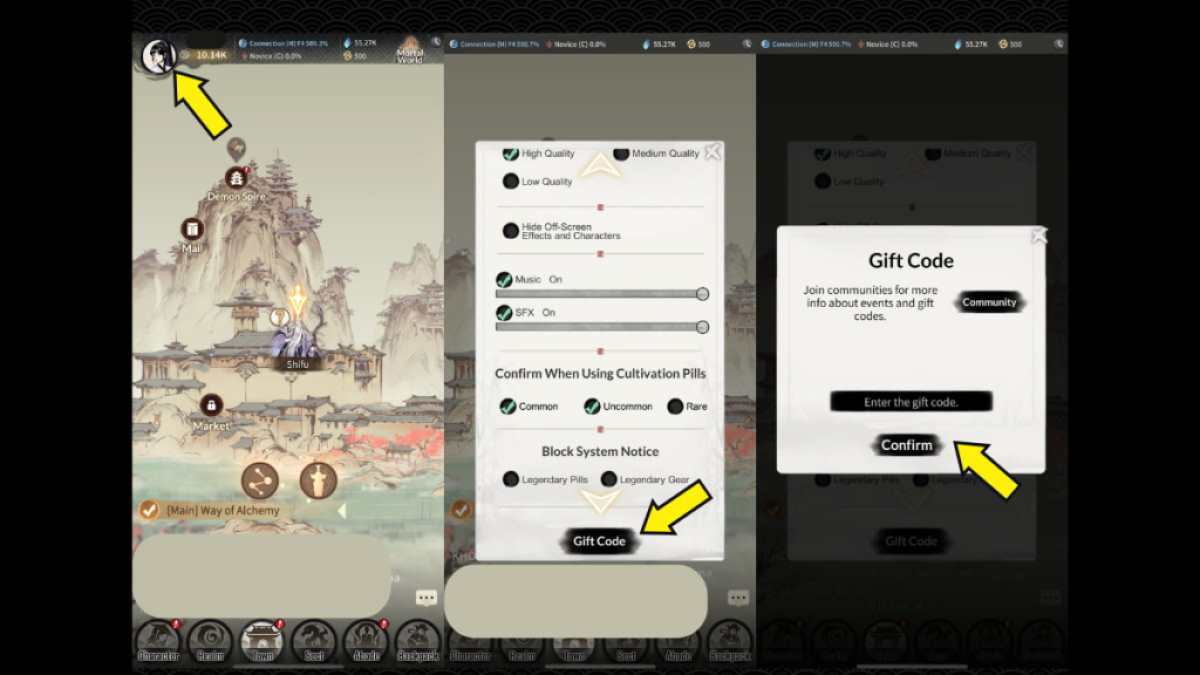 Click on your profile on the upper left side of the screen. This button is only accessible after the tutorial.
Click on the Gift Code icon at the bottom.
Type the code exactly as-is in the Enter the Gift Code textbox.
Click Confirm to obtain rewards.
How can you get more Overmortal codes?
To find more codes for Overmortal, follow the Overmortal Mobile Facebook Page, @OvermortalMobile YouTube Channel, and the official Overmortal Discord Server, where codes may regularly be posted. Alternatively, you can bookmark this page, as we'll constantly update it with all working codes, so you don't have to look for them yourself.
Related: Arknights Codes
Why are my codes not working?
Overmortal codes may not work for a few reasons. First, you might have mistyped it (which happens to the best of us). Make sure to type in the codes exactly as they're written above to prevent errors. Second, you might have already claimed the code before. Codes can only be claimed once! Finally, the code might be expired. If that's the case, let us know in the comments below so we can remove it from our working codes list.
How to get more free rewards in-game
You can get free rewards in Overmortal by completing quests, which are usually granted by Shifu in Town. You can also participate in events whenever they're ongoing to get limited-time rewards. Additionally, the Overmortal developers will sometimes send gifts to celebrate milestones or as compensation, so be sure to check your in-game Mail regularly.
What is Overmortal?
Overmortal is a Wuxia-inspired idle RPG where you can practice cultivation with the guidance of a powerful Shifu. Craft powerful pills through alchemy and use them to improve your cultivation speed, speeding up your way to immortality. You can also explore various realms to defeat supernatural enemies.
Like anime-esque RPGs? Check out our compilation of Genshin Impact Codes and Honkai Star Rail (HSR) Codes here on Pro Game Guides.