Ryotaro Dojima, the man behind the Hierophant, is perhaps one of the trickiest Social Links to max out—second only to Margaret. The answers he's looking for are often not the ones you'd expect from a single, tired father like him. That said, here's your ultimate Social Link guide to befriending Ryotaro Dojima.
How to unlock Dojima Social Link in Persona 4 Golden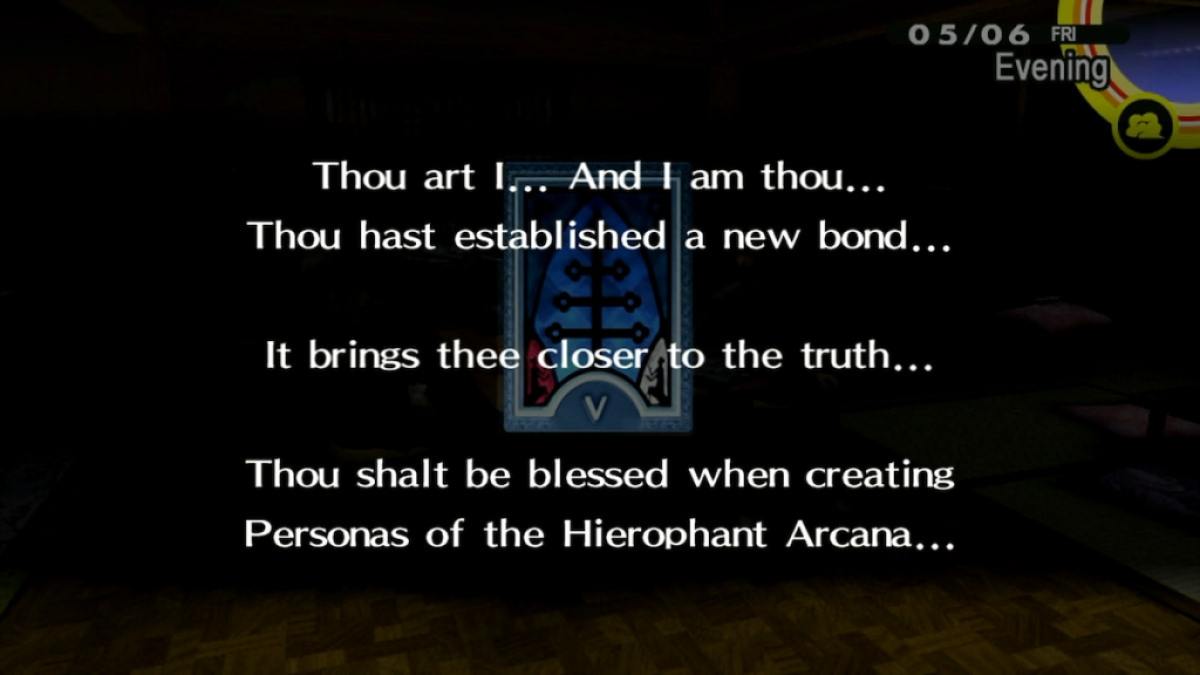 The Hierophant Social Link will automatically unlock on May 6. Ryotaro Dojima can be found in your house every evening. Here's there all day when it's raining. There are plenty of opportunities to bond with him.
The Dojimas' Social Links (including Nanako) will always need Yu to be at a certain Expression level, so be sure you're not neglecting your clubs.
How to raise Expression in Persona 4 Golden
There are a few ways to raise Expression in Persona 4 Golden:
Attend Drama club every Monday, Tuesday, and Thursday after class.

If you chose to join the Band, this option is not available for you. Instead, use the Understanding you can gain from Band practice to work as Tutor later on.

Work as Translator (needs at least Knowledge Rank 2). Approach the table in your room anytime.
Work as a Tutor (needs Understanding level 5). It's available from May 25 onwards.
Read the "Way" books (The Ramen Way, The Punk's Way, The O-Cha Way, and The Divine Way)
Read English Made Easy
Related: All Persona 4 Golden Quiz Answers
All Ryotaro Dojima answers in Persona 4 Golden - Hierophant guide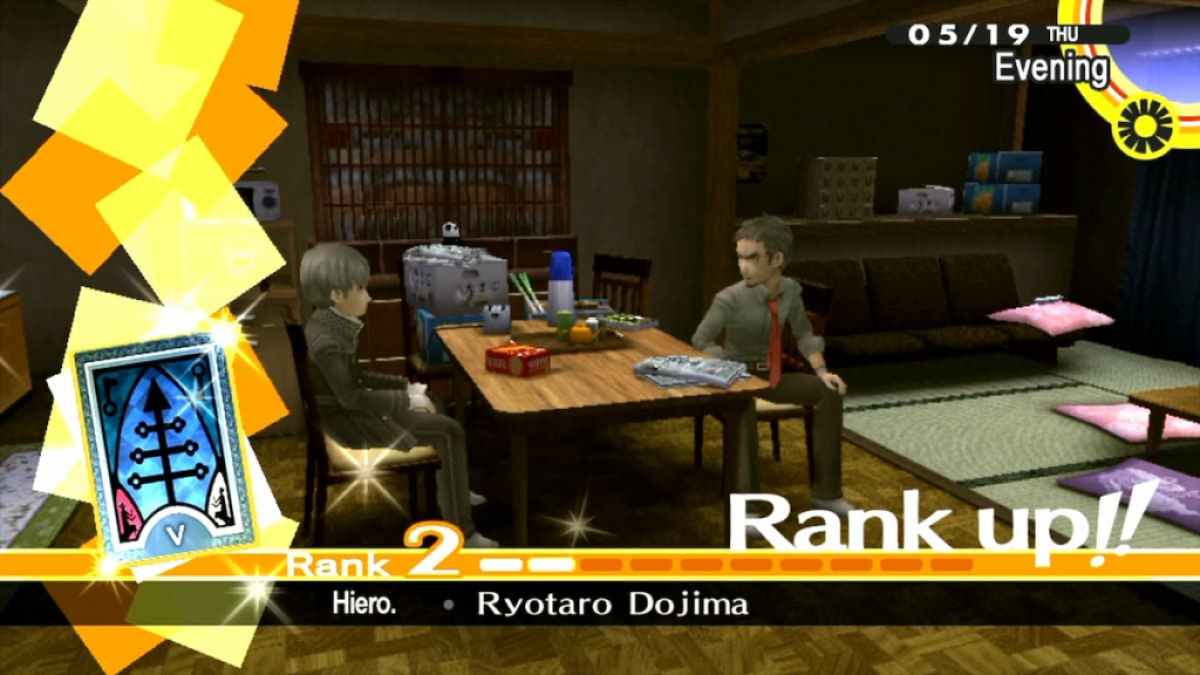 Before we start anything, remember to have at least one Hierophant Persona equipped when you plan to spend the evening with Uncle Dojima. It adds extra points to all correct responses, allowing you to max out the Hierophant faster. If you Garden, you can also receive random bonus social points from either Ryotaro or Nanako.
There are no correct answers to Rank 1 conversions, including Dojima's. This guide will start at Rank 2. By the way, the trick is to answer like a concerned, yet independent man. Dojima doesn't like it if you start acting like a son (at least, before it's time!).
Dojima Rank 2 answers
Yu's Expression needs to be at Rank 2 (Eloquent) before this conversation can be triggered.
Prompt: So... What have you been doing after school?
Best response: Working.
Prompt: But it's not as if we have much in common... except for the murders.
Best response: Tell me about yourself.
Prompt: You're more like a very young brother to me than a son.
Best response: That's stretching it.
Dojima Rank 3 answers
Prompt: 'When is always', huh…?
Best response: None.
Prompt: Plus... I'm not fit to be her family.
Best response: Fit or not, you're family.
Dojima Rank 4 answers
Yu's Expression needs to be at Rank 3 (Persuasive) before this conversation can be triggered.
Prompt: All we've got is instant, though. How do you take it?
Best response: Surprise me.
Prompt: Go watch TV with Nanako. I'll bring it to you when it's ready.
Best response: You don't have to do that.
Dojima Rank 5 answers
Yu's Expression needs to be at Rank 4 (Touching) before this conversation can be triggered.
Prompt: Oh... Sorry, I wasn't talking about you.
Best response: Can I help?
Prompt: It's late. Go to sleep.
Best response: But Nanako?
Dojima Rank 6 answers
Prompt: Let's stop there.
Best response: Then let's go outside.
Prompt: I don't need a private life to do that. ... Nanako will understand.
Best response: None.
Dojima Rank 7 answers
Prompt: I can do that anytime.
Best response: This is more important, huh?
Dojima Rank 8 answers
Prompt: Sorry, but my hands are full here.
Best response: Want some coffee?
Prompt: Do you understand why?
Best response: Because you're a coward.
Dojima Rank 9 answers
Prompt: Er... Sorry about making you go along with this today.
Best response: It was fun.
Prompt: That's why I used revenge as an excuse to spend time away from her...
Best response: Was it hard?
Dojima Rank Max answers
Prompt: This is your personal mug. Write your name on it later.
Best response: Thank you.
Gardening answers on 6/12
This optional conversation can only be triggered if you work on your Garden on June 12.
Prompt: Are you regretting letting Nanako talk you into this yet?
Best response: I'm glad I did this.
Once you and Uncle Dojima grow close enough to be family, you can now fuse the ultimate Hierophant Persona, Kohryu. Kohryu is a Zio/Lightning Persona, similar to Izanagi. However, it also doubles as a healer, making it a must-have in your party.
How to fuse Kohryu (Hierophant) in Persona 4 Golden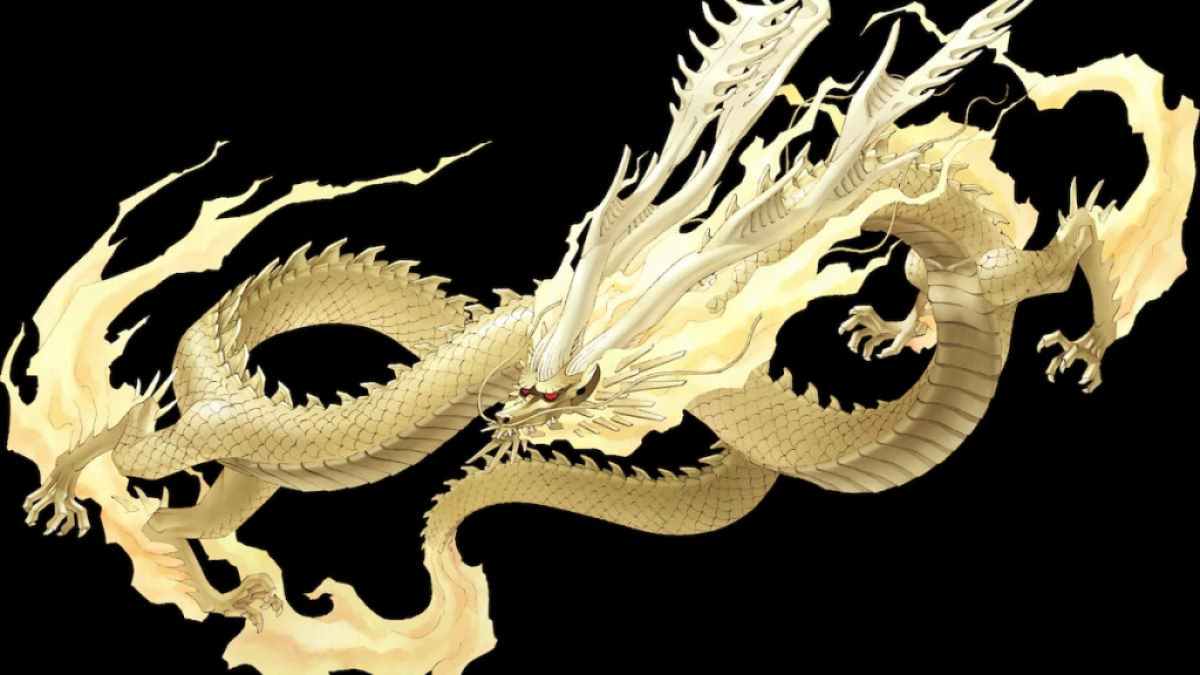 To fuse Kohryu in Persona 4 Golden, you're going to need the following Temperance Personas:
Byakko (can be found in the Magatsu Mandala part of Magatsu Inaba)
Genbu (can be found in the Secret Laboratory)
Seiryuu (can be found in the Secret Laboratory)
Suzaku (can be found in Heaven)
If you're interested in more Persona guides, check out How to auto text in Persona 4 Golden and What is the best version of Persona 3 – FES or Portable? here at Pro Game Guides.