Sword and Shield's Galar Pokédex, while smaller than the National Pokédex of Sun and Moon, can be a lot of work to complete! You'll have to do plenty of searching, leveling up and trading to get all 400 Pokémon, but there are several ways to speed up the process. The rewards for doing so are pretty neat too – once you've caught 'em all, you'll be given the Shiny Charm, a Key Item which increases your chances of encountering Shiny Pokémon. Here's some tips on how to fill the Galar Pokédex quickly!
Catching Pokémon for your Dex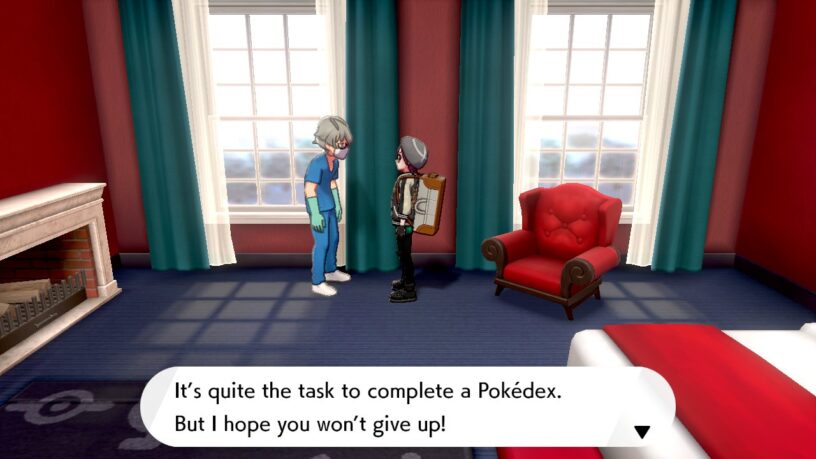 First of all, make sure you have the Catching Charm on hand. This boosts your chance of getting a critical capture, which will make catching Pokémon much easier. You'll find the Catching Charm at the Hotel Ionia in Circhester – enter the building to the left, then go upstairs and enter the leftmost room. Talk to the Director in this room, and he'll give you a Catching Charm. Remember this guy's location for later – after you've completed the Pokédex, he'll also award you with the Shiny Charm!
The bulk of your work will most likely take place in the Wild Area, where the majority of the Galar region's Pokémon species can be found. Be sure to visit here as often as possible, as the available range of wild Pokémon will vary with the weather and time of day. You'll now be able to take on and capture the "strong-looking" roaming Pokémon you may have encountered earlier. Capturing these makes your job a lot easier, as you'll be able to get Pokémon in their final evolutionary stages without having to level up weaker Pokémon. At this stage of the game, Quick Balls are probably your best bet for capturing large numbers of Pokémon quickly – you'll find these for sale in Wyndon City, or from one of the Watt Traders within the Wild Area.
Many of the Pokémon you'll need can be found in Max Raid Battles – while Gigantamax forms aren't necessary to complete your Pokédex, Max Raid Battles are still a good way to catch evolved Pokémon, earn EXP Candy, and earn Watts to buy extra Poké Balls with. After you've become the Pokémon League Champion you'll earn Watts much more quickly from Max Raid Dens, so this will be much easier than it was in the early game. Max Raid Battles are usually best attempted in groups, and if you join another player's Max Raid Battle you might even be able to capture a Pokémon exclusive to their version of the game!
Evolving your Pokémon

To get every evolution, you'll need a consistent way to level up your Pokémon – one option is to take part in the Champion Cup, where you'll battle some of the game's highest-level Pokémon. Battling high-level wild Pokémon in the Wild Area can also help you gather Experience Points. You can also use Poké Jobs, Curry, and the EXP Candy obtained from Max Raid Battles to level up your Pokémon outside of battle. For more details on this, see our Leveling Up Guide!
Pokémon that don't evolve by leveling up can be a bit trickier – many of these have entirely new or unique evolution methods (like Farfetch'd and Galarian Yamask) but most evolve through friendship, trading, or the use of Evolution Stones. Friendship can be increased by keeping a Pokémon in your party (especially if it's holding the Soothe Bell item) and by feeding it certain Berries. Evolution Stones, meanwhile, can sometimes be obtained from the Digging Duo near the Pokémon Nursery in the Wild Area. You'll find several of these stones scattered throughout the region – to start you off, you can also find one of each kind positioned around a stone circle on the Wild Area's Lake of Outrage. Keep in mind that although you won't need both regional forms of every Pokémon with a Galarian Form, you'll still need to have one of each regional evolution – so you'll need both Persian and Perrserker, as well as both Cofagrigus and Runerigus.
Unique Evolutions & Other Hard-to Find Pokemon
Version Exclusives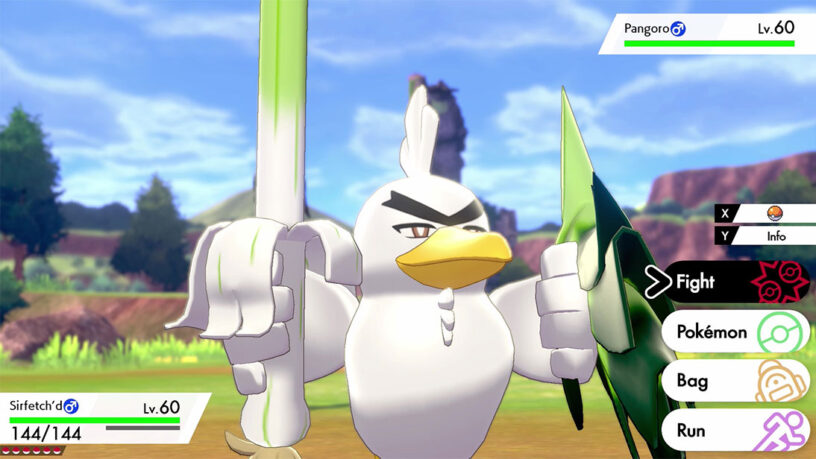 Trading with the opposite version of your game is also vital to completing the Pokédex, as there are several Pokémon that are exclusive to Sword or Shield only, as well as the two Starter Pokémon besides your own! Below is a list of version-exclusive species that you'll need to trade for if you don't have that version of the game:
Exclusive to Sword
Farfetch'd, Seedot, Nuzleaf, Shiftry, Mawile, Solrock, Darumaka, Darmanitan, Scraggy, Scrafty, Gothita, Gothorita, Gothitelle, Rufflet, Braviary, Deino, Zweilous, Hydreigon, Swirlix, Slurpuff, Passimian, Turtonator, Jangmo-o, Hakamo-o, Kommo-o, Flapple, Sirfetch'd, Stonjourner, Zacian
Exclusive to Shield
Ponyta, Rapidash, Corsola, Larvitar, Pupitar, Tyranitar, Lotad, Lombre, Ludicolo, Sableye, Lunatone, Croagunk, Toxicroak, Solosis, Duosion, Reuniclus, Vullaby, Mandibuss, Spritzee, Aromatisse, Goomy, Sliggoo, Goodra, Oranguru, Drampa, Appletun, Cursola, Eiscue, Zamazenta
Starter Pokémon (you'll need to trade for two of these families)
Grookey, Thwackey, Rillaboom, Scorbunny, Raboot, Cinderace, Sobble, Drizzile, Inteleon
As a final note, remember that while many Gigantamax forms and other variants are version-exclusive, these are not required for completing the Pokédex!