In Minion Simulator, you are given a drone and told to destroy props, safes, and sentries to earn money. As your drones destroy the items, you gain Gold and Gems, which you can use to upgrade your drones and unlock new areas. Gems are used to upgrade your character and drones, such as their destroy time or range when collecting Coins and Gems.
The codes below can help you gain more Coins to spend on new areas to unlock or more drones to fight for you. When games first start, they only come with one or two codes, but as they reach milestones like followers, likes, or favorites, more codes are normally released. Continue to check back here for more codes.
For more codes for games like Drone Swarm Simulator, check out Minion Simulator Codes, Roblox Dogecoin Mining Tycoon Codes, and Roblox Ore Tycoon 2 Codes. The codes will give you an easy boost in the game.
All Drone Swarm Simulator Codes List
Updated September 6, 2022

Added one new code.
Drone Swarm Simulator Codes (Working)
Here's a look at all the working Drone Swarm Simulator codes.
riseup—Redeem for a Phoenix Drone (New)
FLEX—Redeem for a damage Boost
LIKEGEMS—Redeem for a Gems Boost
DiamondNose—Redeem for a Gem Boost
BossBoost—Redeem for free rewards
FeelingLucky—Redeem for free rewards
YummyOats—Redeem for free rewards
Coinchaser—Redeem for free rewards
Release—Redeem this code for 500 Coins
Drone Swarm Simulator Codes (Expired)
These codes for Drone Swarm Simulator no longer work.
There are no expired codes for Drone Swarm Simulator
Drone Swarm Simulator FAQ
Here's everything you need to know regarding Drone Swarm Simulator codes.
How to redeem Drone Swarm Simulator codes
Redeeming codes for free rewards in Drone Swarm Simulator is easy.
Launch Drone Swarm Simulator on Roblox.
In the game, press the shopping basket button on the right side of the screen.
Scroll to the bottom of the window
Enter the code in the text box that appears.
Press the REDEEM button to claim your reward!
How to redeem Twitter Rewards on Drone Swarm Simulator
Redeeming Twitter Rewards is simple to do: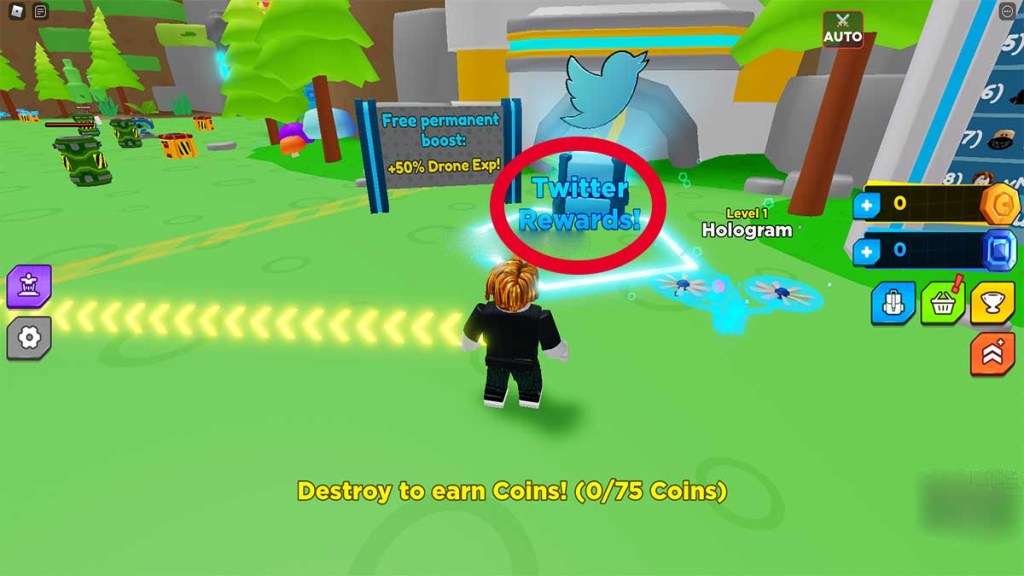 Launch Drone Swarm Simulator on Roblox.
You'll start at the first portal, so head to the Twitter Rewards casket on the right
Step into the hexagon
Enter your username with the @ symbol.
Press Verify to get +50% Exp for your drones.
Remember that it may take up to an hour before your follow will be registered in-game.
How to Unlock the Portal at the beginning of Drone Swarm Simulator
When you start the game, you see a portal with a lock that you can unlock later on. You need to unlock two more zones for 1,750 Gold and then 8,000 Gold. Then, you'll see another portal that you can unlock for 50,000 Gold. When you unlock that portal, you can use the big portal in the beginning of the first world to reach the highest unlocked world.
How can you get more Drone Swarm Simulator codes?
You should bookmark this page and return to it frequently if you want to get codes. As codes are released, we will update the page to keep you informed. The developer can also be followed on Twitter and Discord. When developers are getting ready to release new codes, they usually announce them on Discord first, followed by revealing the code on Twitter.
Keep in mind that as the experience ages, more codes will be released. We will continue to update this page as more codes are added.
Why aren't my Drone Swarm Simulator codes working?
You will not be able to use your codes if you enter them incorrectly. If you enter a code manually, it's easy to mess up, so we recommend copying and pasting it into the text box to ensure it's entered correctly. Please let us know in the comment section if your code still appears invalid, despite entering it correctly. Whenever a code is mentioned in the comments, we check it to see if it has expired, and we update the article accordingly.
What is Drone Swarm Simulator?
The objective of Drone Simulator is to unlock portals and move through more zones and worlds to get more Coins. The higher the zone you're in, the more Coins your drones will gain from destroying props, safes, and sentries. There are many drones to unlock, which require going to different zones and paying Coins to unlock capsules. The more expensive the drone, the more useful it will be. You can have up to four drones.
If you're looking for codes for other games, we have a ton of them in our Roblox Game Codes post! You can also get a bunch of free stuff via our Roblox Promo Codes page.