To the moon! Or...something like that, right? Hop into the world of cryptocurrency and experience everything that it has to offer in Dogecoin Mining Tycoon! Build and upgrade an impressive rig to fund your projects, explore the map, and complete quests all while raking in and stacking up in the Dogecoin. But once you get started, how do unlock more content including free bonuses, boosts, and decorations? With codes of course!
All of the Dogecoin Mining Tycoon codes listed below can unlock a variety of goodies and free prizes. From Premium Coins to exclusive, code-only decorations, these codes have it all! And if you're looking for even more freebies, be sure to check back with this article regularly—we update this list as soon as new codes come out! If you find a code in the Working Codes section that seems expired, please let us know so we can remove it as soon as possible. Keep in mind, also, that you'll need to enter each code exactly as it's written or the experience won't accept it!
If you're looking for more Roblox content to browse while you wait for new codes, check out some of our other Tycoon code pages, including Roblox Car Dealership Tycoon Codes, Roblox Military Tycoon Codes, or Roblox Ultimate Army Tycoon Codes!
All Dogecoin Mining Tycoon Codes List
Updated August 28, 2022

Added a new code!
Dogecoin Mining Tycoon Codes (Working)
Here's a look at all the working Dogecoin Mining Tycoon codes.
NOVICEMINER—Redeem for 500 million Money (New)
CooLESTCooLEREVER—Redeem for Coolest Cooler Ever (New)
DOGECOINMININGTYCOON—Redeem for 15k Money (New)
JOINURSAMAJORGAMES—Redeem for 27k Money (New)
MAXIMUMDOGECOIN—Redeem for 20k Money (New)
LIKEDOGECOIN—Redeem for 5k Money
PRODOGECOINMINER—Redeem for 50 million Money
DOGECOINTYCOON—Redeem for 25k Money
MARCH22—Redeem for 20 Premium Coins
UPDATE11—Redeem for 40 Premium Coins
MOREPETS—Redeem for 20 Premium Coins
DOGE!—Redeem for Gumdrops
UPDATE10—Redeem for 30 Premium Coins
FESTIVE!—Redeem for Gumdrops
FROSTY—Redeem for Large Ice Cube Cooler
FREEFAN—Redeem for a Desk Fan
20M!—Redeem for 30 Premium Coins
Dogecoin Mining Tycoon Codes (Expired)
These Dogecoin Mining Tycoon codes no longer work.
UPDATE8
ATLANTIS
OCEAN
WINTER21
UPDATE7 - Redeem for 20 Premium Coins
UPDATE6! - Redeem for 20 Premium Coins
UPDATE5 - Redeem for 15 Premium Coins
10MIL - Redeem for 10 Premium Coins
UPDATE4
MONEY2
How to redeem Dogecoin Mining Tycoon codes
How to enter codes in Dogecoin Mining Tycoon
Redeeming codes in Dogecoin Mining Tycoon is easy! To do so, simply follow the quick steps below.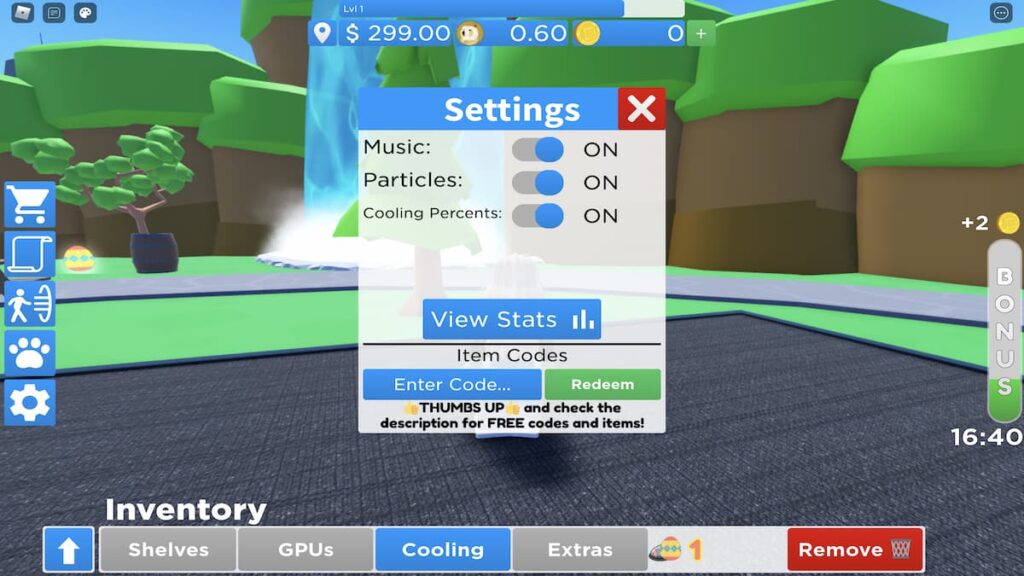 To start, launch the experience
Once you've loaded in, locate and select the Settings button (cog icon) on the left side of the screen
From the new menu that appears, enter each working code into the text box
Press Confirm to receive your free reward!
How do I get more codes?
Because Infinite Canvas, the parent studio of Dogecoin Mining Tycoon's Ursa Major Games, develops a variety of different experiences, codes and updates for Dogecoin Mining Tycoon aren't released on a certain schedule, meaning it's unknown exactly when or where new codes will be released. The best ways to stay up-to-date on codes are checking back with this article often, following Infinite Canvas on Twitter, and joining the Infinite Canvas Discord server. Players looking for an extra boost can also join the Ursa Major Games: Dogecoin Mining Tycoon Roblox group to receive a 10% reduction of their exchange fees in Dogecoin Mining Tycoon.
Why aren't my codes working?
Not all Roblox codes are active for the same amount of time, meaning some expire exceptionally quickly and may even become inactive after 24 hours or less! If you attempt to enter a code and it says Code Expired, that code is no longer active and, unfortunately, can no longer be redeemed. There's nothing that you can do to fix this issue, the code is simply unobtainable. If you attempt to type in a code and it says Invalid Code, however, this means that you've likely mistyped the code or neglected to use the correct capitalization. If this happens, try to retype and re-enter the code once more, being sure to copy it exactly as it's written!
What is Dogecoin Mining Tycoon?
Dogecoin Mining Tycoon is a tycoon-style Roblox experience that invites players to design their Dogecoin mining rig from the ground up and use it to, you guessed it, mine Dogecoin. As players complete quests and explore the map, they can level up and, in turn, unlock more powerful items for their rig and earn even more Dogecoin!
If you're looking for codes for other games, we have a ton of them in our Roblox Game Codes post! You can also get a bunch of free stuff via our Roblox Promo Codes page.