The multiverse is a scary and wonderful place where you can choose any of your favorite heroes to come to fight alongside you in Hero Fighting Simulator! Choose heroes and villains like Luffy, Mysterio, and Naruto to become a part of your all-star hero team to fight and defeat villains in dungeons. Can you assemble the greatest hero squad imaginable?
The codes you can claim in Hero Fighting Simulator will give you the in-game currency of Coins. Coins are used to unlock stronger characters to equip to help you to defeat stronger enemies that could be a challenge at the start of the game.
Do you love playing as your favorite superhero? Many Roblox experiences let you live out your fantasy, and we have the codes to help you get stronger! Try the codes for Roblox Project Hero Codes, Idle Heroes Simulator Codes, Superhero Universe Codes, Hero Fighters Simulator Codes, and Anime Hero Simulator Codes.
All Hero Fighting Simulator Codes List
Updated October 3, 2022
Added a new code!
Hero Fighting Simulator Codes (Working)
Here's a look at all of the working Hero Fighting Simulator codes.
INDEX—Claim code for 2x Luck for 15 minutes (New)
THANKYOU—Claim code for 2x Damage for 15 minutes
2MVISITS—Claim code for Mr. Incredible Hero
FREECOINS—Claim code for 1000 Coins
FREEBOOST—Claim code for Luck Boost
1000LIKES—Claim code for 500 Coins
1000REWARD—Claim code for 500 Coins
500KVISITS—Claim code for 2000 Coins and all Boosts
Hero Fighting Simulator Codes (Expired)
These Hero Fighting Simulator codes no longer work.
There are currently no expired Hero Fighting Simulator codes.
Hero Fighting Simulator FAQ, Answered
Follow our guides for all your questions on Hero Fighting Simulator answered.
How to Redeem Hero Fighting Simulator Codes
It's easy to redeem codes for free rewards in Hero Fighting Simulator.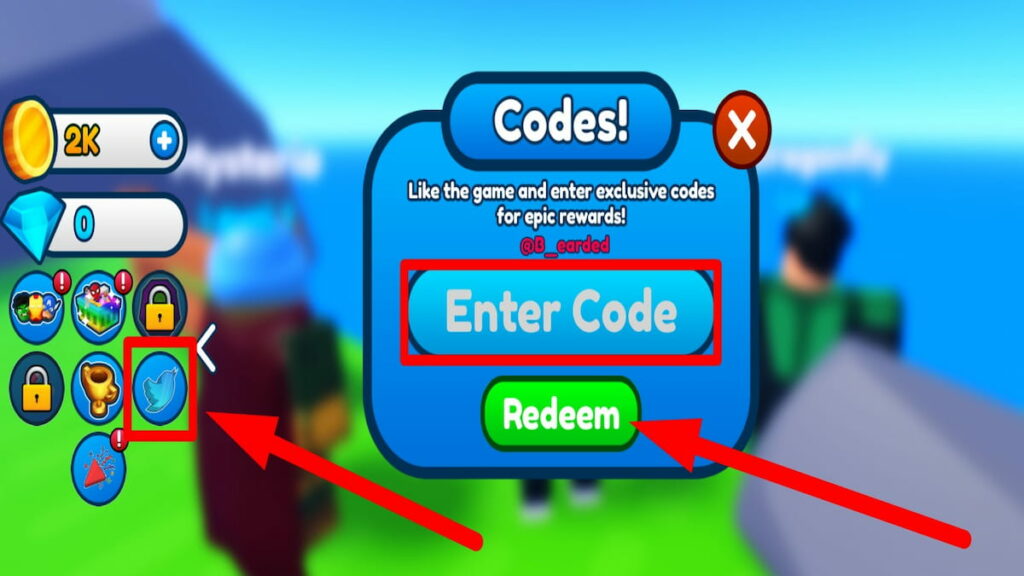 Launch Hero Fighting Simulator on Roblox.
Click on the Twitter Bird icon on the left-hand side of the screen.
Enter the code into the Enter Code text box.
Click the green Redeem button to claim your rewards.
How to get more Hero Fighting Simulator codes
To get the latest Hero Fighting Simulator codes from the developer Heroes HQ, follow them on Twitter @B_earded or join their Heroes HQ Discord Server. Here at Pro Game Guides, we have all the latest codes from the developer, so save this page and often return to claim all the codes that drop!
Why aren't my Hero Fighting Simulator codes working?
There may be several reasons your Hero Fighting Simulator codes are not working. The codes you are trying to claim could be expired. Most Roblox experiences have time-sensitive codes that could expire in hours, be sure to claim the codes as soon as possible to avoid the disappointment of missing out on any exclusive rewards. These codes may have been mistyped into the text box; copy and paste the codes from our list to ensure that your codes are correct before clicking on the Redeem button.
How to equip new heroes in Hero Fighting Simulator?
It's effortless to equip new heroes in Hero Fighting Simulator. Click on the heroes icon on the left-hand side of the page, and a new window will open with all the heroes you have collected. Click on the heroes you would like equipped with, and a green tick will appear next to that hero, showing you that the new hero is equipped.
What is a Hero Fighting Simulator game?
A Hero Fighting Simulator game is a fighting game where you will have a team of superheroes to do the fighting for you. Collect and use superheroes to battle in dungeons and explore new worlds. You can upgrade your superhero to have immense power. Collect all heroes and finish all the quests to jump to the top of the leaderboards!
If you're looking for codes for other games, we have a ton of them in our Roblox Game Codes post! You can also get a bunch of free stuff via our Roblox Promo Codes page.