Facing foes at every corner in Hero Simulator is what you need to do to become the ultimate superhero. This clicking-style fighting game will reward you with ways to level up your character so that you can become the hero you were born to be. Fight your way through all the missions and upgrade your stats as you level up. The more you battle, the stronger you can make your character. You will need codes to make leveling up easier, and we have you covered!
Tokens are needed in this game to unlock stats and start equipping weapons and powers. These powers start as punches and kicks and become crazier powers the more you fight and level up. The weapons you get in the game get stronger with these upgrades too. The powers are endless, and these codes will help you get them all!
For more Roblox hero games you need a head start in, try these codes out for some of the best hero titles! Roblox a Hero's Destiny Codes, Roblox Heroes Legacy Codes, Roblox Heroes Online Codes, and My Hero Mania Codes.
All Hero Simulator Codes
Updated April 10, 2022

Added new codes!
Hero Simulator Codes (Working)
EASTER—Redeem for Stat and Strength Boost (New)
EGGS—Redeem for Stat and Strength Boost (New)
300X—Redeem for Boosts
VALENTINES—Redeem for Boosts
ANNIVERSARY1—Redeem for Boosts
CHRISTMAS—Redeem for All Boosts
NEWTEAM—Redeem for Boosts
5MVISITS—Redeem for Stat and Strength Boost
10KLIKES—Redeem for 1k Tokens and a Stat Boost
3KGROUP—Redeem for 3k Tokens and a Boost
2KGROUP—Redeem for 250 Tokens and a Boost
RUSSO—Redeem for 10k Tokens and a Boost

1MVISITS—Redeem for 25k Tokens and a Boost
BETA100—Redeem for rewards
ETHAN—Redeem for Tokens
25KVISITS—Redeem for Tokens
100KVISITS—Redeem for Tokens
25KGROUP—Redeem for Tokens
Hero Simulator Codes (Expired)
There are no current expired codes for Hero Simulator.
Hero Simulator FAQ, Answered
Follow the guides below to make sure your Hero Simulator codes are working.
How to redeem Hero Simulator Codes
To redeem codes for Hero Simulator, follow our easy guide below.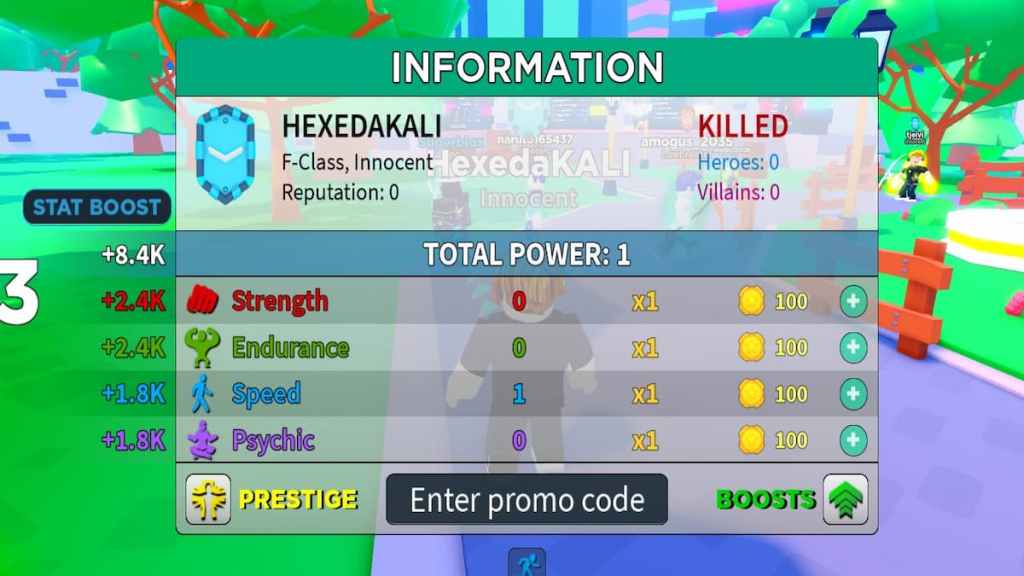 Enter the game.
In the bottom right of the screen click on the Arrow Stat Bar.
In this information tab, enter the promo code at the bottom of the box.
How to get more Hero Simulator Codes
To find more Hero Simulator codes you can follow the developer on the Roblox page for the official group Vade Game Development or on the Vade Roblox Development Discord Server. Make sure to check back with us here at Pro Game Guides regularly for all your Roblox updates.
Why aren't my Hero Simulator codes working?
There are a few ways to check that you are using the correct codes. Codes can expire, so use them before they are gone. You could also be incorrectly typing these codes in the claim box, so ensure that all your grammar and spelling are correct. All the above codes must be typed in with your Caps Lock on. You can also simply copy and paste the code from the list above.
What is Hero Simulator?
Hero Simulator is a click fighting game. Complete missions to level your character to get more stat points and take on stronger enemies. You must fight and defeat as many enemies as possible to level up and get new superhero strengths and powers. Talking to other characters in the game and completing the missions they assign, you will unlock more coins to get the abilities and skill points to become a stronger hero.
You can also get more free codes to help you in all your Roblox adventures by going to the Roblox Promo Codes page. We have you covered when it comes to all things Roblox and Roblox Anime!