After the success of NBA star Giannis Antetokounmpo's NIKELAND event, another familiar face has made their debut inside of the experience—fellow NBA player LeBron James! Like many other brands, Nike joined forces with Roblox in November of 2021 to create their own experience, NIKELAND, which features minigames, places to hang with friends, and even a few out-of-experience avatar accessories, including the exclusive Nike LeBron James Crown. To find out how you can add this free accessory to your collection, continue reading below.
Obtaining the Nike LeBron James Crown
Completing the practice quest
Upon loading into NIKELAND anytime between Feb. 14, 2022, and Feb. 20, 2022, you'll notice that the experience's introduction sequence is different than normal—instead of spawning in at your Yard, you'll be greeted by LeBron James at the Practice Court. James will then explain that the 2022 NBA All-Star Game is happening soon and will advise you to get in some practice shots before the big day.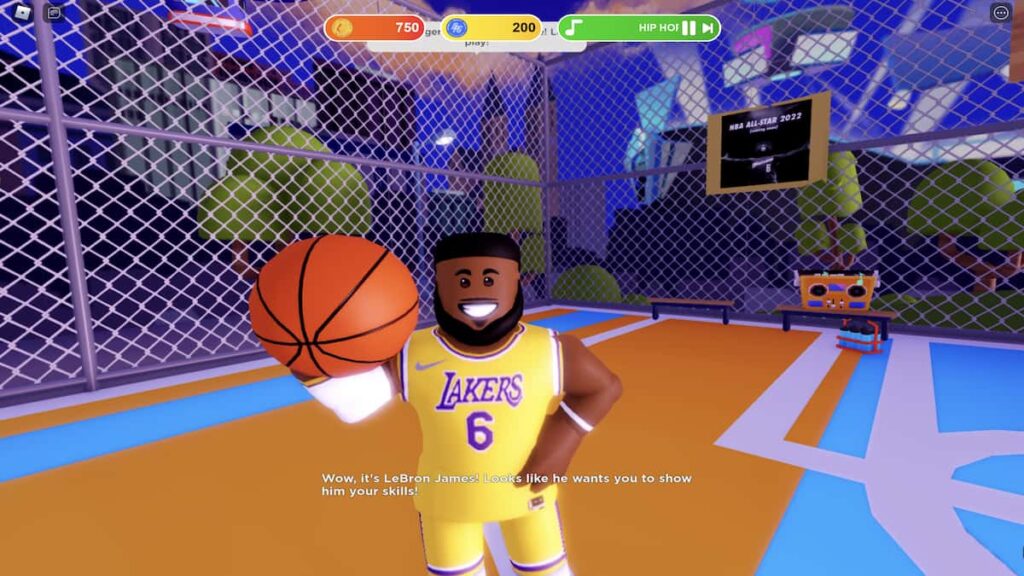 In order to complete James' quest, you'll need to make five baskets in either of the two practice hoops. To do this, follow the instructions at the bottom of your screen and stop your cursor when it reaches the green or yellow section of your Shot Bar.
Rewards breakdown
After completing this training quest, James will teleport you the NBA All-Star 2022 Arena. Once here, James will explain the 2022 NBA All-Star Game reward system to you and will encourage you to continue practicing throughout the week.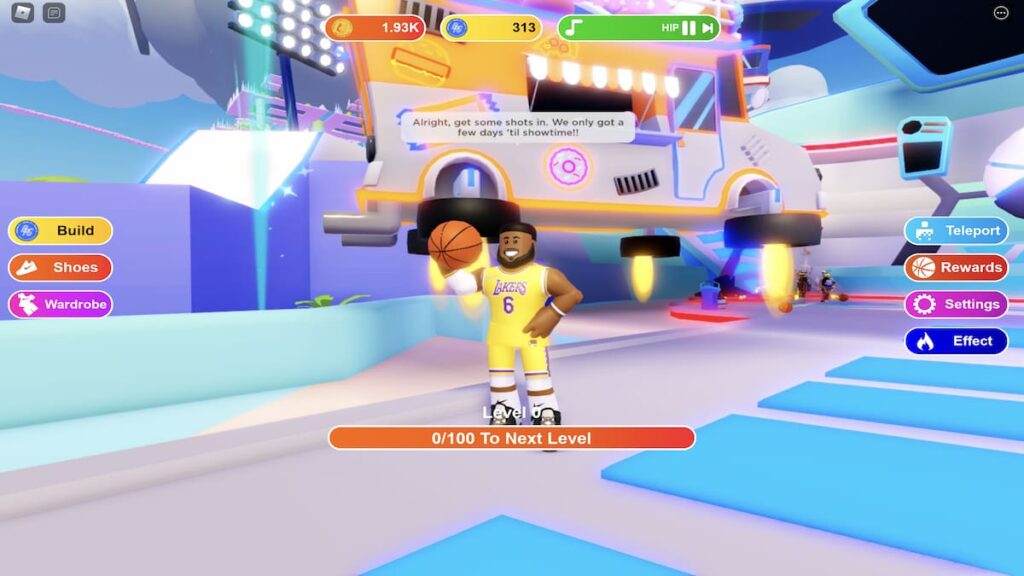 To track your reward progress at any time, locate and click on the orange Rewards button on the ride-hand side of your screen. This will open the NBA All-Star 2022 Rewards menu.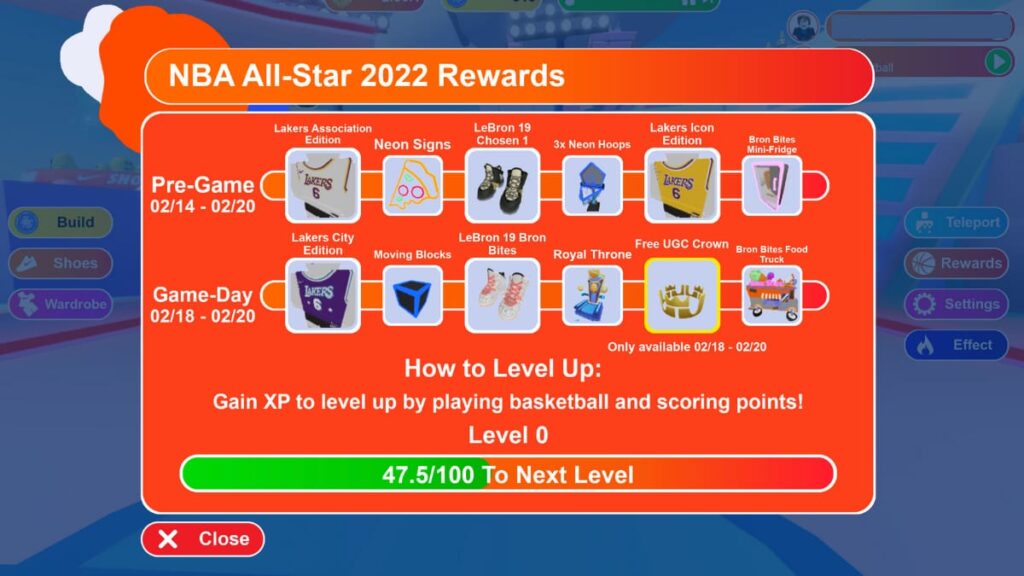 Within this menu are two separate trackers, one for your Pre-Game awards and one for your Game-Day awards. As seen in the menu pictured above, Pre-Game awards can be earned anytime between Feb. 14, 2022, and Feb. 20, 2022, whereas Game-Day awards can only be earned from Feb. 18, 2022, to Feb. 20, 2022. All of these rewards, with the exception of the Nike LeBron James Crown, are in-game collectables only.
Related: How to get the free NFL helmet? | New Roblox NFL Shop released
Earning XP
In order to begin working toward unlocking the All-Star Game rewards, you'll need to participate in the official Nike basketball shoot off. Each time that you compete in this event, you will earn a handful of XP. The more baskets that you make and balls that you successfully dunk, the more XP you will receive after each competition.
To participate in the shoot off, simply approach the NBA All-Star 2022 Arena's court and wait for the basketball pop-up to appear on your screen—a new competition restarts every 90 seconds, so you shouldn't have to wait very long. When this pop-up appears, you'll be prompted to make as many baskets as possible within a 90-second time limit.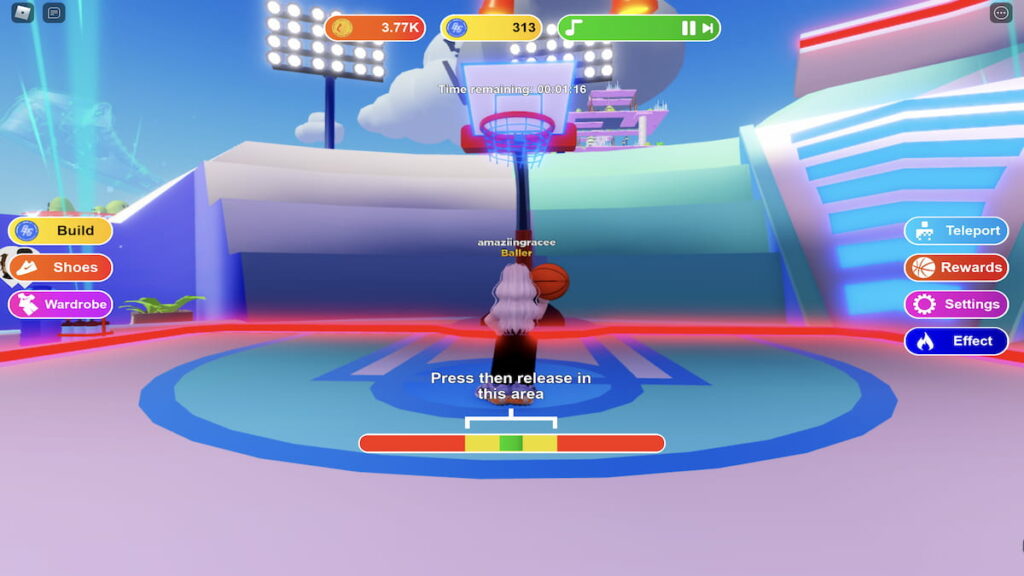 After the time limit expires, a bar will appear that shows how much XP you've earned—if you've unlocked any items, these will appear as well. If you successfully make a three-pointer every time that you shoot, it should only take around 10 games or so to unlock all of the Pre-Game rewards.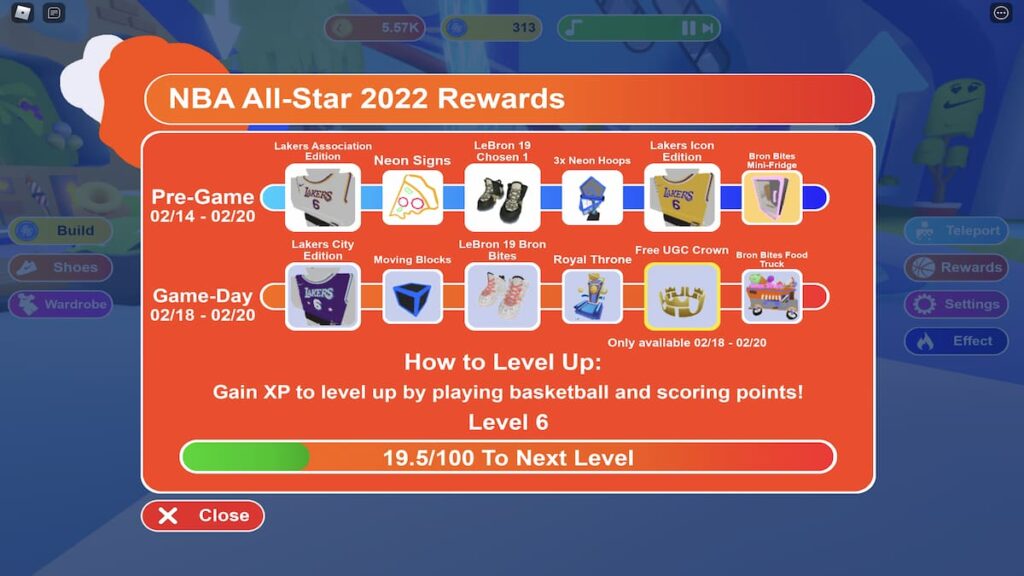 Though the Game-Day rewards aren't yet accessible at the time of this article's publication, it's assumed that they will require a similar number of games to be unlocked. In total, it'll likely take around 20 to 25 perfect games to earn the Nike LeBron James Crown.
End
That's all we know about how to unlock the Nike LeBron James Crown. As more information is released in the coming days, this article will be updated accordingly!
Looking for more Roblox content? Check out our recent articles on How to get all free items in Roblox Alo Sanctuary or How to get all free items in Roblox NFL Tycoon!