An unusual collab has just debuted on the Roblox platform—financial services and investment company Fidelity, and...pancakes? That's right, the deliciously-sweet Pancake Empire Tower Tycoon experience is live on the platform right now, courtesy of Fidelity, and excited players can even earn a handful of free avatar items just by playing it! Before you can earn these items, however, you'll need to understand how this experience works, and be ready to grind, which is why we've created the brief guide below that goes over all you need to know about Pancake Empire Tower Tycoon.
Pancake Empire Tower Tycoon Beginner Tips & Tricks
Upon spawning into Pancake Empire Tycoon for the first time, you'll be directed to complete a short tutorial. During this tutorial, you'll be shown how to make pancakes, how to earn YumYums from your pancakes, and then how to feed these YumYums to your fantasy creatures and earn money in return. In case you missed it, pancakes are made by stepping on any of the green, pancake-labeled buttons, YumYums are deposited from the pancakes and collected by walking into them, and your fantasy creatures are fed by stepping on their corresponding switches.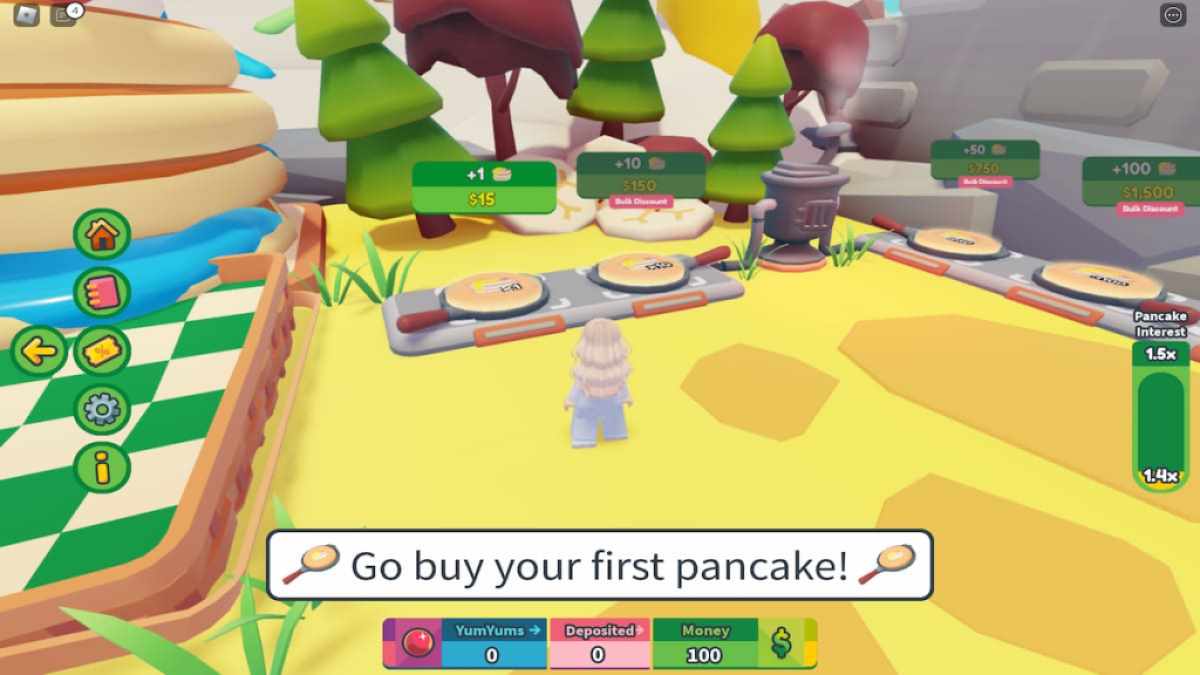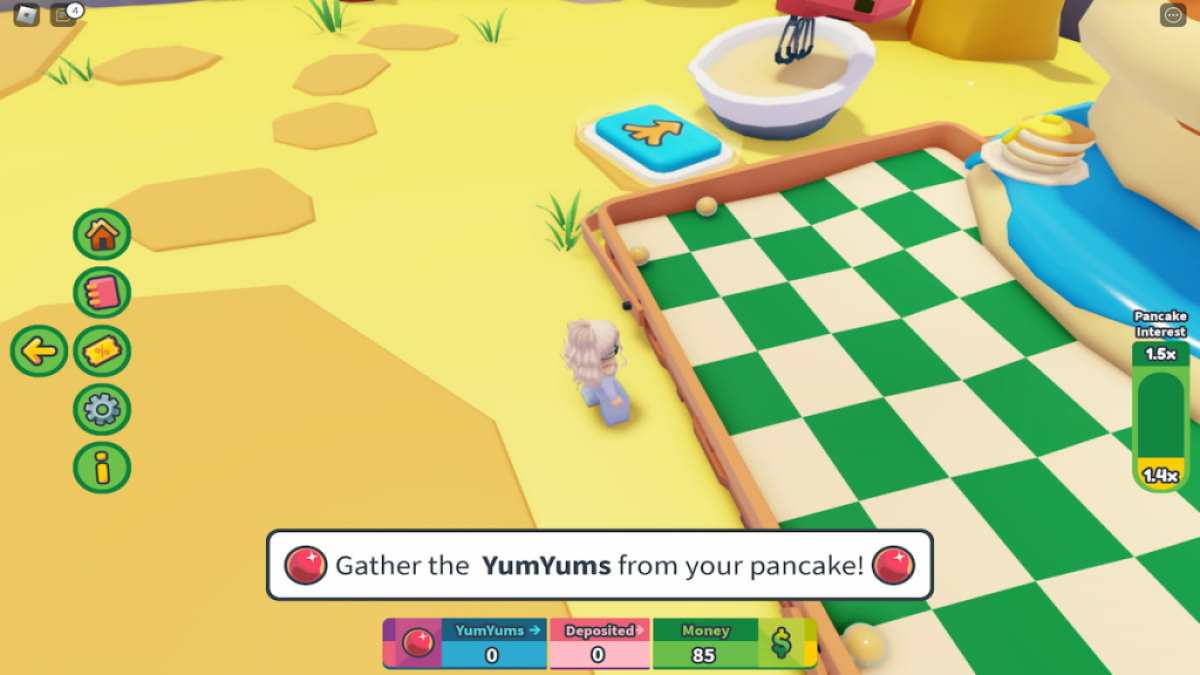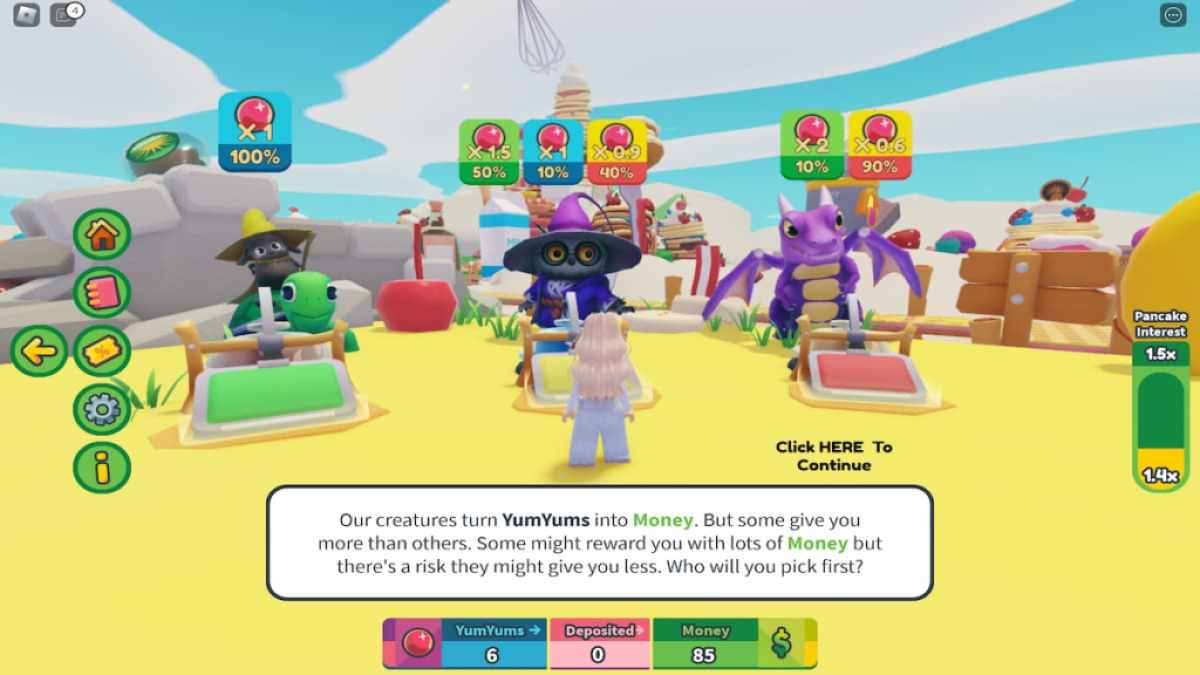 To earn as many YumYums as possible and, in turn, make the largest amount of money in the shortest amount of time, we need to understand the Pancake Empire Tycoon basics. As I'm sure you've learned by now, adding pancakes to your pancake tower will increase the amount of YumYums that are produced. On top of just adding more and more tier one (standard) pancakes, however, we can also mix our pancakes together to create better/higher tier ones.
For example, if you buy three tier one pancakes, and then interact with the large mixer that's to the left of your pancake tower, you will combine those three tier one pancakes into one tier two pancake, and so on and so on. To put it simply, combining three pancakes of the same tier (using the mixer) will create a new pancake of the next highest tier, until you reach tier 15. When you reach tier 15, you won't be able to create anymore new pancakes, as that's the highest tier in the experience!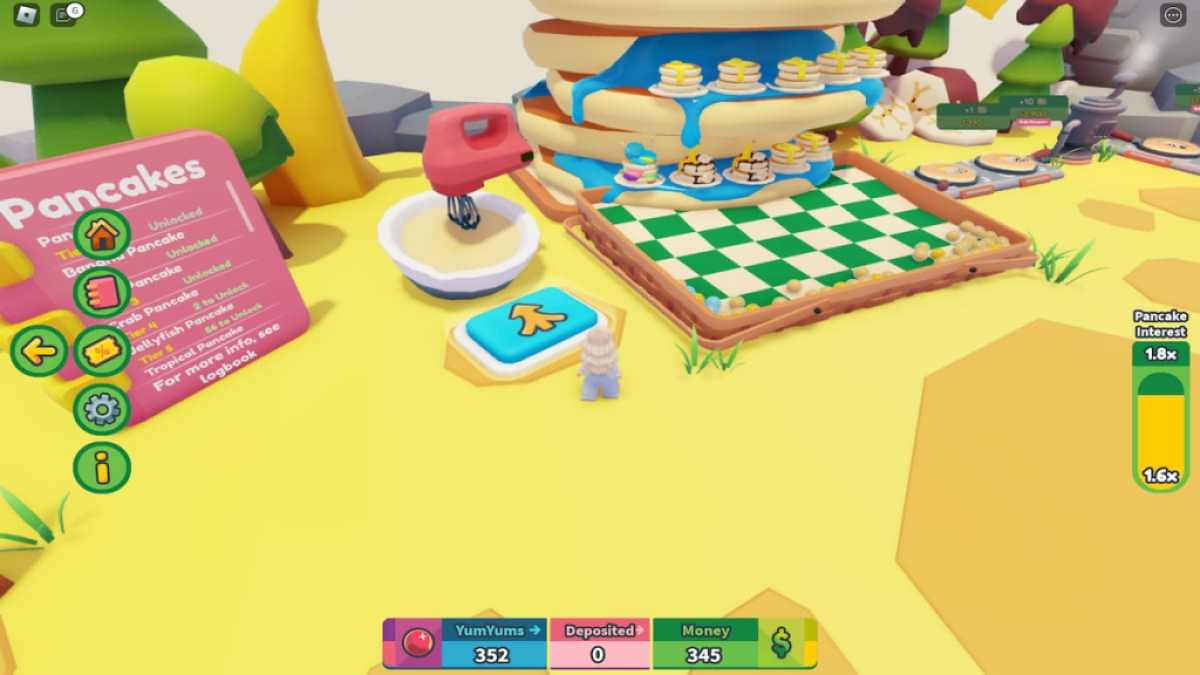 Now that you know the basics of how to make pancakes, we need to know how to make them faster, right? Pancakes can be purchased in single stacks, or in bulk at 10, 50, 100, and 1,000 pancakes, with each bulk option being more expensive than the last. Each time you purchase a single pancake, or a bulk of pancakes, the price will increase, sometimes quite drastically, so knowing how to make money quickly is important.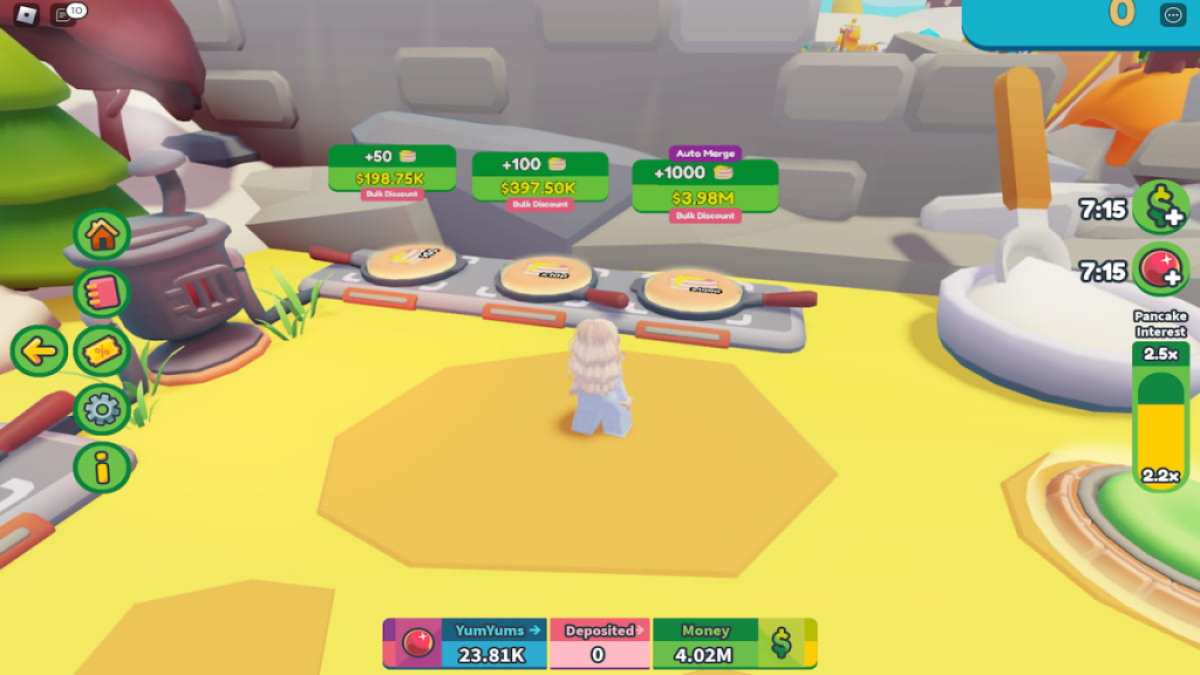 Next to your fantasy creatures is a large bowl with a green button in front of it that says "Faster Sell Rate." Stepping on this button will increase the amount of money you earn per second, and doing so only costs a small fee. To earn the largest amount of money in the shortest amount of time, we would highly recommend investing a hefty chunk of change into increasing your sell rate.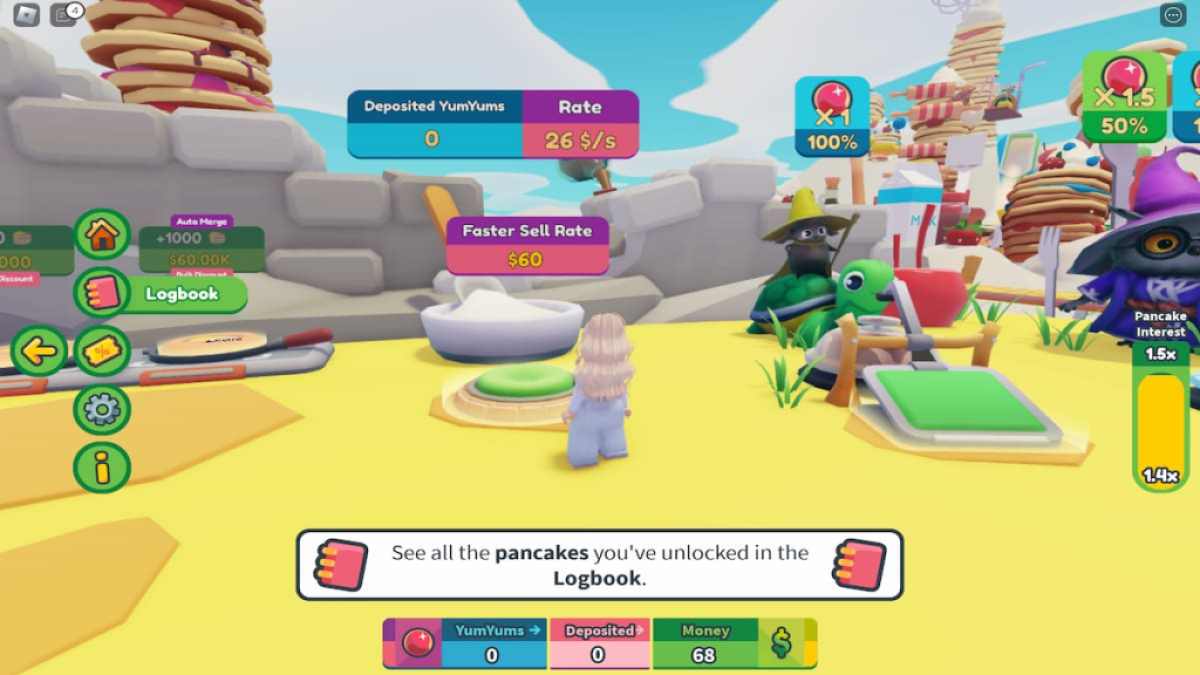 Related: Roblox Promo Codes – Free items and current Roblox events!
On top of that, paying attention to which fantasy creature offers you the best investment/turn around deal is also very important, and will drastically increase the amount of money you make if done correctly. For a breakdown of each creature, check out the list below.
The turtle creature offers you a 1 for 1 return on your investment, meaning the amount of YumYums you give him will directly reflect the amount of money he makes you in return, whereas both the owl and dragon creatures have possibilities to earn and lose you extra money.

Trusting the owl could give you a 1.5x return, a 1 for 1 return, or a 0.9x return, which means that while you could earn more money with the owl, you could also lose a small amount of money as well.
Investing with the dragon is even more risky than the owl, because though it does have a chance to award you an impressive 2x return on the positive side, there's also a chance it could give you a measly 0.6x return on the negative side, which means you'd only be getting roughly 60% of what you invested as YumYums, back in your pocket as money.
Taking a risk with the owl or the dragon isn't always a bad thing though, which is why paying attention to their investment chances is so important! Each time you pay one of the three creatures, the percentages above their heads will change, indicating which one of their outcomes in more likely to happen the next time you pay them. Pay attention to these changes! If you're lucky, the dragon could go from 10% 2x chance and 90% 0.6x chance, to 75% 2.5x chance and 25% 0.6x chance, which might be worth the risk!
To help make it easier for you to stay on top of the changing chances, we'd also recommend saving up and purchasing the AutoCollect for one million dollars, which will collect all of your earned YumYums for you, so you don't have to keep running back and forth from the collection base to the fantasy creatures.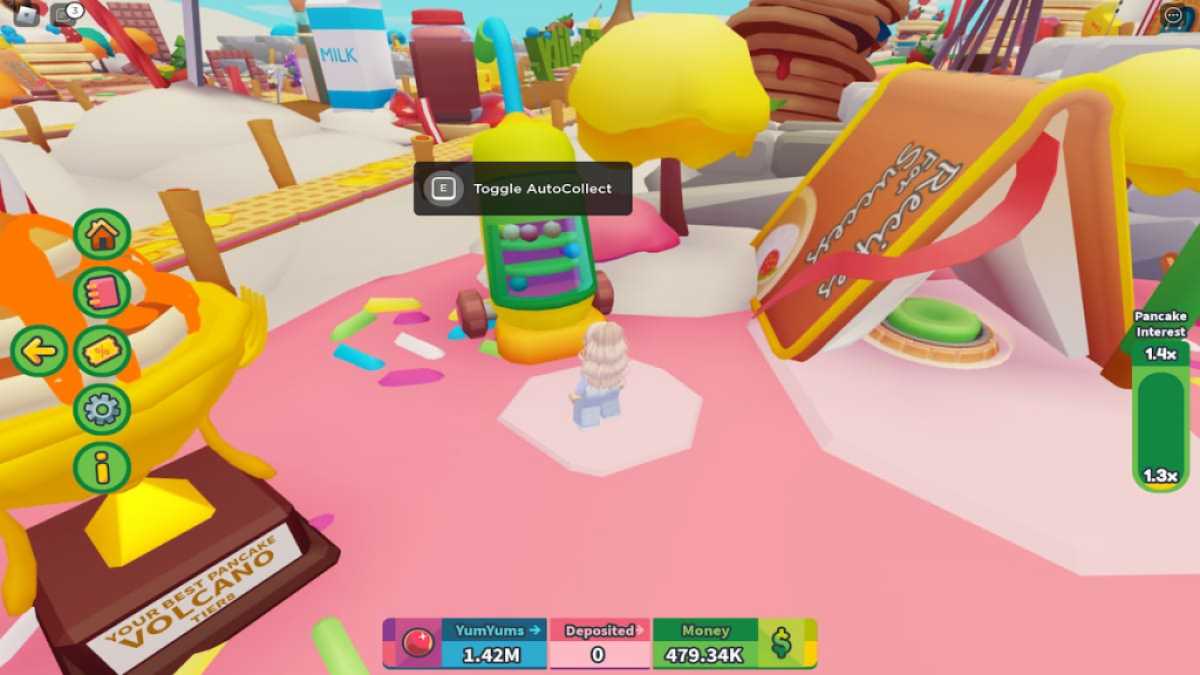 Repeating the steps mentioned above should earn you pocketfuls of cash in no time—it took us around 45 minutes to earn 75 million dollars with this method!
End
That's it for our guide on how to be successful and efficient in Pancake Empire Tower Tycoon! Are you planning on grinding this experience out? Have you earned any of the items yet? Let us know in the comments below.
Looking for more Roblox content, including free items? Check out our recent guides on How to get all free items in TWICE Square – Roblox or How to get all free items in Vita Coco The Coconut Grove – Roblox here on Pro Game Guides!