Having the opportunity to express yourself in Roblox is one of the game's best and most favored aspects. Players can dress up their avatars to reflect their likes and interests, create someone who looks just them in real life or even design a whole new character and entirely online persona. With the endless Roblox customization options and thousands of items in the Avatar Shop, there's personalization available in so many ways!
Even beyond purchasing and wearing other player's designs, Roblox also offers the ability to create your own t-shirts, standard shirts, and pants! T-shirts can be created for personal use and worn by anyone, regardless of membership status, but can only be sold in the Roblox Avatar Shop by members. Unfortunately, standard shirts and pants can only be created, worn, and sold by those who are members.
Related: How tall is a Roblox character?
How to Create Your Own Custom T-Shirt in Roblox
T-shirts are the easiest article of clothing to create in Roblox, but the most limited in terms of how the item looks like the design you add will only appear on the front of the shirt. To make your own T-shirt, all you'll need is a Roblox-appropriate image with 512 x 512 pixels and the ability to upload it to the site. Once you've found your image, simply head to the create page on your computer, upload it, and Roblox will generate your new design before your eyes!
Making a standard shirt and pants in Roblox
Creating a standard shirt and pants is a bit more difficult than a T-shirt and does require some of your own artsy skills! Unlike T-shirts, standard shirts and pants wrap all the way around an avatar, meaning there's more room to design and configure. To help you get started, it's recommended to download and utilize the templates below as they show exactly how an outfit will fit your Robloxian.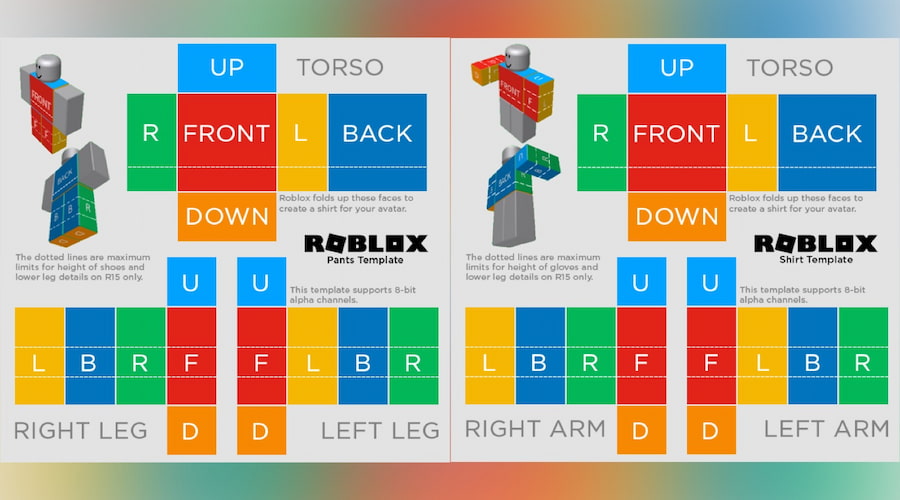 Roblox Clothing Templates
The template does lay out even the folded parts of your Roblox clothes, so it's important to keep that in mind when creating. The chart below will help you determine template sizes.
Shape
Size (W x H)
Clothing Parts
Large Square
128 x 128 pixels
Front and back of the torso
Tall rectangle
64 x 128 pixels
Sides of the torso (R, L)
Sides of arms/legs (L, B, R, F)
Wide rectangle
128 x 64 pixels
Top and bottom of the torso
Small rectangle
64 x 64 pixels
Top and bottom of arms/legs (U, D)
Once you know the design you want to move forward with, line it up in the editing software/program of your choice to fit perfectly on top of the template above. You may need to adjust your design a bit to fit the template, but the few tweaks here and there will be worth it in the end. For the designs to be uploaded properly, they must fit the exact dimensions of 585 x 559 pixels, and you must pay a small fee of 10 Robux.
If after reading this guide you feel like you may need some inspiration for designs, or you've decided that the self-creation process just isn't for you, check out our list of free items available in Roblox and redeem a few!