The hat business is incredibly lucrative, and Limited Tower Tycoon showcases this. Earn Limited hats over time and merge them to create even better hats. The best part is that you can actually wear your hats as you increase business.
Codes in Limited Tower Tycoon will give you various rewards, such as coins, so keep an eye on them. These also have expiration dates, so you must use the codes before they expire. We have compiled a list of available codes so you can earn gear and more in Limited Tower Tycoon.
If you're looking for more Roblox codes and content, check out Meme Tycoon Codes, Hacker Tycoon Codes, Highschool Tycoon Codes, Boba Factory Tycoon Codes, Tropical House Tycoon Codes, and more on Pro Game Guides. Use our various Roblox code guides to get loads of free stuff.
All Limited Tower Tycoon Codes List
Updated October 28, 2022

Added new codes!
All Limited Tower Codes List (Working)
release—Redeem for two boosts (New)
box—Redeem for 500 Cash (New)
All Limited Tower Tycoon Codes List (Expired)
There are no expired codes at the moment.
Roblox Limited Tower Codes FAQ
Here's everything you need to know about Roblox Limited Tower Tycoon codes.
How to redeem codes in Limited Tower Tycoon
Codes can be used in Limited Tower Tycoon to get resources and rewards quickly. Codes are a great way to get free coins and progress faster in the game. Here is how to redeem codes in Limited Tower Tycoon.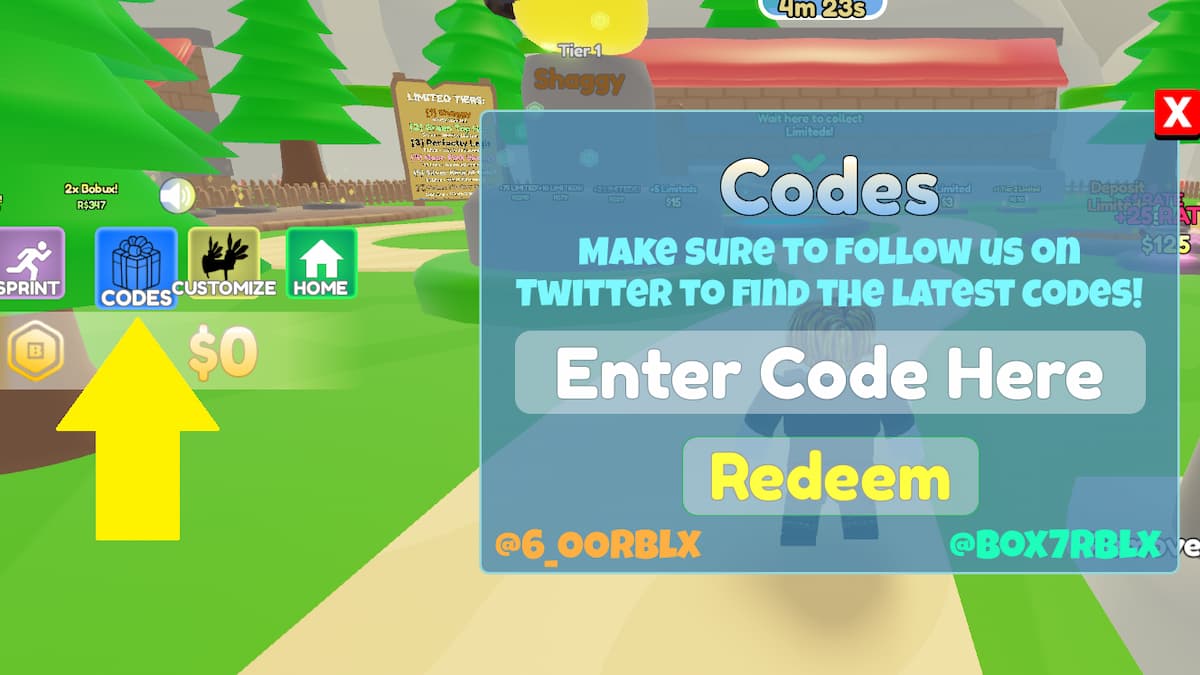 Click on the Codes button on the left of the screen.
Select the Enter Code Here box.
Input the code and hit Redeem.
How to get more Limited Tower Tycoon Codes
For more codes, join the Twitter @Box7rblx, Limited Tower Tycoon Discord, and Box1! Studios Group. You can also bookmark this page, as we will update this list once new codes are released. So, check back often to see if there are new codes for Limited Tower Tycoon.
Why aren't my Limited Tower Tycoon Codes working?
Codes for Limited Tower Tycoon are created and controlled by the developer. This is also who determines how long they are active. Some codes may expire quicker than others, and some may not work with others. If a code does not work for you, double-check if there is a spelling error, if the code is active yet, or if it has already expired. To help solve that issue, bookmark this page and come back often to see if Limited Tower Tycoon has added new codes or if some are expired.
How to upgrade your Limiteds in Limited Tower Tycoon
To upgrade your Limiteds in Limited Tower Tycoon, you must use the Merge button in the center of your tycoon. Doing this will combine your lowered-tier Limiteds and create better ones. This is crucial for increasing your profits, so ensure you often merge your Limiteds.
What is Limited Tower Tycoon?
In Limited Tower Tycoon, you will build up your tower business by collecting Limited hats, merging, and upgrading them. The more you upgrade, the more money you will earn, and the faster you climb the leaderboard. Don't forget to try your hats on as your tycoon grows.
For more information on Roblox, check out Lemonade Tycoon Codes and Robot Tycoon Codes on Pro Game Guides.