If you get caught in Roblox Bacon Burger, you are going straight onto the grill. It would be best if you ran away from the Fry Cook trying to kill you. That could be a bit hard because you are a Bacon Burger. Figure out how to escape the flames and the restaurant by unlocking clues and eventually finding out why the Fry Cook is trying to kill you. Your bun is on the line!
Our Roblox Bacon Burger Codes has the most up-to-date list of working codes you can redeem for free Crumbs! These can be used to purchase burger skins, traps, and skins for the FryCooks. Redeem them before they are overcooked!
Do you enjoy food-themed Roblox games that revolve around murders and mystery? These Roblox games with their codes will help you at the beginning of your games so that you can get that boost to start grilling sooner. Try these codes to get further into these titles. Roblox Murder Mystery 5 Codes, Escape the Darkness Codes, Roblox Monkey Kills Codes, Roblox Ronald Codes, and Roblox Banana Eats Codes.
All Roblox Bacon Burger Codes List
Updated July 18, 2022

Added new info and code!
Roblox Bacon Burger Codes (Working)
200KVISITS—Redeem for 1K Crumbs (New)
100KVISITS—Redeem for 600 Crumbs
50KVISITS—Redeem code for 300 crumbs
100LIKES—Redeem code for 300 crumbs
GREASY—Redeem code for 500 crumbs
Roblox Bacon Burger Codes (Expired)
There are currently no expired codes.
Roblox Bacon Burger Frequently asked questions
Here's everything you need to know regarding Roblox Bacon Burger codes.
How to Redeem Codes in Roblox Bacon Burger
If you want to redeem codes in Roblox Bacon Burger, follow our guide below.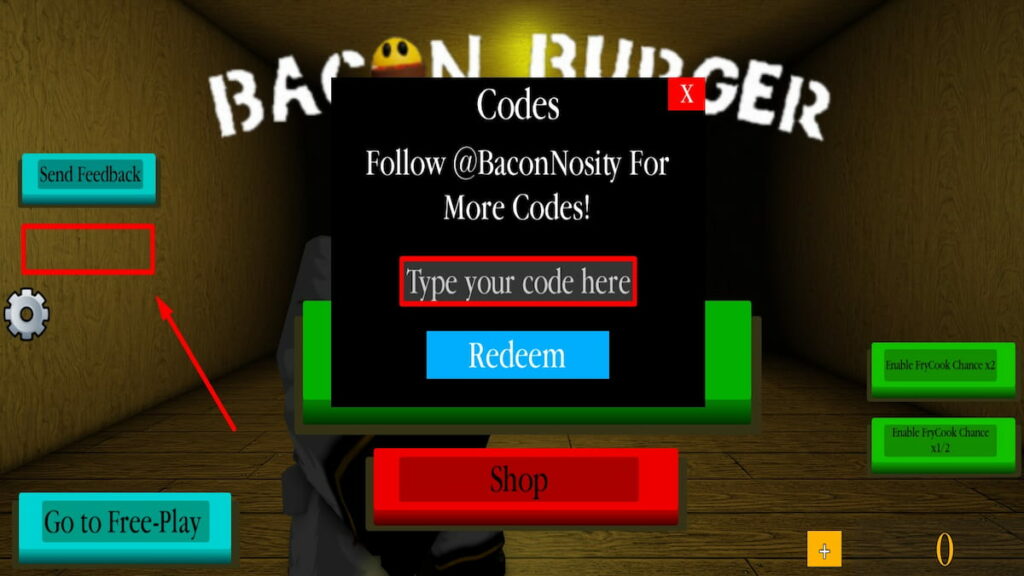 Look for the Codes button in the main menu.
Hit the codes option and then copy one of the codes from our list.
Paste it into the text box, and hit the redeem button for your reward.
How can you get more Roblox Bacon Burger codes
The developer Bacon Craft has the latest codes for Roblox Bacon Burger on the following social media pages. Twitter @BaconNosity, the YouTube channel BaconNosity, and their BaconNosity Community Discord Server. We here at Pro Game Guides have the latest codes, so save this page and visit us regularly.
Why aren't my Roblox Bacon Burger codes working?
There could be a few reasons you struggle to redeem your codes for Roblox Bacon Burger. You could be misspelling the code into the text box while typing it out. Instead, copy and paste the code from our list to avoid making any mistakes. The code you are trying to redeem has already expired. Codes can expire in hours so make sure to claim all the latest codes to get rewards to help you in the game.
What is a Roblox Bacon Burger game?
In Roblox Bacon Burger, a Fry Cook must survive being killed. You are a Bacon Burger, and you must navigate your way out of areas, making it harder for the fry cook to kill you. Each level you unlock will give clues as to why you are trying to be killed. The faster you complete areas, the higher you reach on the leaderboards.
If you're looking for codes for other games, we have a ton of them in our Roblox Game Codes post! You can also get a bunch of free stuff via our Roblox Promo Codes page.