It's your chance to shout BINGO in Roblox Bloxy Bingo! One of the most relaxing games in Roblox, you can sit like you are in the very Bingo Halls you have seen your grandparents play in. You, too, can become a luck machine as the numbers roll in, and you check them off your list to get that all-important yell across the room!
These codes will allow you to get items for your character in Roblox. These items will not level you up or make you better at Bingo. They are purely cosmetic. Claim these codes for Markers and Gems to make your character look their best as you play.
There are games in Roblox that aim for the player to make friends. The social aspect is very important for the community and all Robloxians. So try these codes to make friends in Roblox Farming and Friends Codes, Roblox Ro-Meet Codes, Roblox TTD 3 Codes, Roblox Robloxian High School Codes, and Roblox Social Media Tycoon Codes.
All Roblox Bloxy Bingo Codes List
Updated August 1, 2022

Added new info
Roblox Bloxy Bingo Codes (Working)
100BINGO—Redeem for a Deluxe Marker (New)
50BINGO—Redeem for a Deluxe Red Marker
Roblox Bloxy Bingo Codes (Expired)
GABRIEL—Redeem for Candy Cane Marker
GLORIOUSNOW—Redeem for Christmas Pyramid
GATHERINGGLOOM—Redeem for a Christmas Pyramid
PRAYERPRAISING—Redeem for Santa Call Voice
CROWNHIM—Redeem for Candy Cane Marker
BEARINGGIFTS—Redeem for Christmas Mascot
50KVISITS—Redeem for 50 Gems
25BINGO—Redeem for Marker
Roblox Bloxy Bingo FAQ
Here's everything you need to know regarding Roblox Bloxy Bingo codes.
How to Redeem Bloxy Bingo Codes
It's easy to redeem codes for free rewards in Roblox Bloxy Bingo. To do so, follow the instructions below.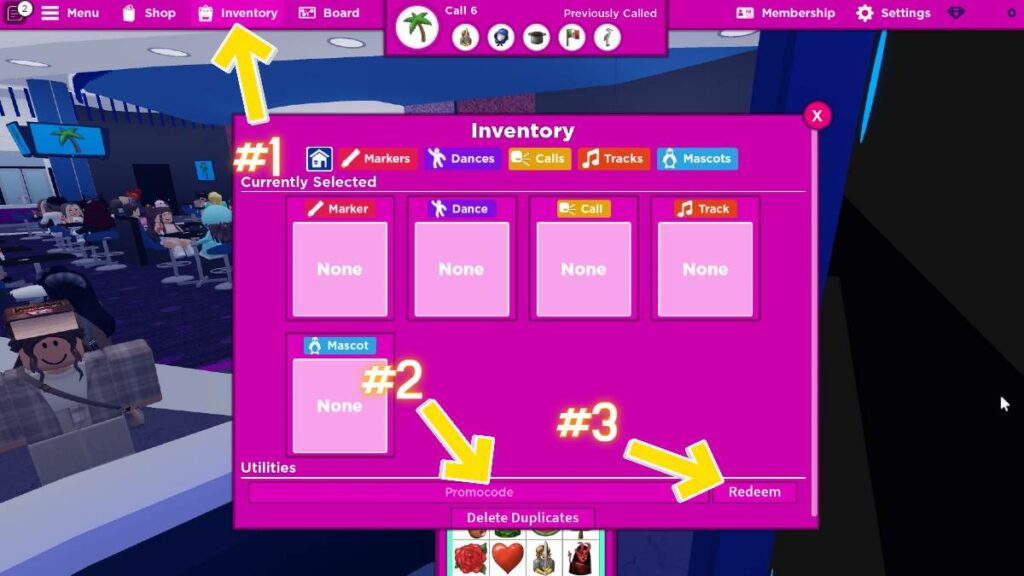 In the game, press the Inventory button on the top of the screen.
In the text box at the bottom of the Inventory window, enter the code exactly as it appears in the list above.
Press Redeem to claim your reward!
How can you get more Roblox Bloxy Bingo Codes?
To get the latest codes for Roblox Bloxy Bingo, follow the developer Bloxy Bingo on their social media pages Twitter @BloxyBingo and their The Bloxy Bingo Association Discord Server. At Pro Game Guides, we will keep you up-to-date with the latest from the developer and all the codes that drop, so bookmark this page and return to get all the rewards.
Why aren't my Roblox Bloxy Bingo codes working?
Your codes for Roblox Bloxy Bingo are not working for the following reasons. The code you are trying to claim is already expired. Claim the new codes on our list before they disappear; you cannot claim the rewards. The code is mistyped into the text box, and the spelling and punctuation are wrong. Copy and paste the code from our list to avoid the mistakes you can make while typing it out.
How to Quick Play in Roblox Bloxy Bingo
To Quick Play in Roblox Bloxy Bingo, you will mark off the number in the game's main lobby as soon as they are called. You will win if you call Bingo before the next card is called. Make sure to match the pattern of numbers precisely as it is on the main board to win. The main lobby is the same room you are spawned into when you enter the game.
What is a Roblox Bloxy Bingo game?
Roblox Bloxy Bingo is a Bingo game set in the Roblox world. All you have to do in this game is get the correct numbers that are called out and match them to your Bingo card. Call out Bingo before the next card is announced, and you will win Gems. The more you win, the higher you climb on the leaderboards!
If you're looking for codes for other games, we have a ton of them in our Roblox Game Codes post! You can also get a bunch of free stuff via our Roblox Promo Codes page.