Roblox Slashing Simulator features some of the most popular anime characters, with Zoro from One Piece and Tanjiro and Yami from Demon Slayer making an appearance. If you want to bolster your experience in Slashing Simulator, you'll need some help with these codes.
Roblox Slashing Simulator codes will help you achieve success quickly. By redeeming codes, you'll earn Boosters, Coins, Eggs, Pets, and double-experience cards. You can use each code once, so make sure you're ready to use them in time.
For more on Roblox, visit our other pieces, like How to get Diamonds fast in Roblox Slashing Simulator, How to enable Voice Chat in Roblox, Bad Business Codes – Roblox, Roblox Anime Impact Simulator Codes, and Roblox Mining Simulator Codes. Pro Game Guides has loads of other Roblox related content, so browse the site and see what interests you!
All Slashing Simulator Codes List
Updated September 10, 2022

Added two new codes.
Slashing Simulator Codes (Working)
Here's a look at all the working Slashing Simulator codes.
Hooray50k—Redeem for 2 hours of XP Booster (New)
Woohoo200k—Redeem for a 1 hour XP Booster (New)
BugsInvasion—Redeem for a Hyper Pet
Woohoo145k—Redeem for a 1 hour XP Booster
BeachTime—Redeem for a Beach ball pet
Woohoo100k—Redeem for 2 hours of Boosters
Woohoo80k—Redeem for 1 hour of Boosters
woohoo70k—Redeem for a Crypt Spider pet
EnjoyTheGame—Redeem for 3 hours of Boosters
ThankYou45K—Redeem for free 1 hour Boosters
TradingGG—Redeem for free 1 hour Diamond Boost
COINB—Redeem for a 1 hour Coins Boost
ILoveAllBoosters—Redeem for boosts of all kinds
world3—Redeem for a 3 hour free XP Boost
IamHungry—Redeem for free Food Egg
17klikesTY—Redeem for free Luck Boost for 45 minutes
Slashing Simulator Codes (Expired)
These Slashing Simulator codes no longer work.
Goodsidereturns—Redeem for free rewards
Badsidereturns—Redeem for free rewards
15klikes ty—Redeem for a Free Booster
IFeelStrong—Redeem for a 2x Exp Boost
BadSide—Redeem for an Antagonist Egg
GoodSide—Redeem for free rewards
BoostMeUp—Redeem for free rewards
1MVisits—Redeem for free limited pet
HappyNewYear!—Redeem for a Cat Shark Pet
GetMeSomeCoins—Redeem for 5k Coins
IWantAGemChest
RELEASE
Slashing Simulator Codes FAQ
Here's everything you need to know regarding Roblox Slashing Simulator codes.
How to redeem Roblox Slashing Simulator Codes
Redeeming codes for free rewards in Slashing Simulator is easy.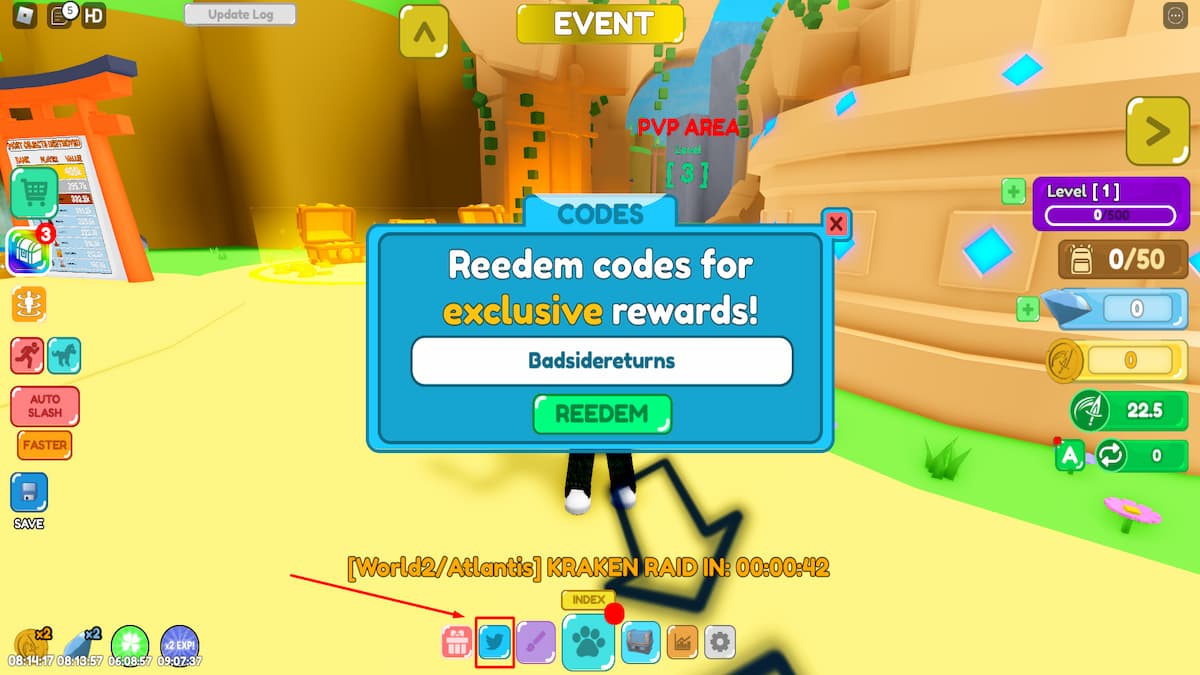 In the game, press the Twitter icon located on the bottom of the screen
In the text box, enter the code exactly as it appears in the list above
Press Redeem to receive your free reward
How can you get more Slashing Simulator Codes?
The best way to get more Slashing Simulator codes is to visit this page often. We'll keep you updated with additional codes once they are released. You can also check the official developers' Twitter and Roblox community pages for more information.
Why aren't codes working in Slashing Simulator?
Most Slashing Simulator codes expire quickly. Therefore, you should redeem the codes as soon as possible. If you find no longer active codes, please let us know so we can remove them. Another reason why your codes might not work can be a grammar error. To avoid that, copy and paste codes from the working codes section above into the redeem text box.
What is Roblox Slashing Simulator?
Slashing Simulator is a title that allows players to use swordsman from some of their favorite anime titles to take on adversaries across various maps and constant updates. Hop in now and enjoy playing with friends, and don't be afraid to use Roblox Slashing Simulator codes if you need help.
If you're looking for codes for other games, we have a ton of them in our Roblox Game Codes post! You can also get a bunch of free stuff via our Roblox Promo Codes page.