In the Slime Mine Roblox experience, players use their pet slimes to mine various types of blocks and sell their yields to make money. The more money you have, the better slimes you can buy and the more things you can mine.
There is a selection of Roblox Slime Roblox codes that you can use in your game to give yourself free buffs like double damage, double coins, and increased luck, making your mining adventure a little easier in the process. If you're looking for other Roblox content, check out Best Roblox Song ID Codes and Nik's Murder Sandbox Codes – MM2 Sandbox Codes on Pro Game Guides.
All Roblox Slime Mine Codes List
Updated April 5, 2023

Added new codes!
All Slime Mine Codes List (Working)
These are all the working Slime Mine codes:
beta—Redeem for 2x Damage and 2x Coin Boost
100likes—Redeem for 2x Damage Boost
thousand—Redeem for a Luck Boost
All Slime Mine Codes List (Expired)
These are expired codes for Slime Mine:
There are currently no expired Slime Mine codes.
Related: Slayers Unleashed Codes – Roblox
How to Redeem Codes in Roblox Slime Mine
Follow the instructions below to redeem codes in Slime Mine.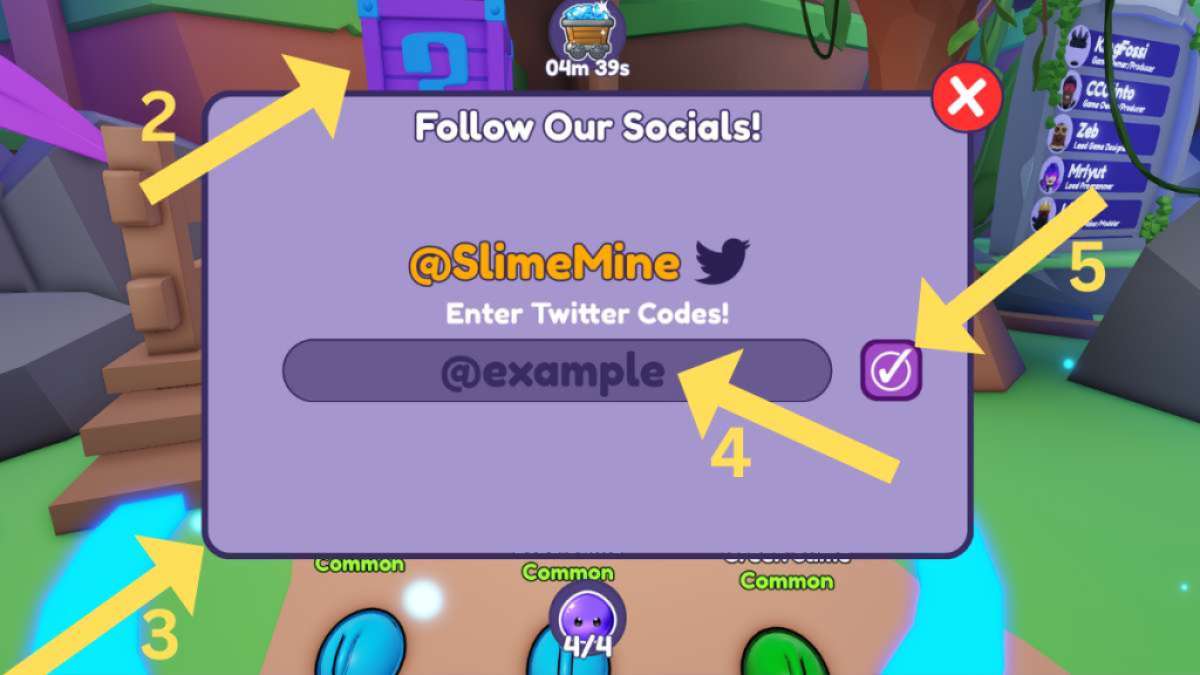 Launch Slime Mine on Roblox.
Walk over to the question mark crates in the lobby to bring up the Codes menu.
Find the Enter Twitter Code text box in the center of your screen.
Enter working codes into the @example text box.
Click on the purple and white checkbox to the right of the @example text box to claim your free reward.
How can you get more Roblox Slime Mine codes?
To get more Roblox Slime Mine codes, follow the @PlaySlimeMine Twitter account, as the creator is known to tweet out codes from time to time. You should also keep an eye on the YongBros Games YouTube Channel for codes in upcoming videos and join the Slime Mine Discord Server.
Why are my Slime Mine codes not working?
If any of the codes on this page won't work when inputting them into Slime Mine, they're either expired or typed out wrong. Double-check your code to make sure it's spelled correctly, and there are no accidental spaces, though you can ensure this by copying and pasting it directly from this page. If they still don't work, this means that they're unfortunately expired, and there's nothing you can do.
Other ways to get free rewards in Roblox Slime Mine
As you play, you'll unlock free rewards like buffs and coins in Roblox Slime Mine, depending on your session playtime. You can also earn free Shards by completing achievements like mining 100 blocks, hatching 10 slimes, and reaching the second zone.
What is Roblox Slime Mine?
In Roblox Slime Mine, you hatch slimes and lead them into the mines to mine blocks for materials to sell. As you earn more money, you can spend it on the chance to earn rarer slimes from Portals. If Minecraft and Slime Rancher had a baby, Slime Mine would be it.
If you're looking for codes for other games, we have a ton of them in our Roblox Game Codes post! You can also get a bunch of free stuff via our Roblox Promo Codes page. And in the meantime, take a look at the latest news to stay up-to-date on all things entertainment.