Roblox is home to many unique and exciting experiences created by the community. Whether you've played the title for days or years, you'll find plenty to engross yourself in when playing this enticing title. One game users are sure to have a field day with is the Roblox Stone Miner Simulator, especially if they're redeeming codes for additional bonuses.
Our Roblox Stone Miner Simulator Codes article features plenty of codes that players can redeem for free Coins, Pets, and Gems in-game. These booses are excellent regardless of whether you're just starting or a Stone Miner Simulator veteran. Keep your eyes on the codes below to elevate your game experience.
For more on Roblox Codes, visit code pages for other games like Roblox Max Ghoul, Roblox Anime Brawl, Roblox Shopping Cart Simulator, and Roblox Noob Army Tycoon.
All Stone Miner Simulator Codes List
Pro Game Guides regularly updates this list with additional codes as they appear. Try to redeem these as soon as possible to avoid missing out on rewards, as some codes will expire. Pro Game Guides tested each of the codes below before posting the article. Please let us know if you find a code in the list below that doesn't work in the comments section so that we can remove it.
Be sure to duplicate the code as shown here. Avoid adding any spaces or changing the capitalization on any of the characters. Codes must be identical to those below.
Note: Codes for additional currency in Stone Miner Simulator may offer different totals depending on whether or not multipliers are active.
Updated April 10, 2023

Checked for codes. New code incoming at 70K likes!
Stone Miner Simulator Codes (Working)
Here's a look at all the working Stone Miner Simulator codes.
cpaofpmt—Redeem for 2 minutes of increased magnet range (New)
qeknhhmu—Redeem for Mythic Penguin Pet (New)
aaaryzxh—Redeem for Legendary Cattle Pet
cscuusru—Redeem for Legendary Penguin Pet
stoneminer—Redeem for 3,250 Gold Coins
joingroup—Redeem for an Epic Pet
WelcomeHotpot—Redeem for an Epic Pet
cqimfvkm—Redeem for 50 Gems
wyvxufgb—Redeem for 50 Gems
qkgkvzos—Redeem for 3,250 Gold Coins
dlwdlvse—Redeem for 50 Gems
Stone Miner Simulator Codes (Expired)
The codes listed below won't function in Stone Miner Simulator. Even if you enter them correctly, they won't give you any rewards.
How to Redeem Stone Miner Simulator Codes
To redeem codes in Stone Miner Simulator, follow the instructions below.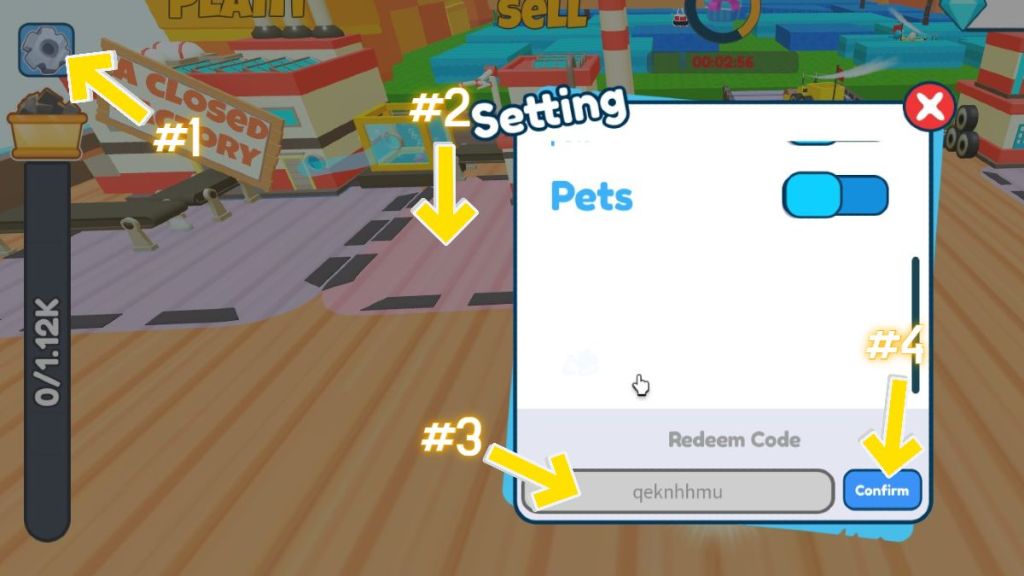 In the game, press the green Gear icon on the left side of the screen.
Scroll down to the bottom of the Settings page until you see the code box.
Enter the code exactly as it appears in the list above.
Press the blue Confirm button to claim your reward!
How can you get more Stone Mining Simulator codes?
To get more codes for Stone Mining Simulator, follow the developer's social accounts. New codes can be released on the Hot Pot Studio Discord and @hotpot_studio Twitter. Be sure to bookmark this page and stay up-to-date on when new codes are added.
What do I do if my codes aren't working?
If your codes aren't working, we recommend copying the code directly from this page into the code redemption page on Stone Mining Simulator to avoid error, as codes with even the slightest mistake will appear invalid.
Will Stone Mining Simulator add more codes?
New Codes appear in Stone Mining Simulator regularly. Check the Stone Mining Simulator Description page for recent codes celebrating milestones, and check this article often for any you might have missed.
What is Stone Mining Simulator?
Stone Mining Simulator tasks players to destroy the minerals on islands and sell them back at base. Unlock new islands and resources by upgrading your harvesters in this game to stockpile resources like gold and pets while improving your stats. Explore new locales and use new tools in this resource-gathering adventure.
If you're looking for codes for other games, we have a ton of them in our Roblox Game Codes post! You can also get a bunch of free stuff via our Roblox Promo Codes page.