Updated July 27, 2023

Checked for new codes!
Experience one of the most iconic moments of the 20th century in Roblox Titanic and attempt to survive the sinking of the massive ship in a virtual space. In the game, you can roleplay as a Robloxian doing whatever they can to survive or even as a crewmate desperately trying to find a way to keep the ship above water.
As you play the game, you collect Points that you can use to purchase objects that might help you on your doomed journey to the US. Using our codes list below, you'll make the game that much easier and possibly stand a chance to survive the terrible event. With each code, you can quickly accumulate a stash of Points to get rare items or help your fellow travellers!
If you like social and roleplay games on Roblox, you might appreciate our codes lists for other similar games. We have the latest codes for popular Roblox games like High School 2, Miraculous RP, and Survive a Plane Crash! Or, if you were like games where you want to survive on a boat, check out our codes for Build a Boat for Treasure!
All Roblox Titanic Codes
Roblox Titanic Codes (Working)
110years—Redeem for 2.5k Points (New)
Roblox Titanic Codes (Expired)
How to Redeem Titanic Codes
Redeeming codes for free rewards in Titanic is easy.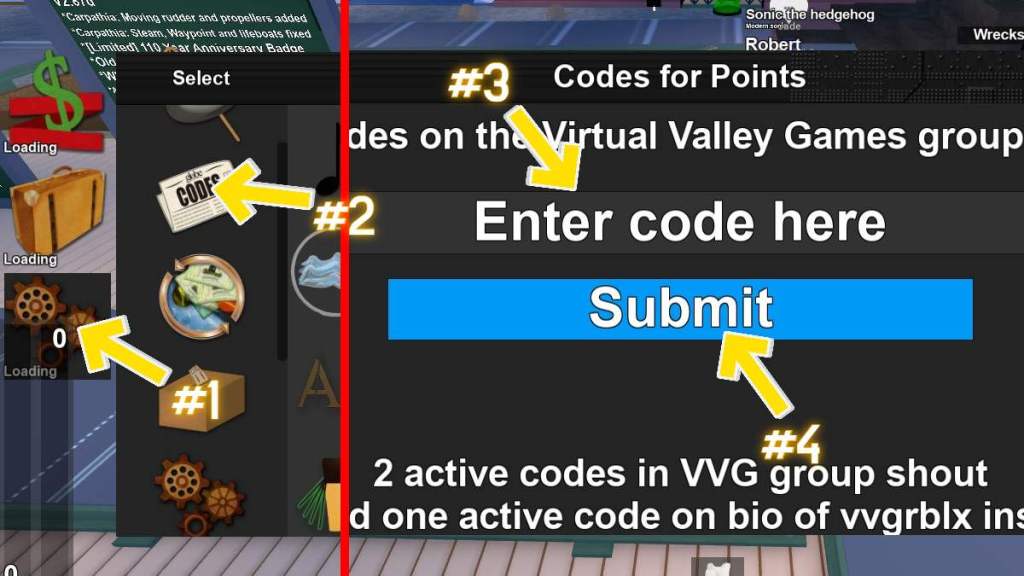 In the game, press the Gears/Settings button on the left side of the screen.
Navigate to the Codes tab in the settings window.
In the text box, enter the code exactly as it appears in the list above.
Press the Submit button to claim your reward!
What are Points in Roblox Titanic and how do I use them?
In Roblox Titanic, Points are the main form of currency. They can be used to purchase equipment that might help you survive the ships deadly crash into the iceberg. You can also use them to purchase expensive items to establish prestige and recognition as one the ships wealthier travellers. If you talk to the right person, you could use your social influence to your advantage!
Why aren't my Titanic codes working?
The most likely cause of an invalid code is that you entered it incorrectly. To avoid this problem, copy and paste the code from our site into the game, instead of entering it manually. If you're certain you entered it correctly and it still doesn't work, it may be expired. The developers rarely add codes to the game and they don't always notify their players when they expire. If any of the codes above aren't working, leave a comment so we can investigate!
What is Roblox Titanic?
Roblox Titantic is a roleplay game where you act out the iconic sinking of the Titanic, a supposedly 'unsinkable' ship that was built over 100 years ago. Act as your favorite characters from massively popular movie or simply explore the ship and try to find a way to survive as it begins its plunge to the depths of the ocean. Do you think there is a way to save the ship?
If you're looking for codes for other games, we have a ton of them in our Roblox Game Codes post! You can also get a bunch of free stuff via our Roblox Promo Codes page.