Updated September 25, 2023

We updated our list!
YouTube Simulator is a Roblox experience developed by @indieuns. The goal of YouTube Simulator is to try and become the best YouTuber ever. You gain more subscribers the more you YouTube and decorate your room to personalize it. Our Roblox YouTube Simulator Codes has the most up-to-date list of OP codes that you can redeem for new Buttons, Jumps, and additional freebies.
By using the codes below, you will be able to add many more decorations to your room. It is better to get them as soon as possible, too, as they can expire. Codes can be used very easily since they were intentionally built into the game. Below are some code examples to help enhance your experience in YouTube Simulator.
For more articles on Roblox games like YouTube Simulator, check out Roblox YouTube Life Codes, Roblox Corridor of YouTubers Codes, or Roblox YouTube Simulator X Codes. There are plenty of Roblox codes and dedicated guides all over the site, so go check some out!
All YouTube Simulator Codes List
Working YouTube Simulator Codes (Active)
Super Cool—Redeem for a free plaque
sprint—Redeem for a free Reward
BLOO—Redeem for a free Reward
MINI SNOW—Redeem for free Mini Snow Plaque
gun—Redeem for a free Gun
minigun—Redeem for a free Minigun
ROOBYBUTTON—Redeem for a free Ruby Button
Milk—Redeem for free Milk
FREERED—Redeem for free Red
FREEGREEN—Redeem for free Green
Spongeb0b—Redeem for a free Reward
Expired YouTube Simulator Codes
GHOST—Redeem for a free ghost decoration
DOUBLEJUMP—Redeem for a free reward.
OBESE—Redeem for a free Appearance Change
CODE—Redeem for a free starter computer
PUMPKIN—Redeem for a free pumpkin decoration
fat—Redeem for an increase in your character's size
flat—Redeem for a decrease in your character's size
tall—Redeem to make your character incredibly tall
Roblox YouTube Simulator FAQ
Here's everything you need to know regarding Roblox YouTube Simulator codes.
How to Redeem YouTube Simulator Codes
It's easy to redeem codes for free rewards in YouTube Simulator.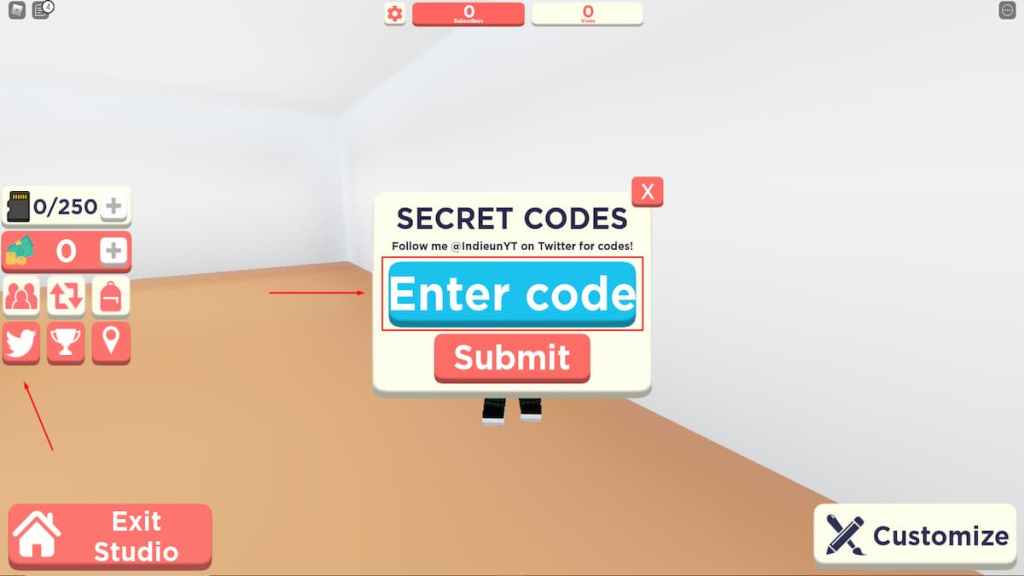 Launch the game.
Press the Twitter button on the left side of the screen.
A new window will appear where you can enter each working code into the text box.
Press Submit to receive your free reward.
How can you get more Roblox YouTube Simulator codes?
When new codes are released, there are several ways to stay updated, but some are better than others. Without a doubt, the most effective way to keep updated on Roblox YouTube Simulator codes is to return to this page regularly. We will continue adding codes and double-checking them to ensure YouTube Simulator works properly. Leave a comment if you know of any additional codes that aren't listed here.
Your next step should be to join the YouTube Simulator Discord, although the current link to the Discord is expired. The purpose of this community is to connect players who enjoy the game with other players who share that interest. The developers will post codes on Discord for players to use. Since the developers don't have other games, the Discord channel is only for the game itself, so you don't need to find other channels.
The official Twitter account of the game is another good way to stay informed. When the codes come out, there are usually announcements of new codes on Twitter. Since developers want you to stay up-to-date, they often use their Twitter accounts to announce new codes. When you follow, you will be notified whenever a new one becomes available by clicking the bell icon.
Why can't I redeem any codes for Roblox YouTube Simulator?
Here are some possible reasons and solutions if you are having trouble redeeming codes in Roblox YouTube Simulator:
The codes must be entered exactly as they appear above. Any alteration to the codes will invalidate them.
Copy the code from the list above and paste it into the game to reduce the risk of entering the code incorrectly. By doing this, all letters or numbers may not accidentally enter into the code box.
Sometimes, a blank space remains after the copying process. Make sure the code's ending doesn't have an extra space after pasting it in.
That code is no longer valid. Let us know in a comment if this occurs. All expired codes will be tested before they are updated. The code will be moved to Expired if it does not work after testing.
The code has already been redeemed. A code can only be redeemed once. If you have already entered a code and received rewards, you cannot enter another. Codes that expire and start working again do not fall under these rules since they will impact all users.
What is Roblox YouTube Simulator?
Roblox YouTube Simulator allows you to live the life of a real YouTuber. You can film vlogs with the cameras you have on YouTube Simulator. To record more, keep clicking the screen. Continue doing this until the recording on your camera is full, then transfer it to your room's computer. As you edit videos, you gain subscribers and views. Upgrade your equipment and decorate your room with the money you earn.
If you're looking for codes for other games, we have a ton of them in our Roblox Game Codes post! You can also get a bunch of free stuff via our Roblox Promo Codes page.