Swim Race Clicker subverts the Roblox clicker race games and instead puts you underwater. As such, you will need to click to build up your swim speed before the race begins. Once the countdown hits zero, swim as hard and as fast as you can to reach the end.
Redeeming codes in Swim Race clicker grants you various rewards, but the most common one is Wins. These can be used to purchase Eggs, which hatch pets that make your character a better and faster swimmer. Codes often have an expiration date when they are added, so it's best to add them as soon as they're announced!
If you're looking for more Roblox content, check out Clicker Party Simulator Codes, Roblox Clicking Havoc Codes, Roblox Godly Clicking Simulator Codes, Magic Clicker Codes, Roblox Clicking Simulator X Codes, and more on Pro Game Guides. Use our various Roblox code guides to get loads of free stuff.
All Swim Race Clicker Codes List
Updated November 21, 2022

Added a new code.
All Swim Race Clicker Codes List (Working)
45kLikes—Redeem for Wins (New)
30kLikes—Redeem for Wins
All Swim Race Clicker Codes List (Expired)
Release—Redeem for 10 Wins
Roblox Swim Race Clicker Codes FAQ
Here's everything you need to know about Roblox Swim Race Clicker codes.
How to redeem codes in Swim Race Clicker
It's easy to redeem codes in Swim Race Clicker.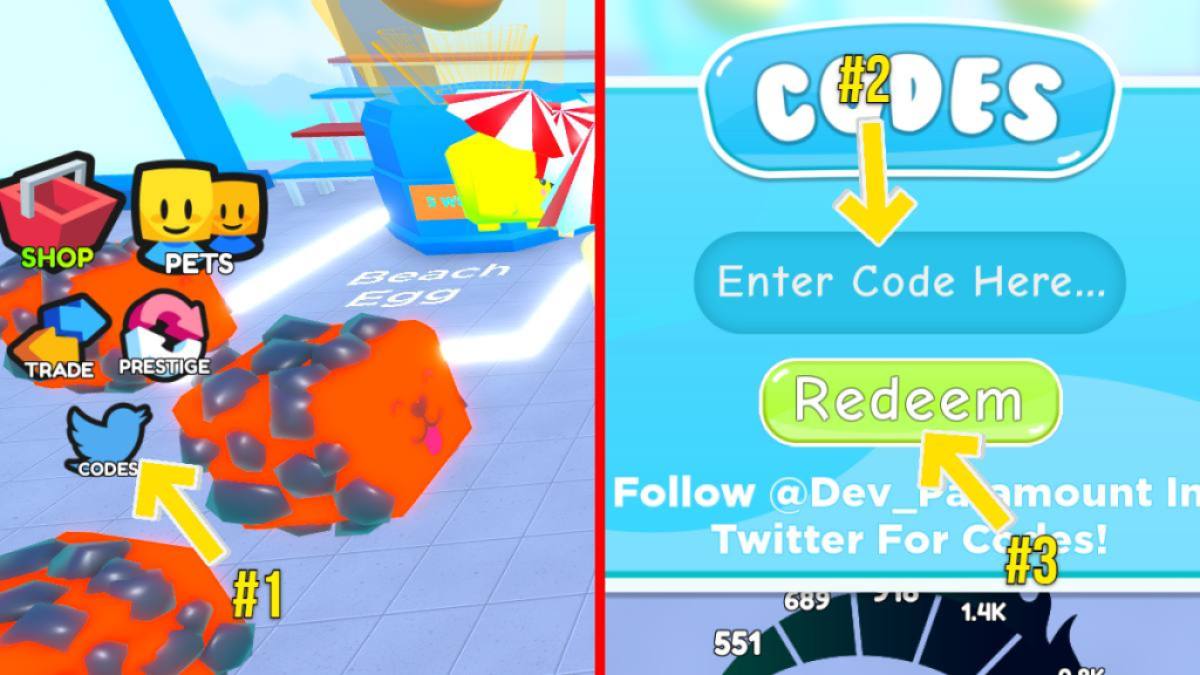 Press the Twitter icon on the left side of the screen.
In the text box, enter the code you'd like to use exactly as it appears in the list above.
Press Redeem button to claim your reward!
How to get more Swim Race Clicker Codes
You can join the developer's Twitter accounts for Insight and Dev_Paramount or the Swim Race Clicker Discord to see if codes have been added. You can also bookmark this page, as we will update this list once new codes are released. So, be sure to check back often to see if there are new codes for Swim Race Clicker.
Why aren't my Swim Race Clicker Codes working?
The developer controls codes for Swim Race Clicker, and this is who determines how long they are active. Some codes may expire quicker than others, and some may not work with others. If a code does not work for you, double-check if there is a spelling error, if the code isn't active yet, or if it has already expired. To help solve that issue, bookmark this page and come back often to see if Swim Race Clicker has added new codes or if some are expired.
How to get pets in Swim Race Clicker
There are several pets you can get in Swim Race Clicker, but you will need wins to do so. Wins are exchanged for pets in the lobby. As pets require a lot of wins, you will need to play and grind quite a bit to get pets, especially the higher-level ones.
What is Swim Race Clicker?
You will need to click a lot to generate speed and outswim the competition. Reaching checkpoints will increase how much speed you build up with each click. You can further increase your speed by buying pets and rebirthing. Do whatever it takes to become a fast swimmer and claim first place.
For more information on Roblox, check out Roblox Legacy Clickers Codes and Clicker Champions Codes on Pro Game Guides.