Rogue Legacy 2 is a roguelike Metroidvania that keeps its action in the family. Each death sees you playing as your previous character's heir as they complete quests. One such quest is the Missing Bodies quest. This may leave you wondering how to complete the Missing Bodies in Rogue Legacy 2.
Rogue Legacy 2 Missing Bodies Insight Quest Guide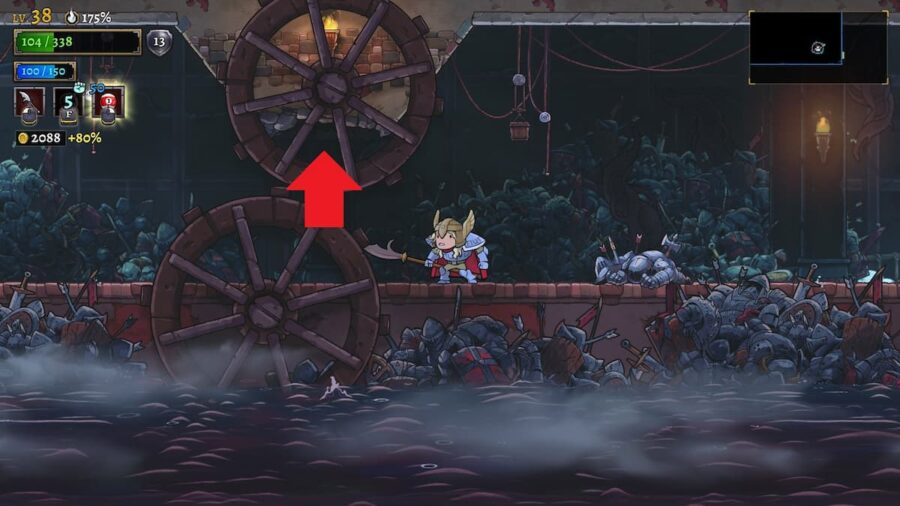 To complete this quest, you must first find it in the second area, Axis Mundi. You will need to make your way all the way to the end of Axis Mundi and reach the boss's door. In the room right before this, you will see two waterwheels. This location will be the same every time you go through Axis Mundi.
Where to find the Axis Mundi Insight Quest?
The Axis Mundi Insight Quest can be found in the room prior to the boss' door. In the image above, you must use a spell or class ability to reveal the secret entrance between the waterwheels. Once you do this, jump up onto the platform and move to the left. When you can go no farther, jump up and make your way right to the circled location in the image above.
This will take you to another room. Destroy the brambles and make your way to the end of the corridor. Here, you can find a memory and complete the Missing Bodies Insight quest. This will give you an additional 15 percent damage against the Void Beasts, which are the bosses in Axis Mundi.
For more information on Rogue Legacy 2, check out Where to go after defeating Estuary Lamech in Rogue Legacy 2 and How to unlock Runes in Rogue Legacy 2 on Pro Game Guides.